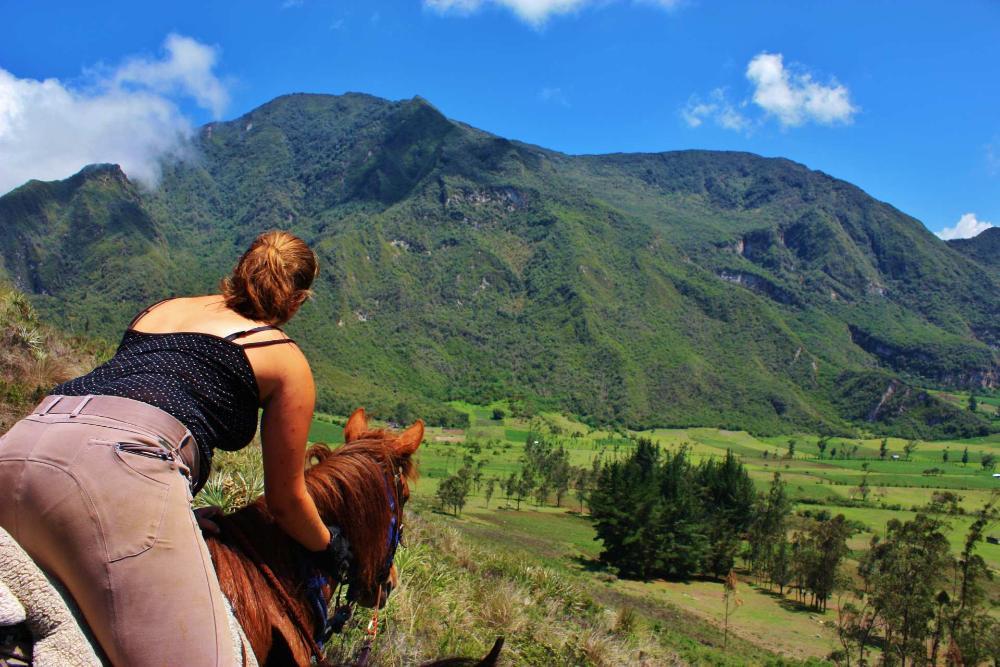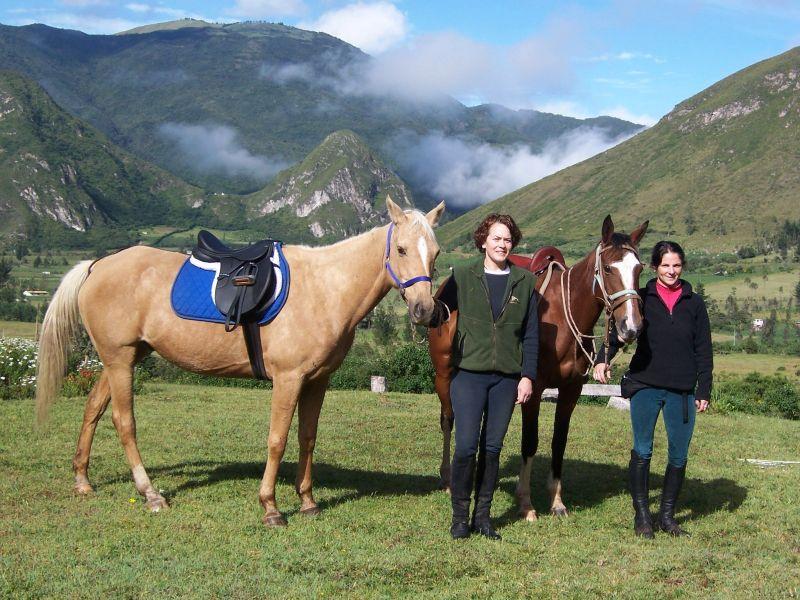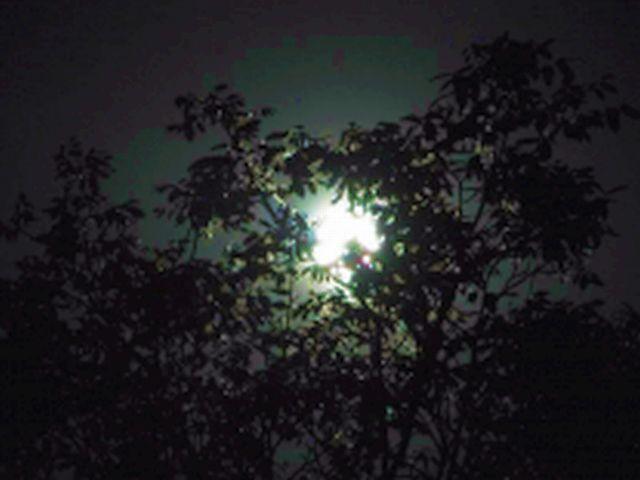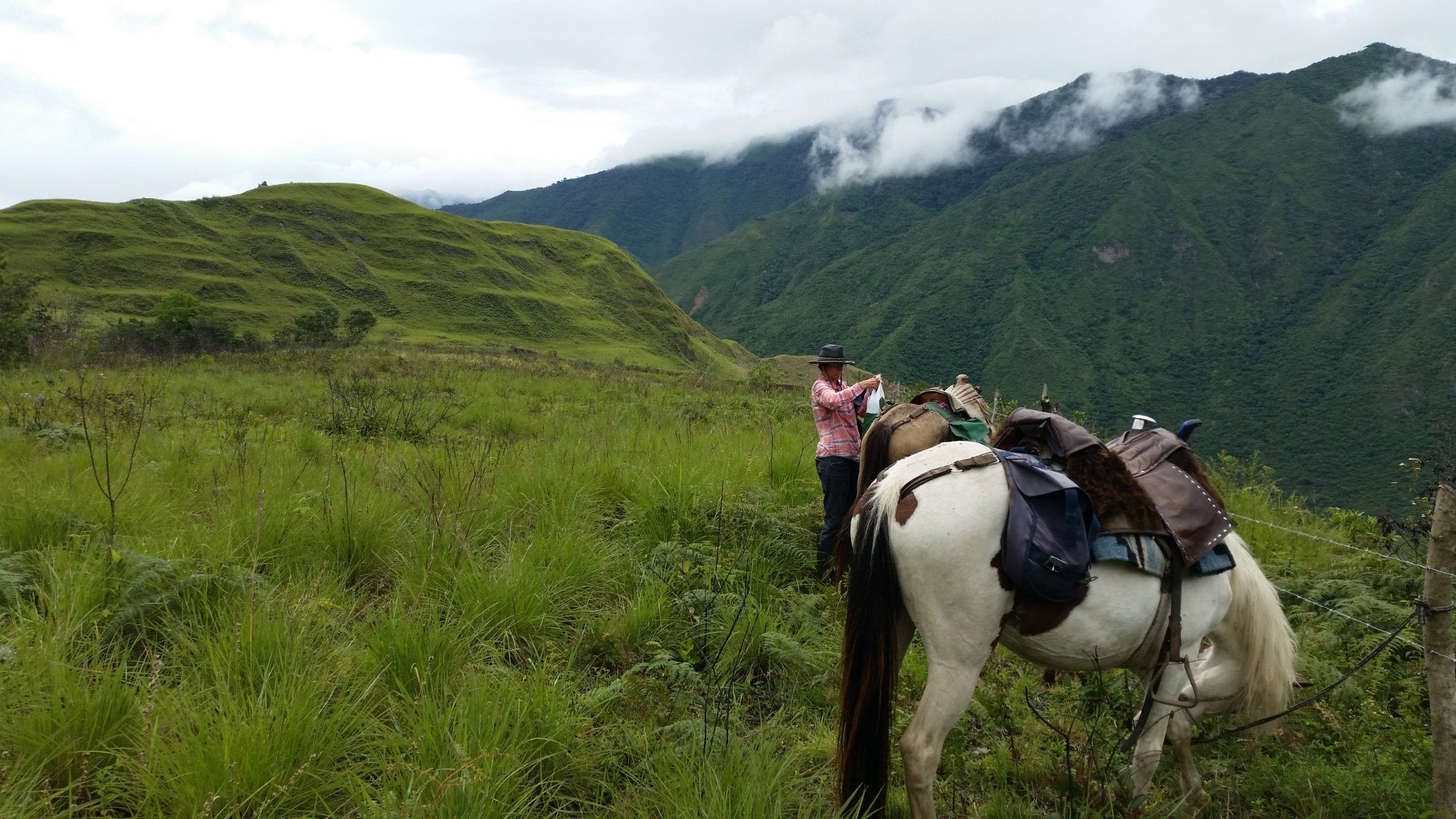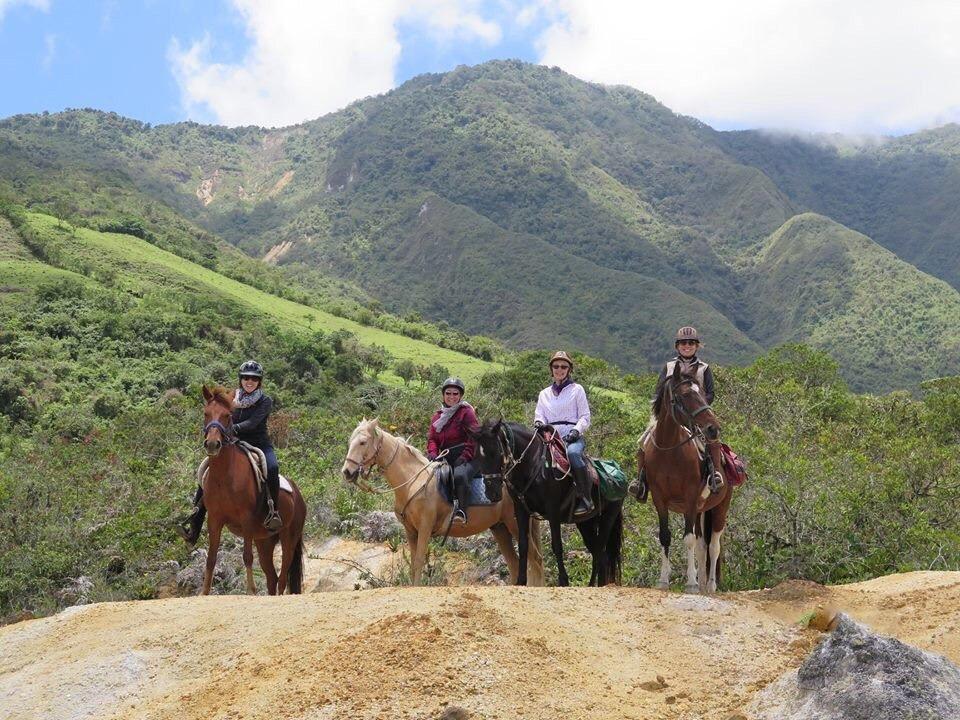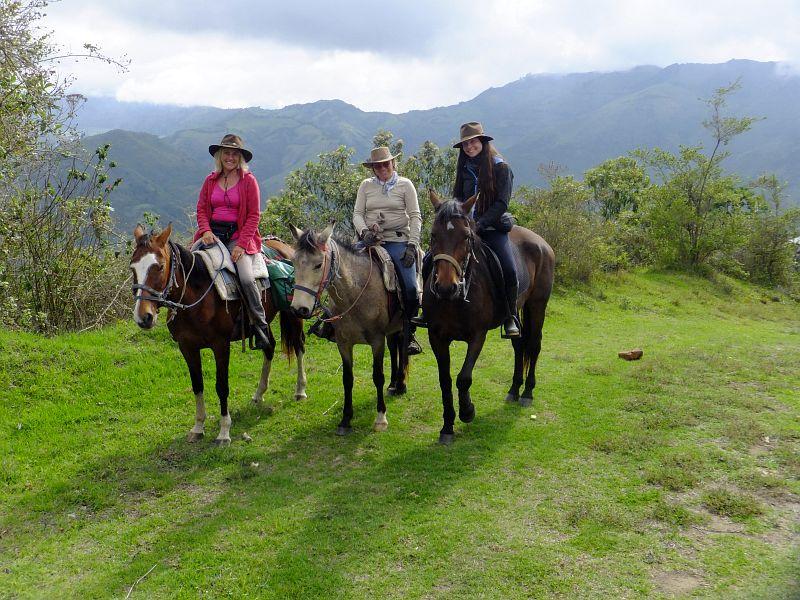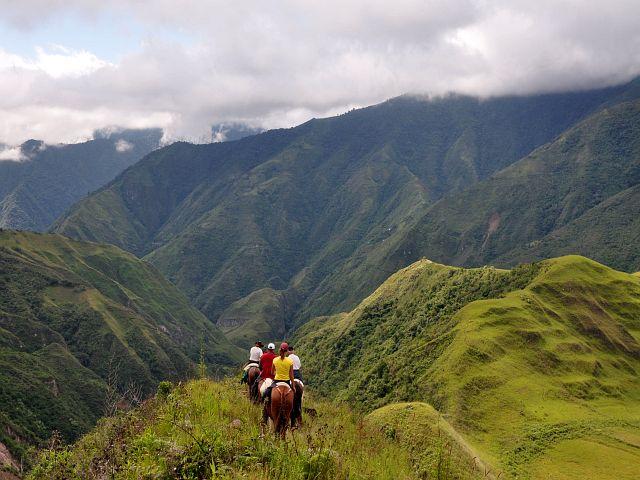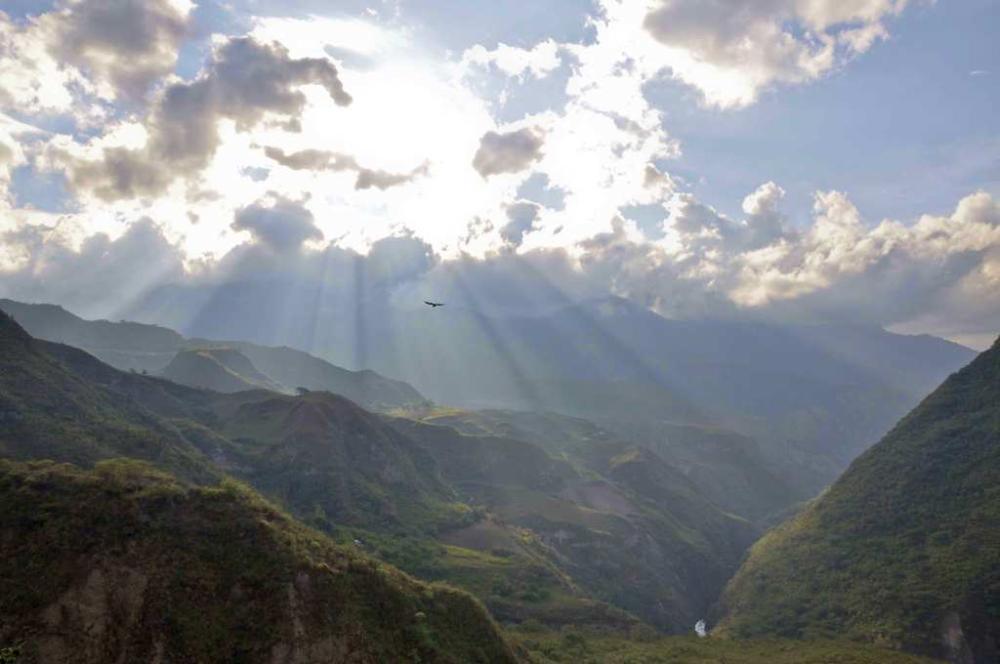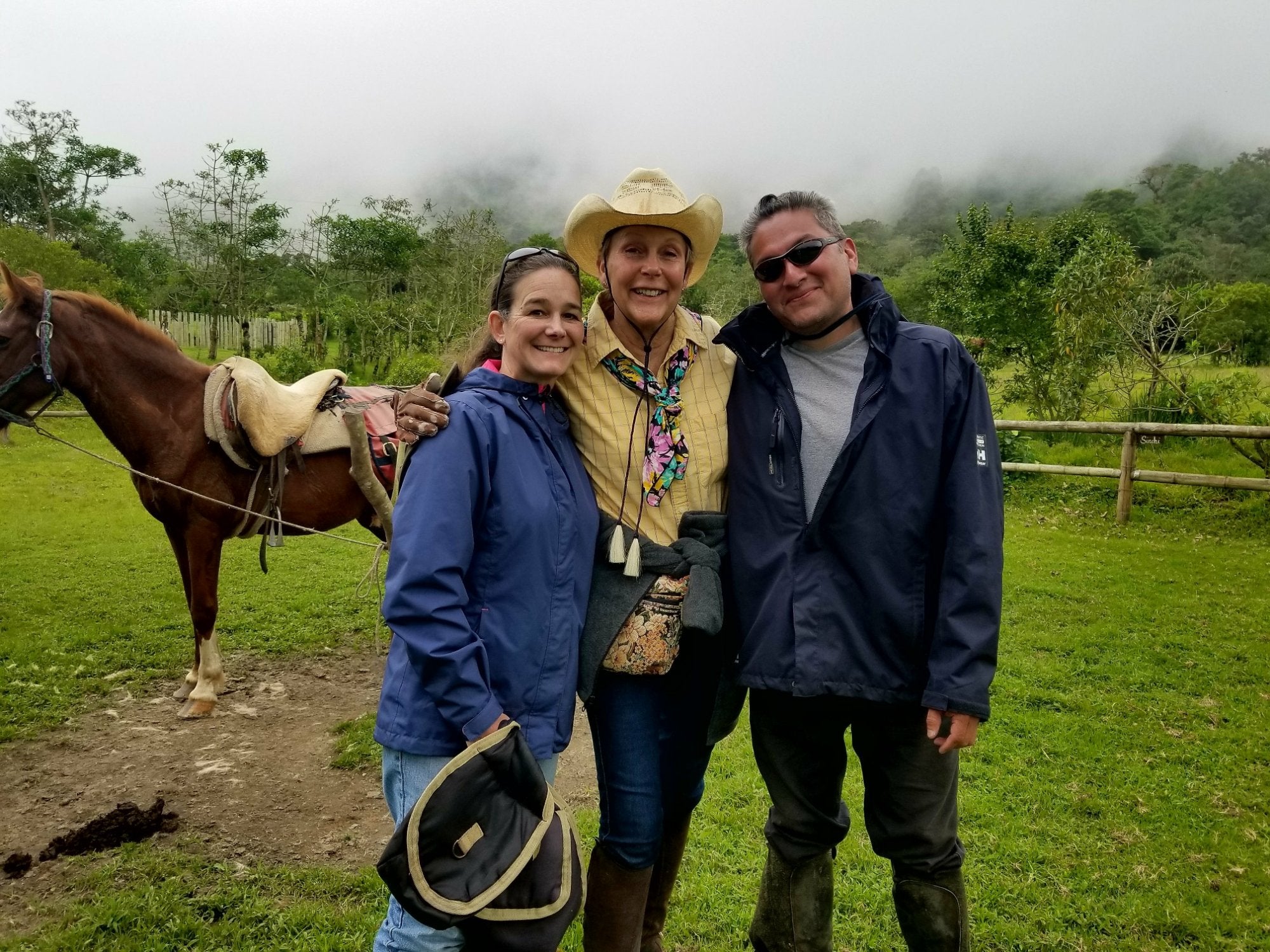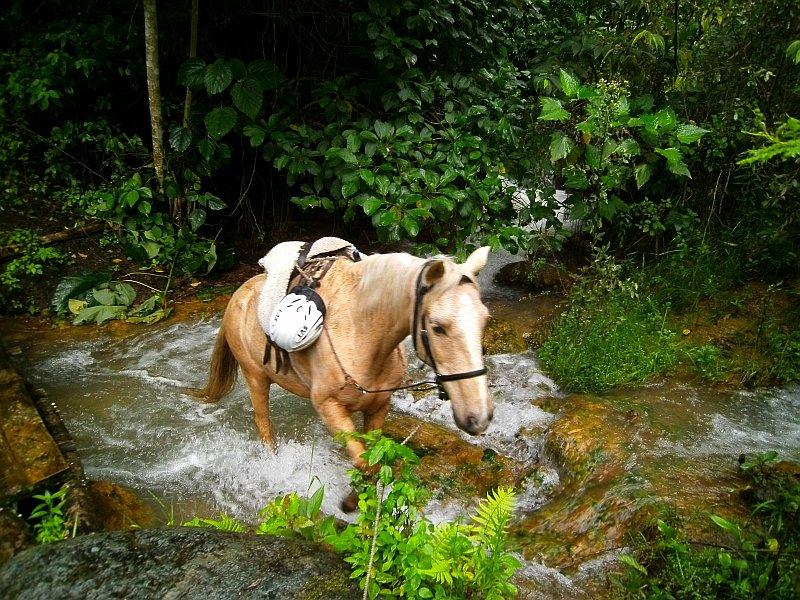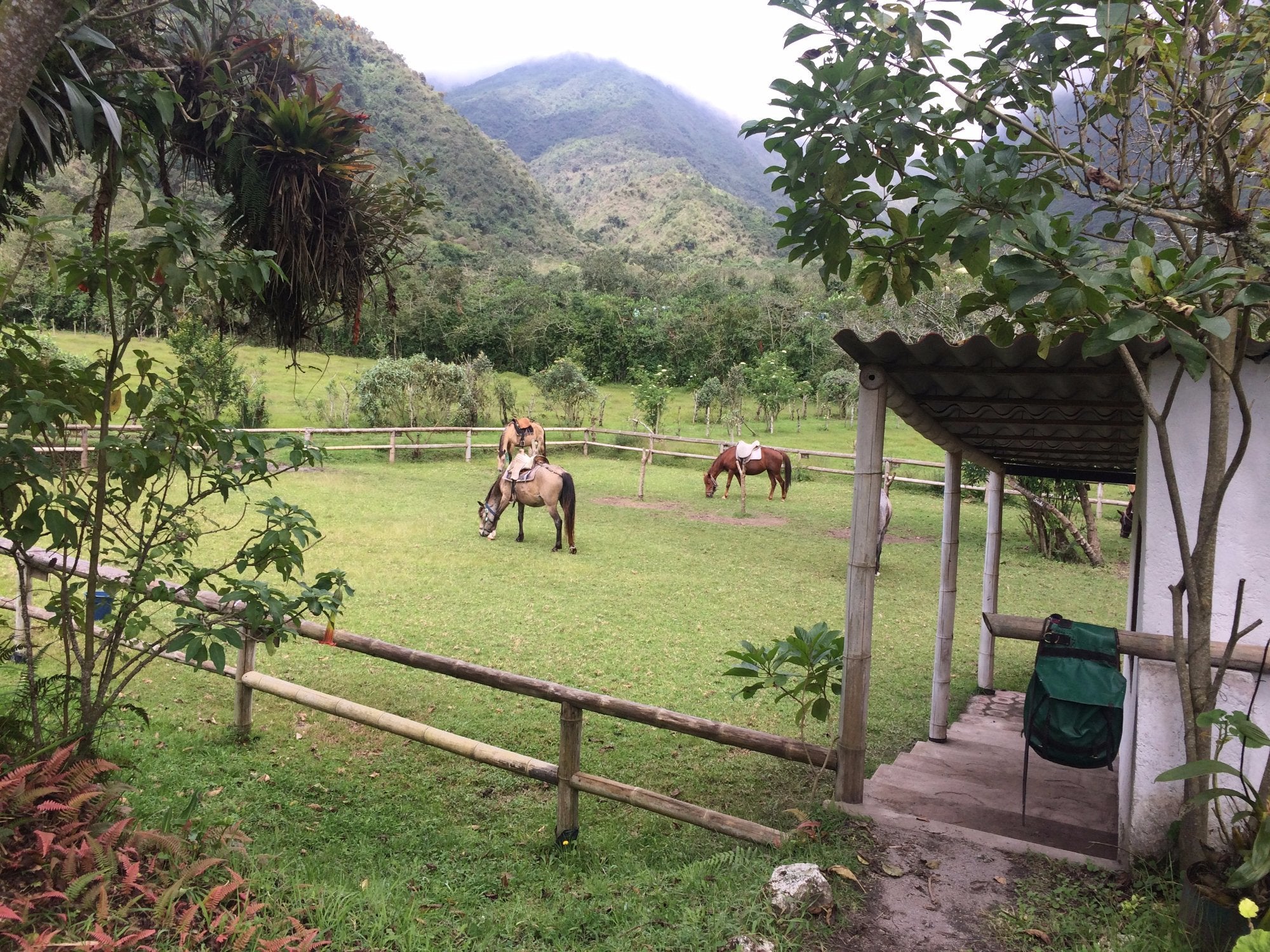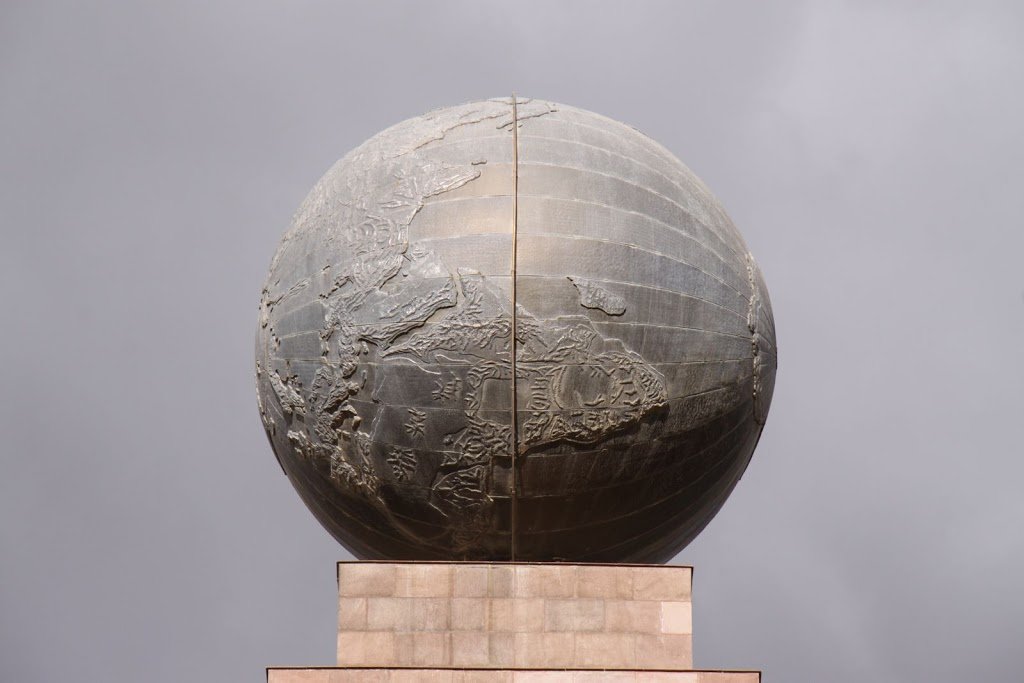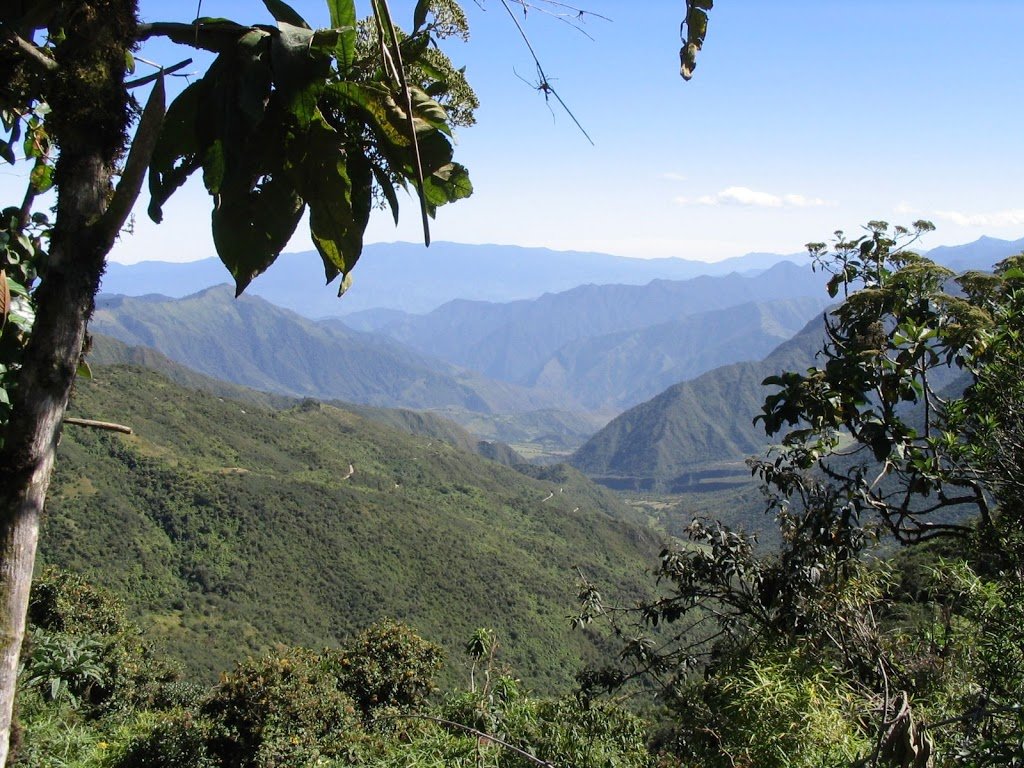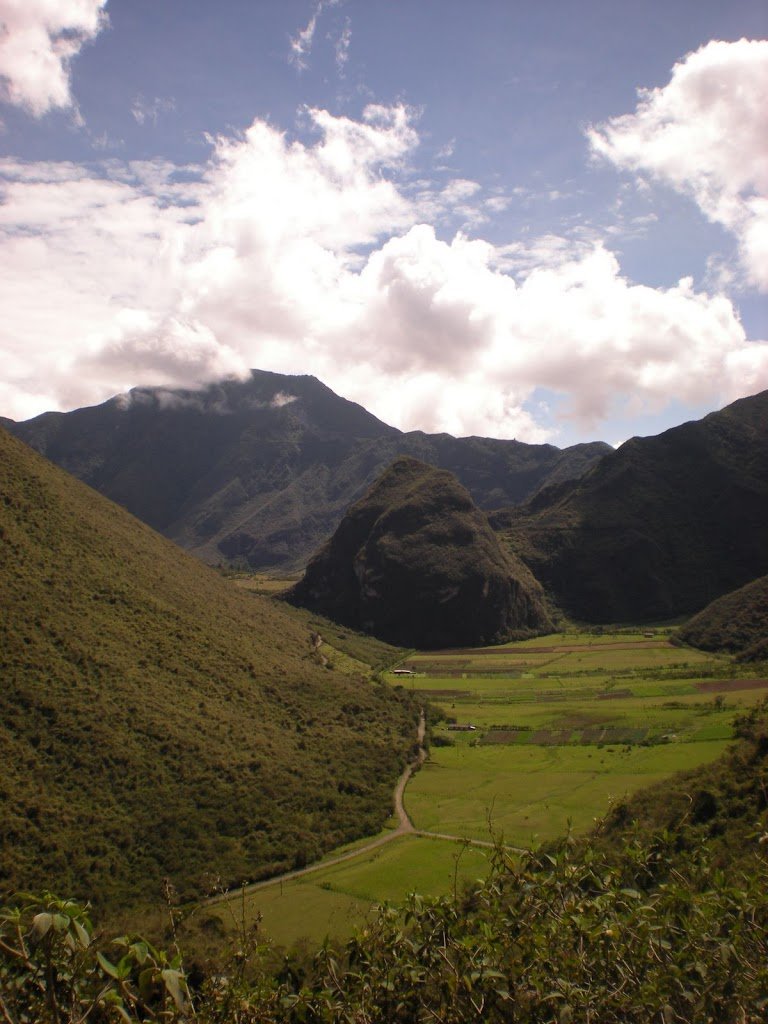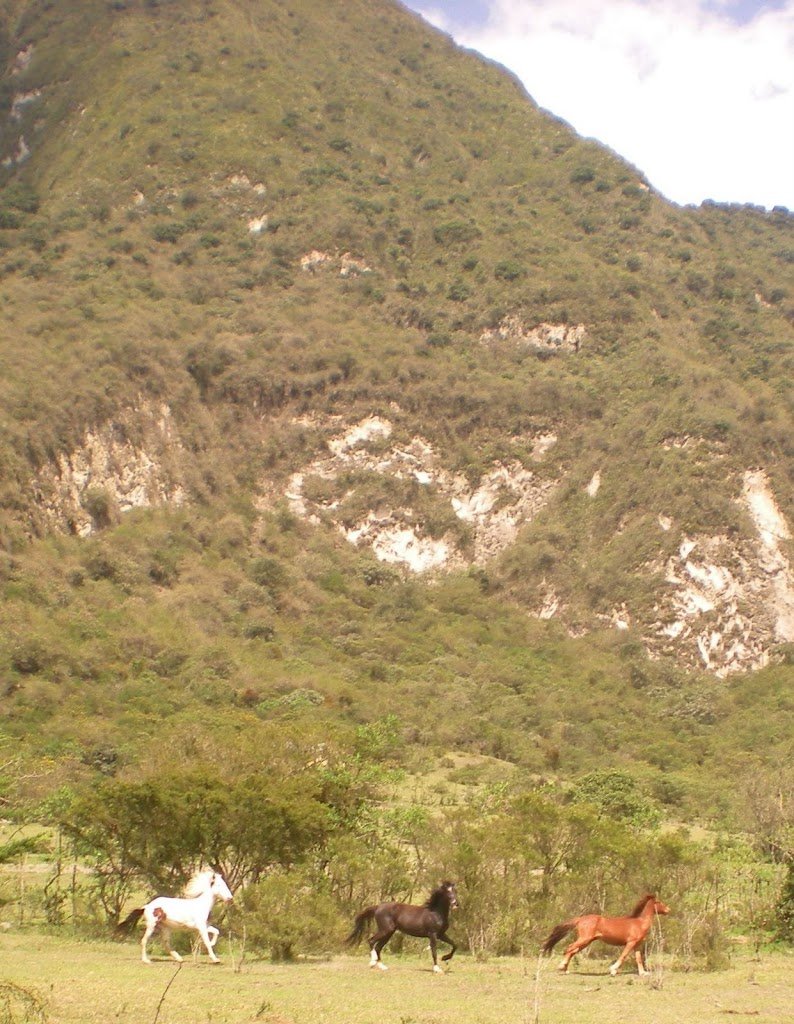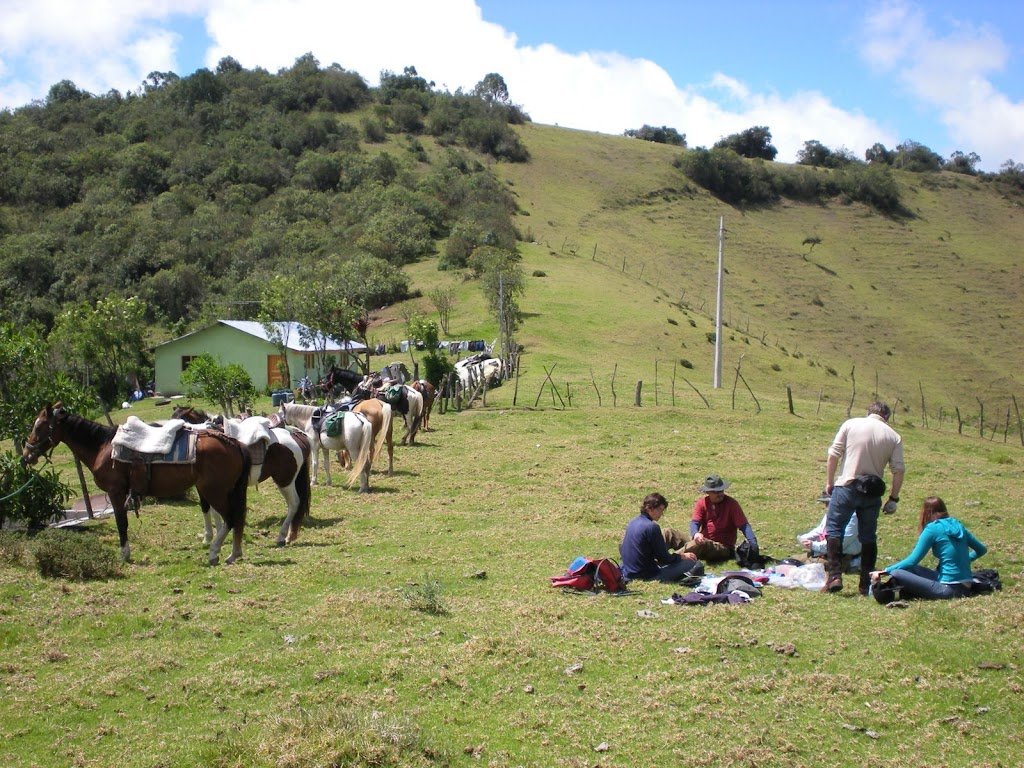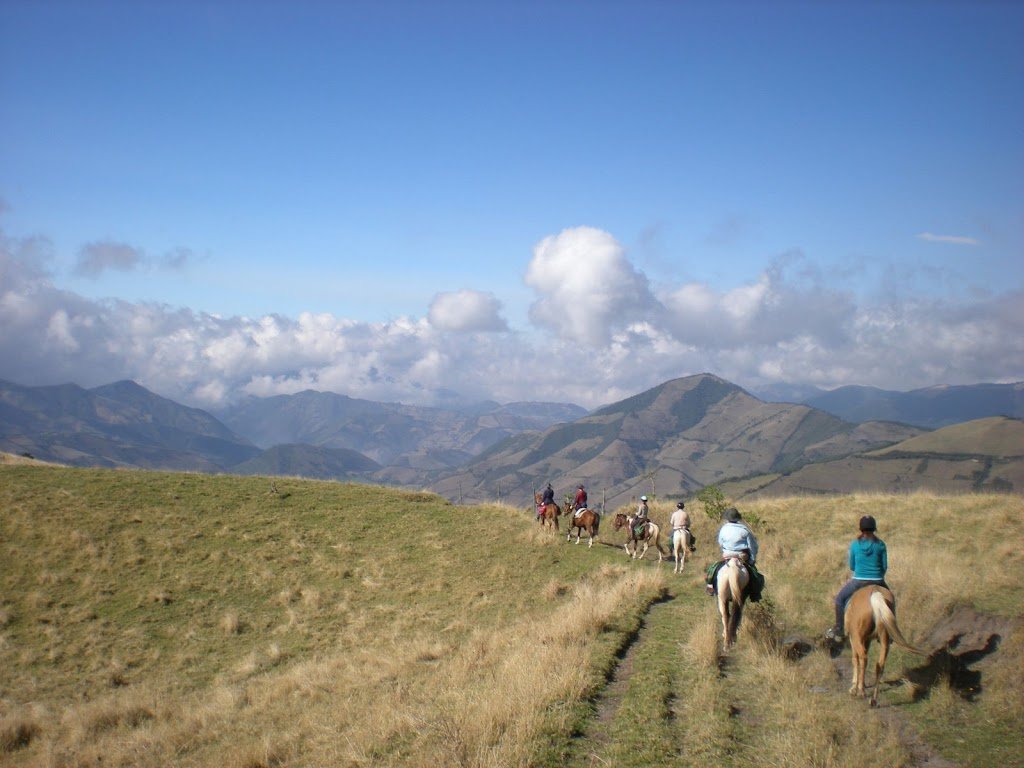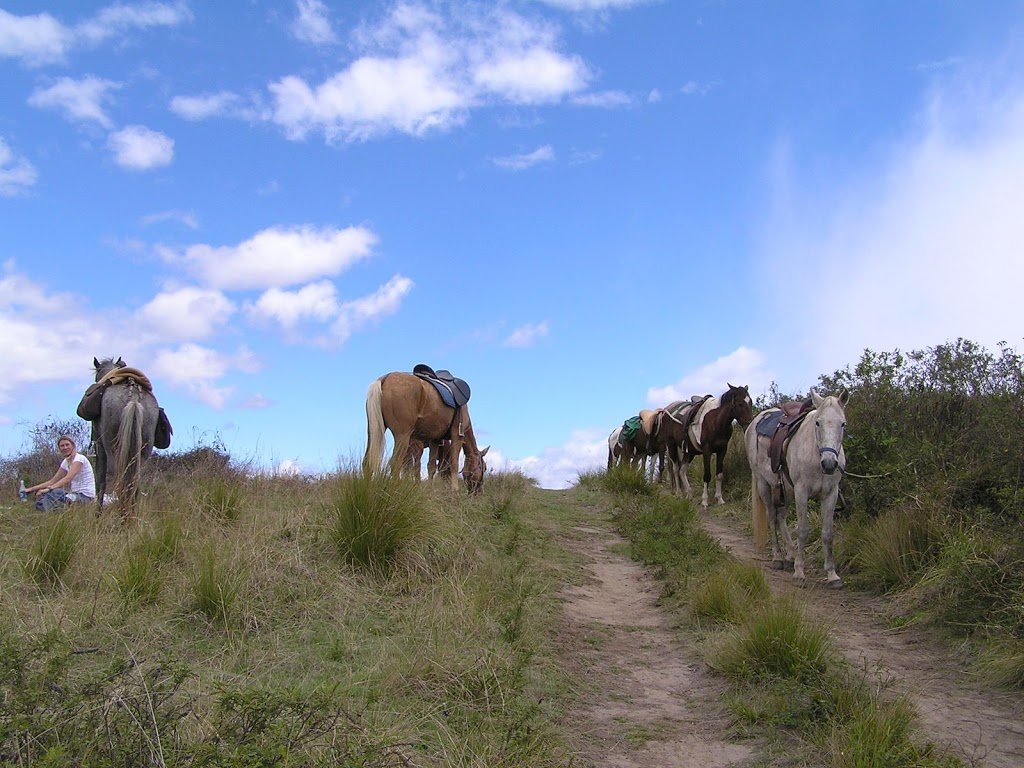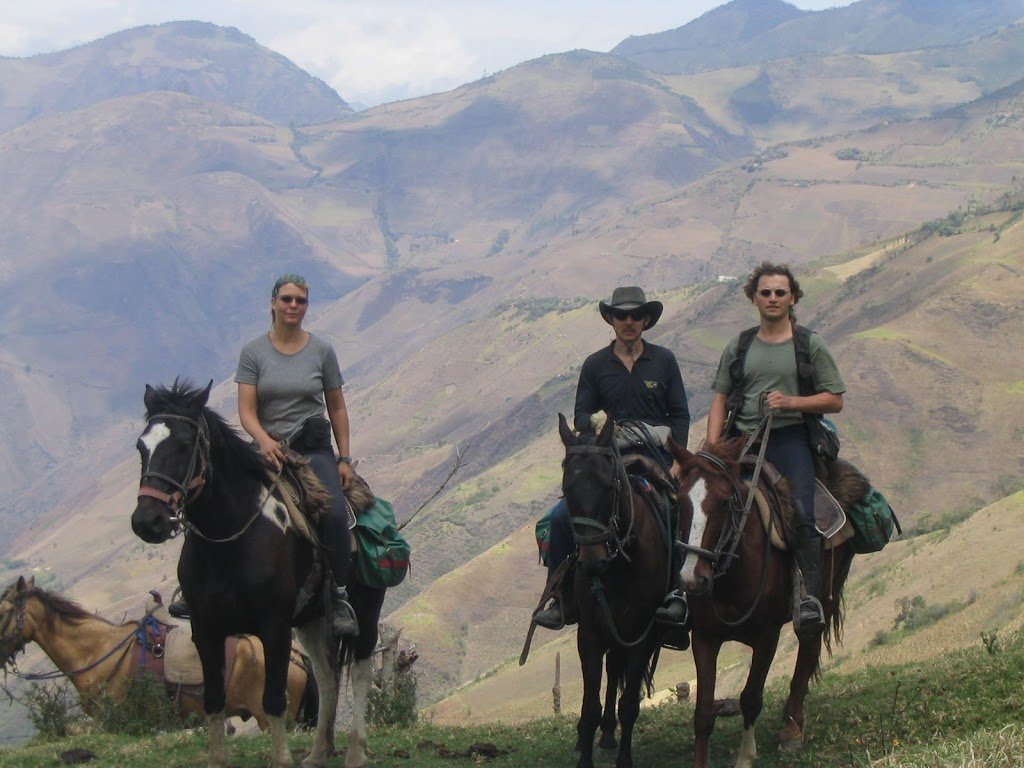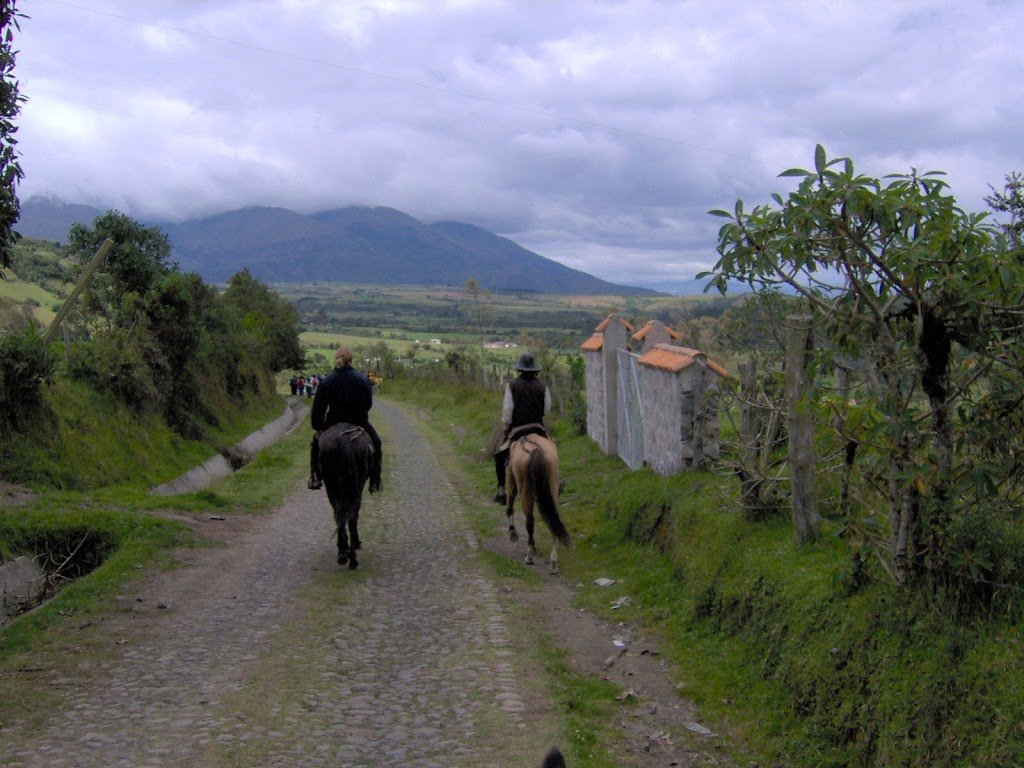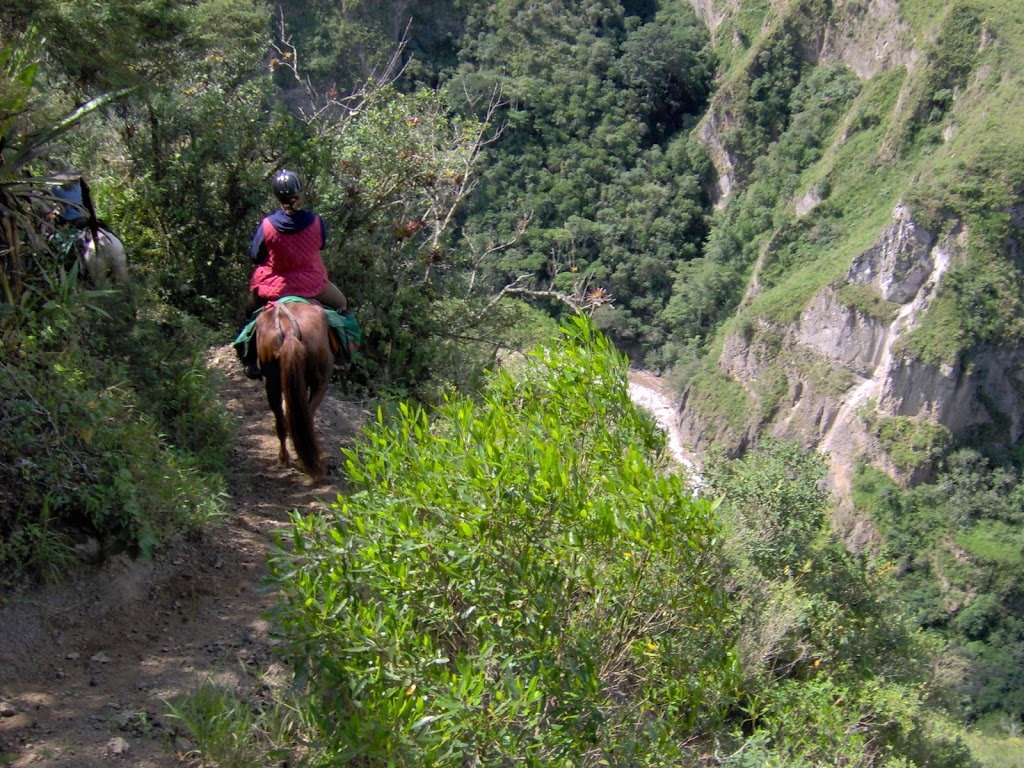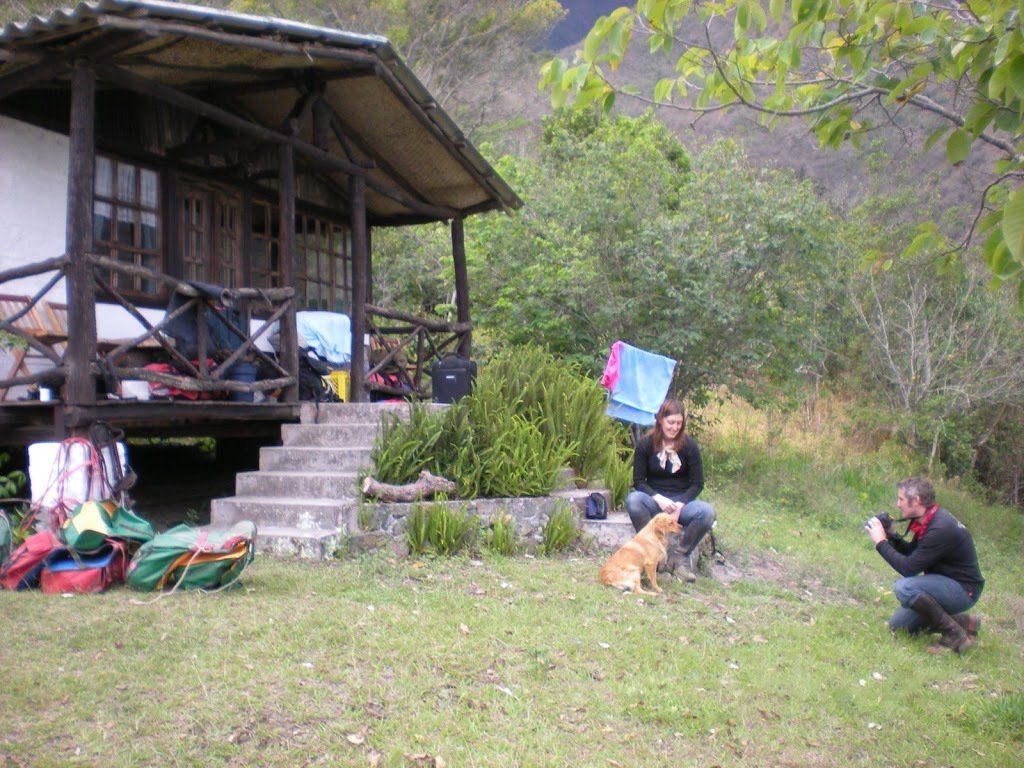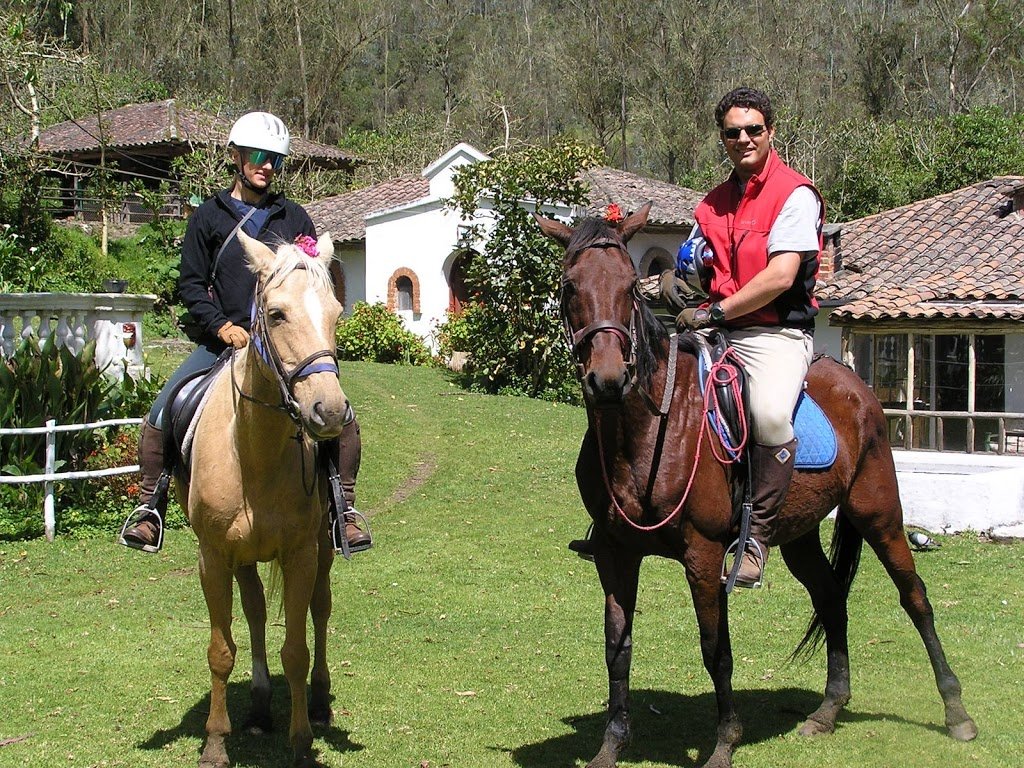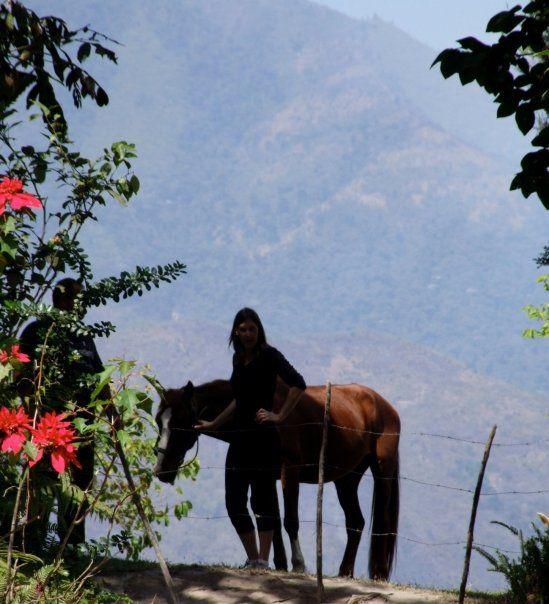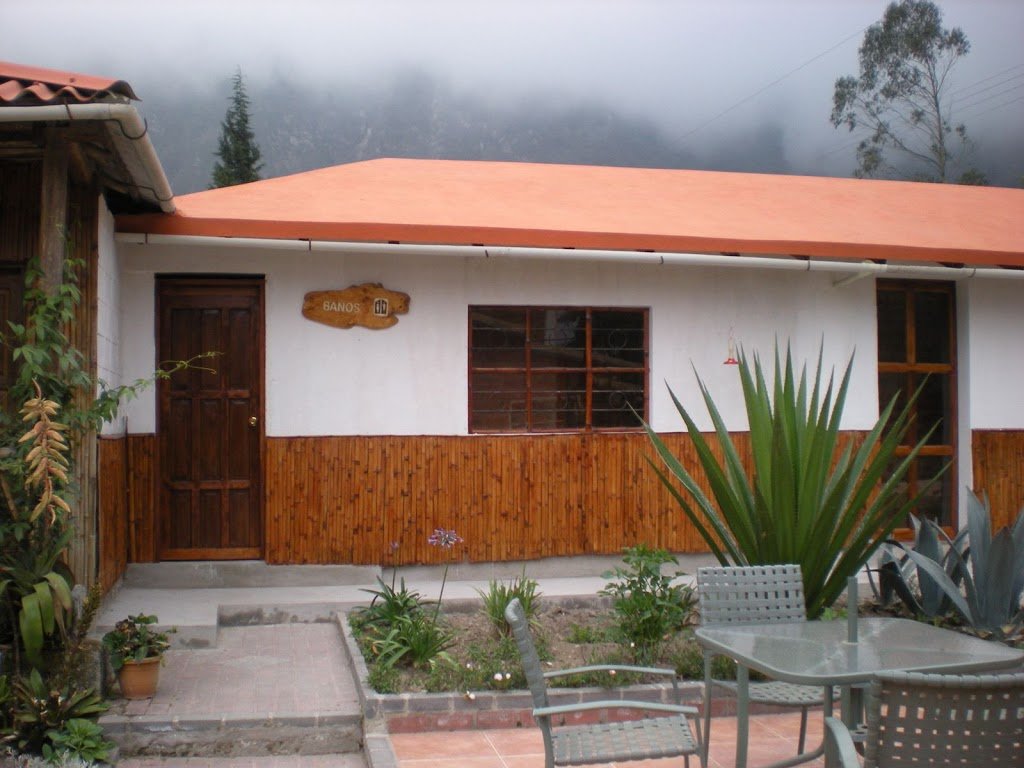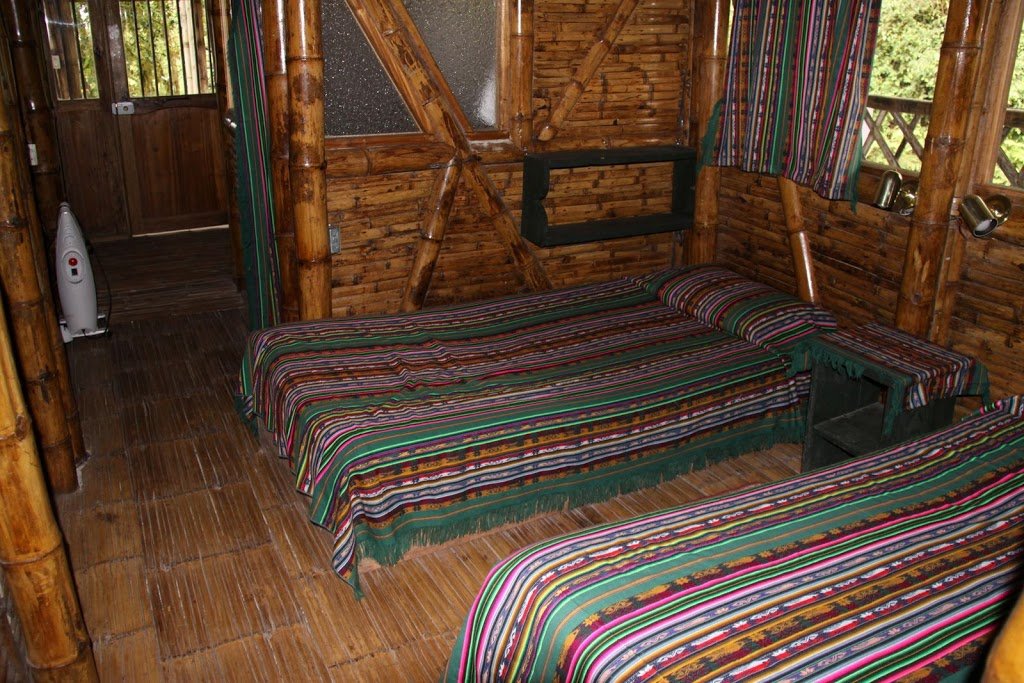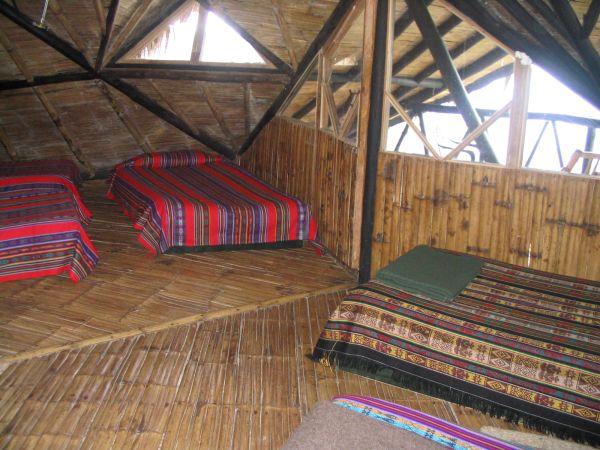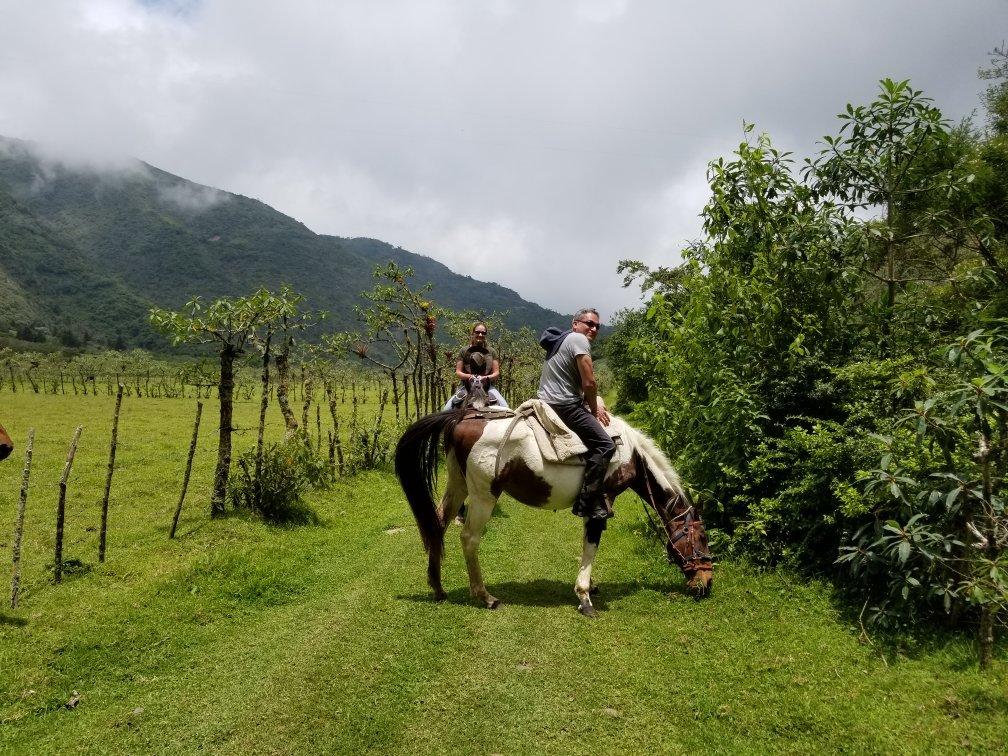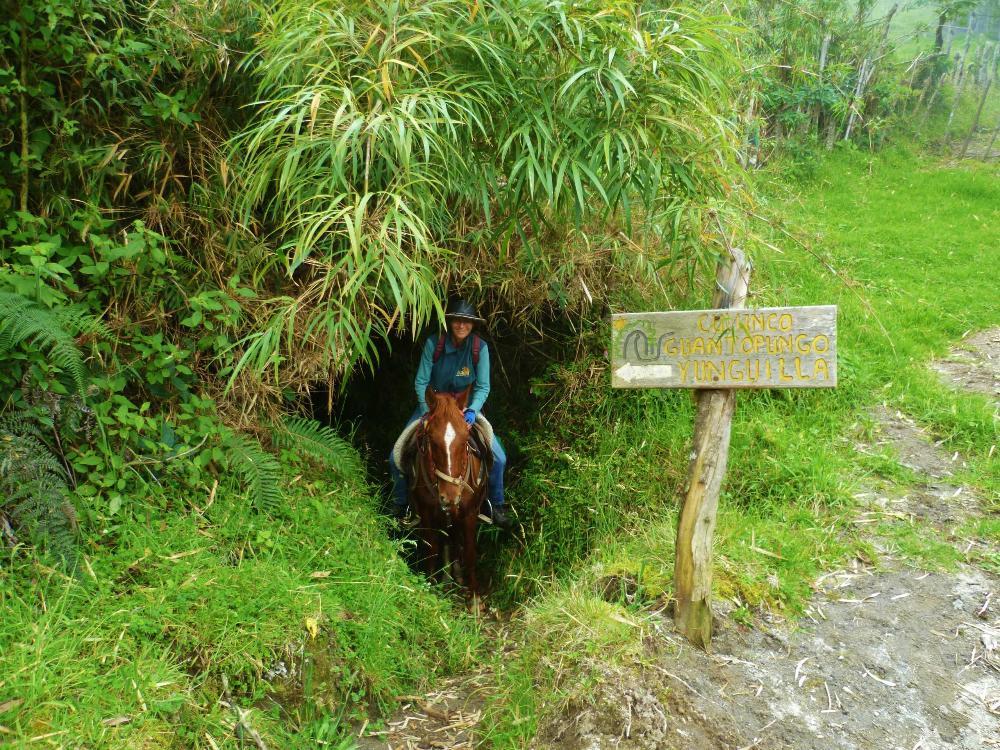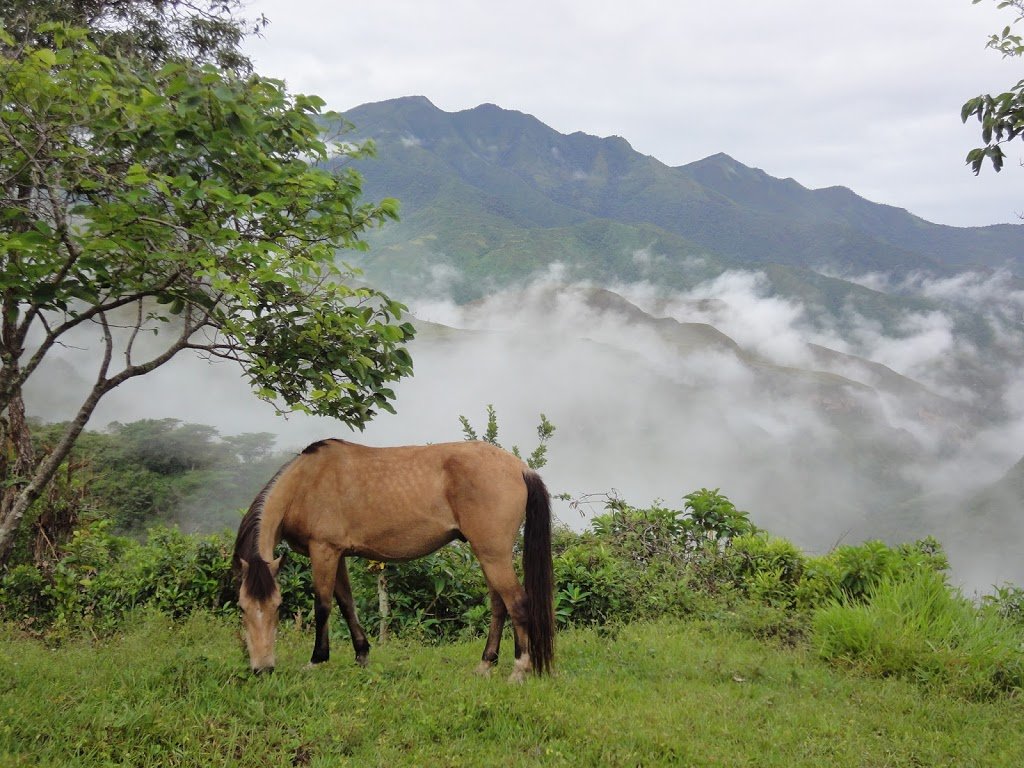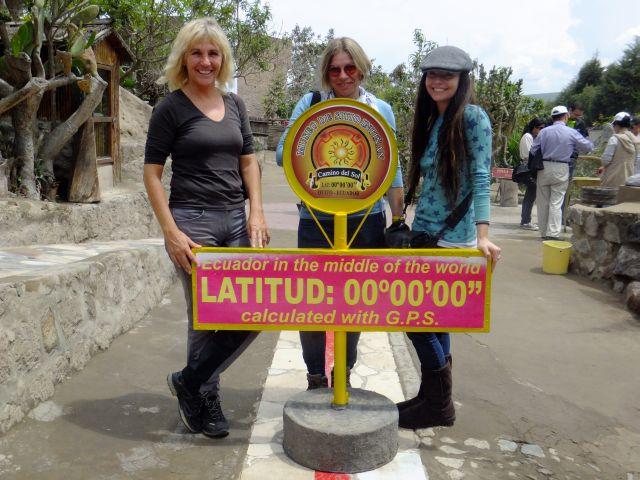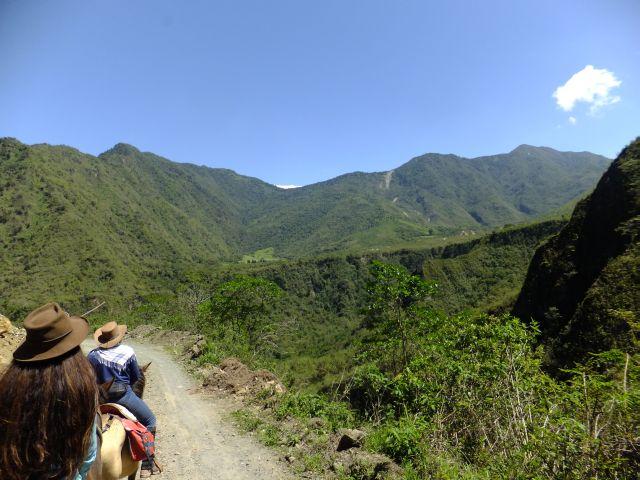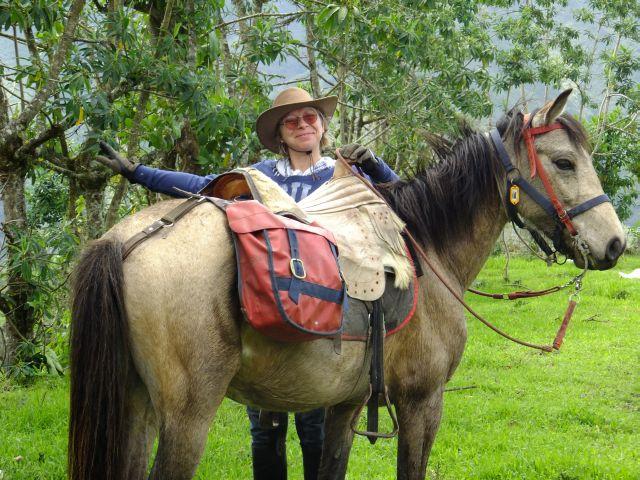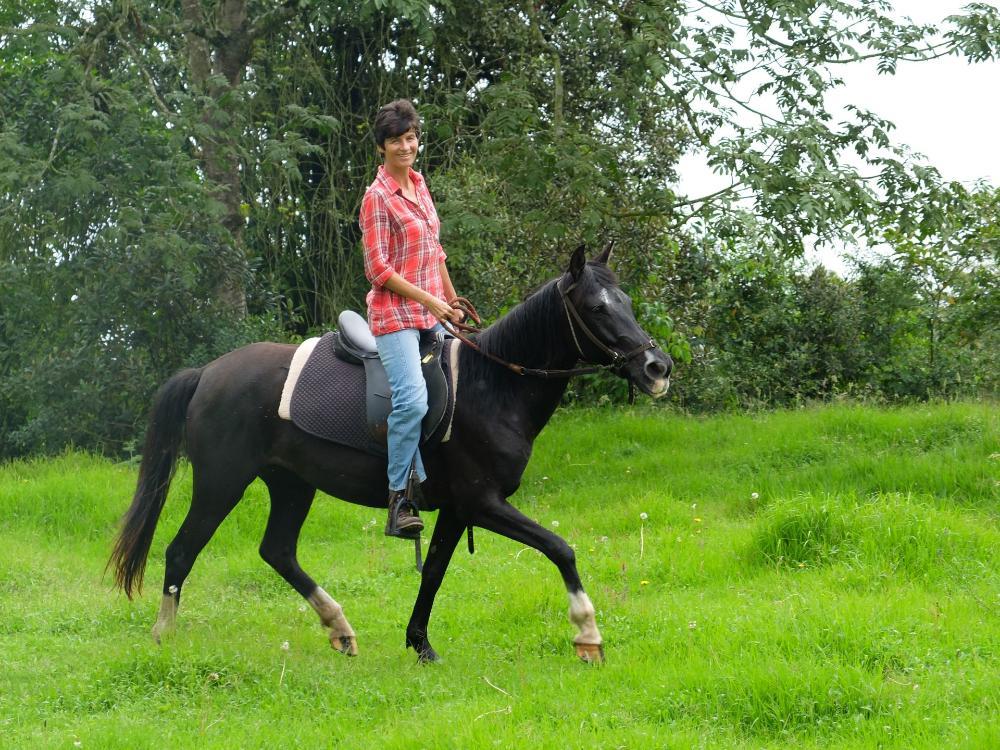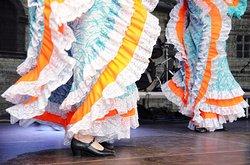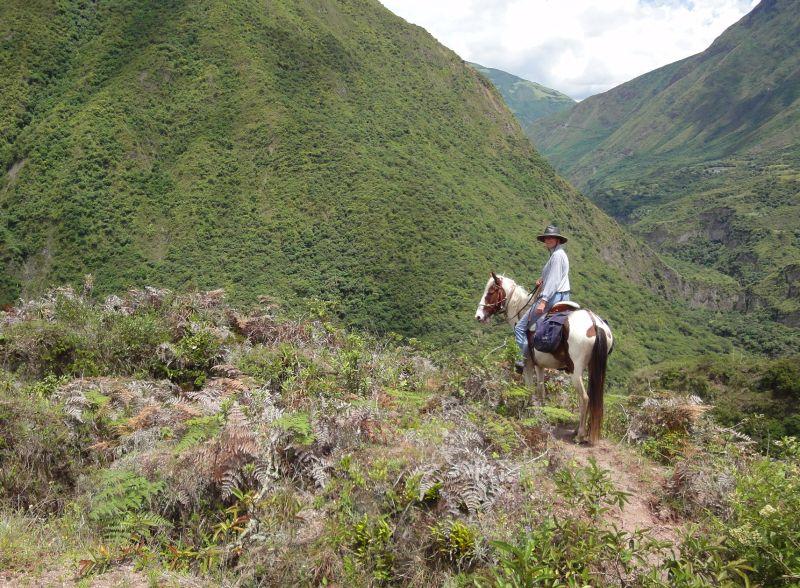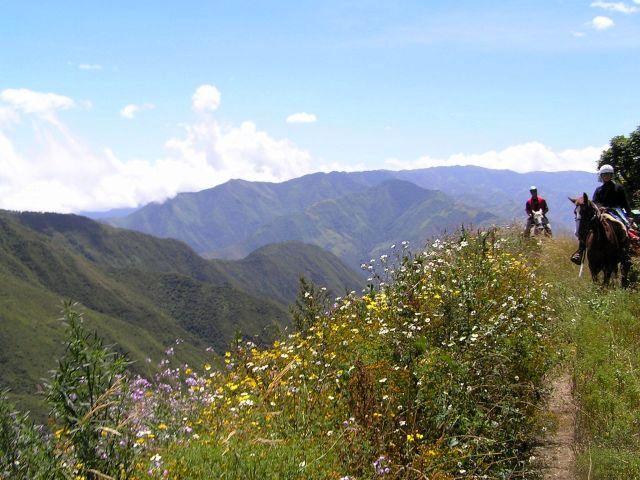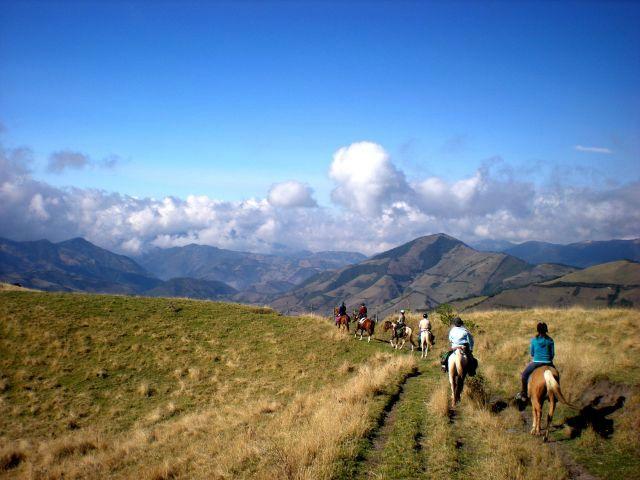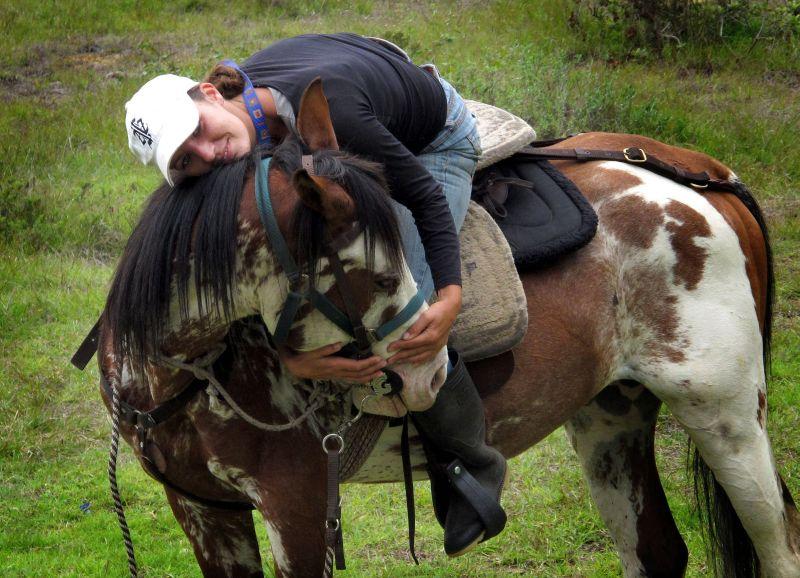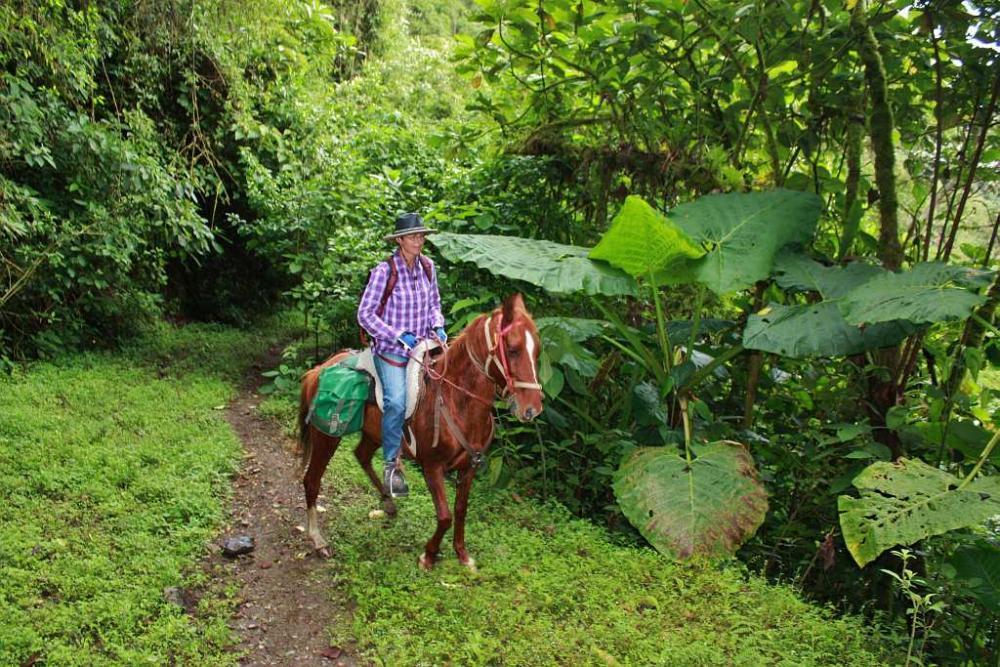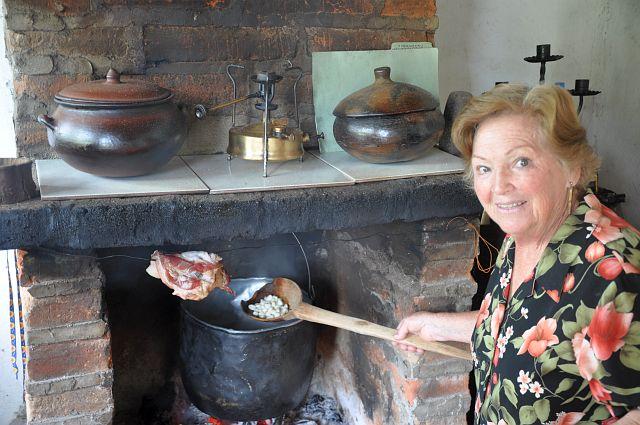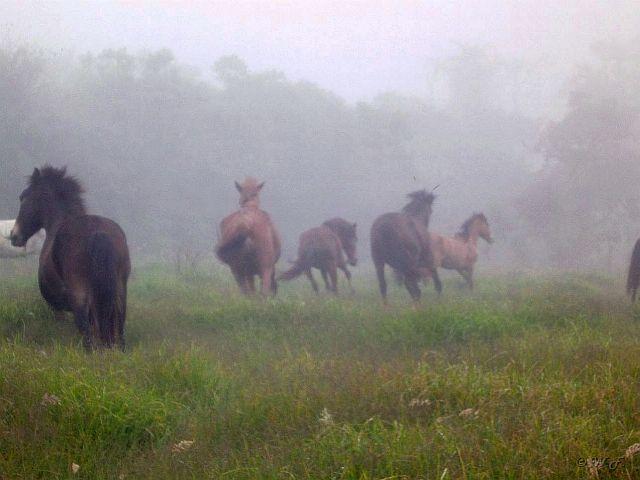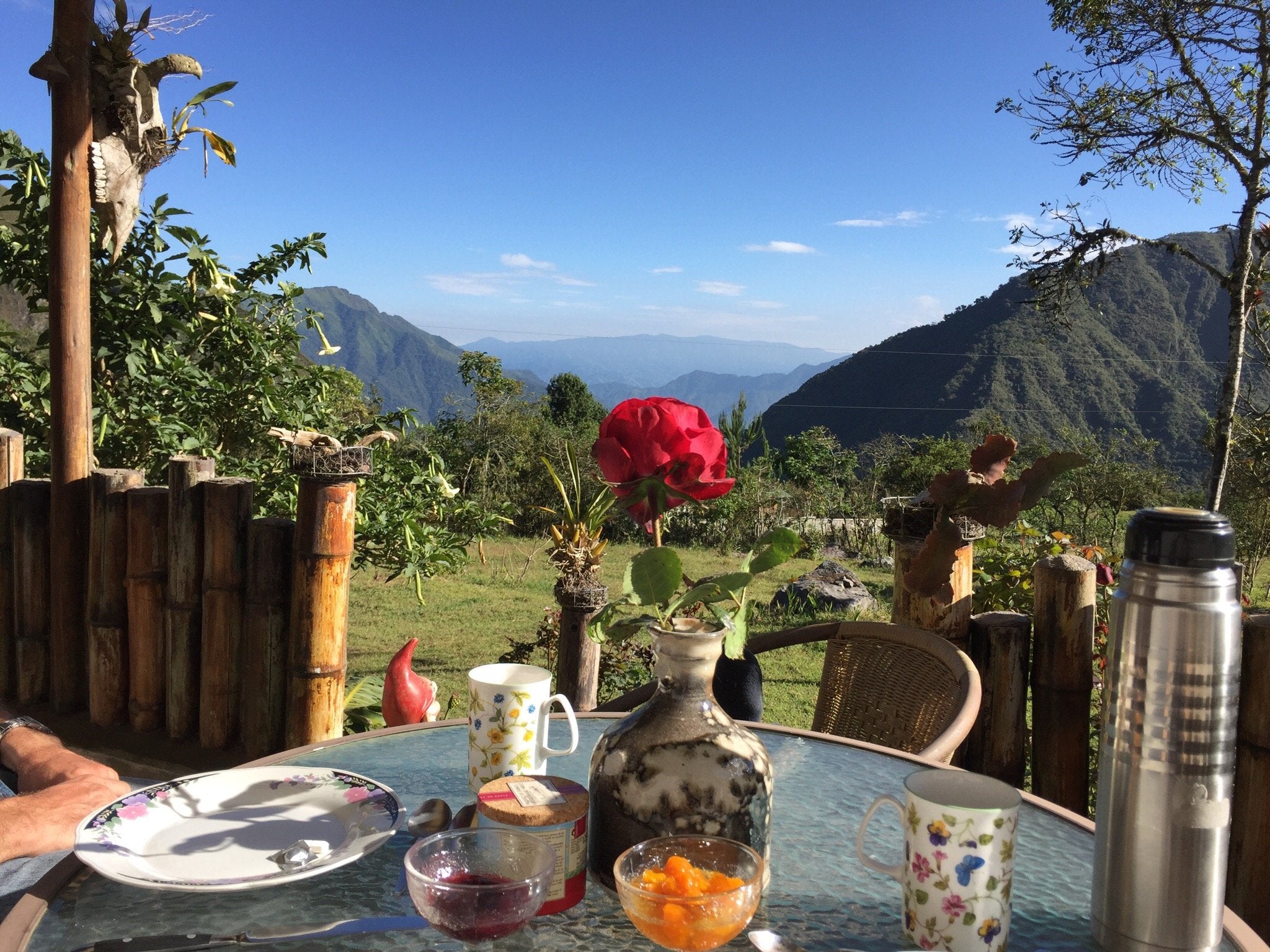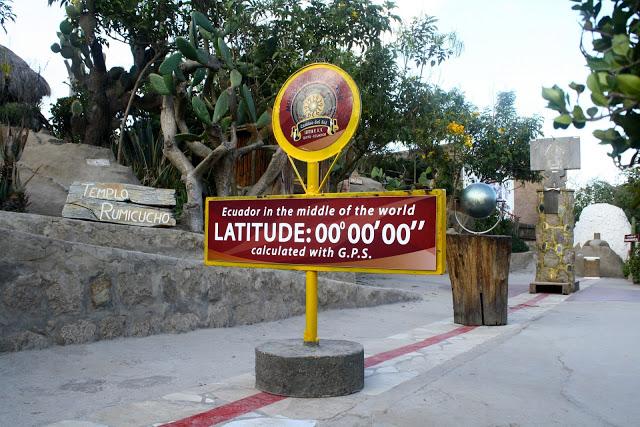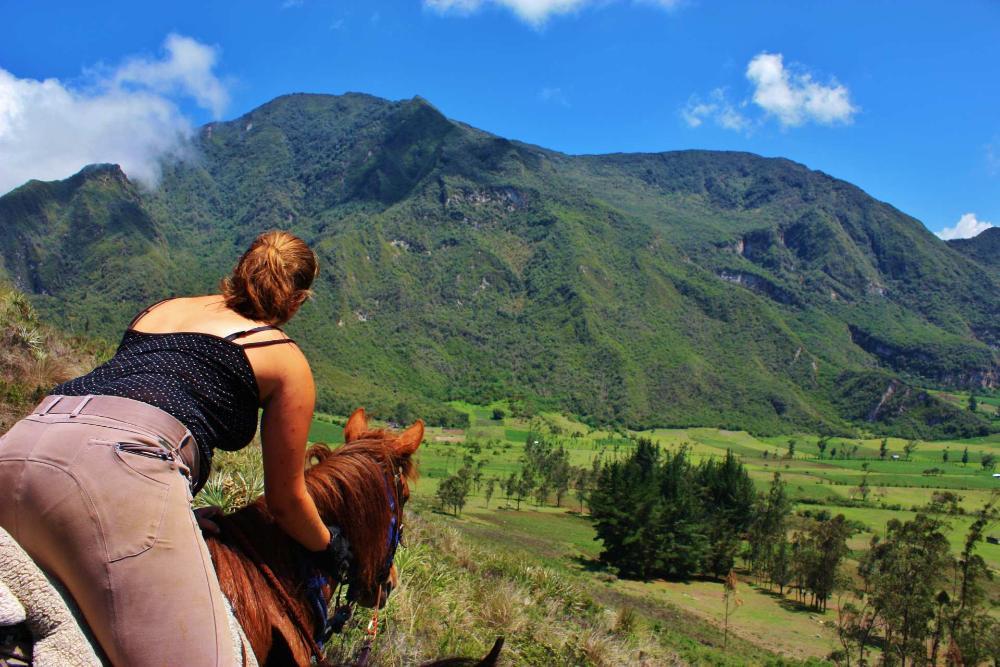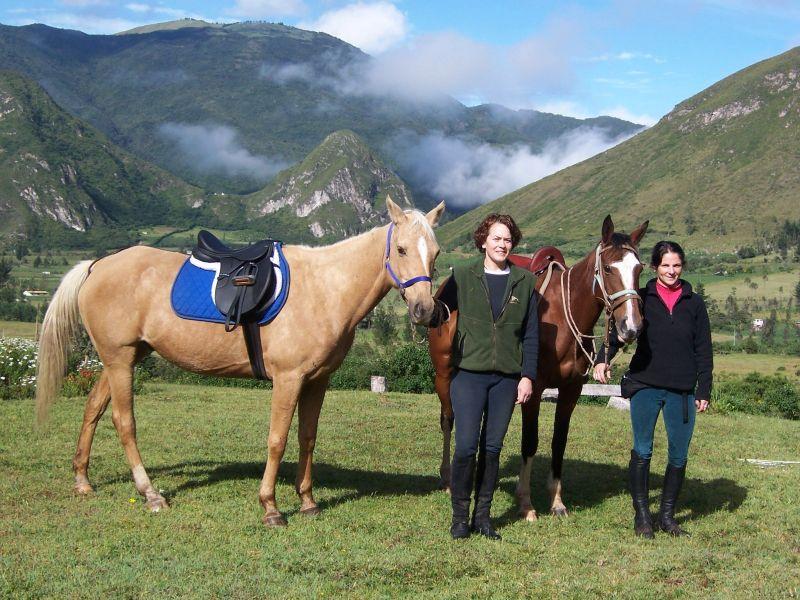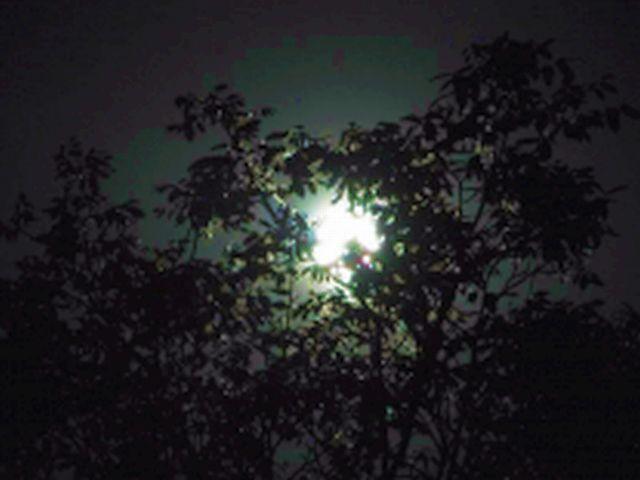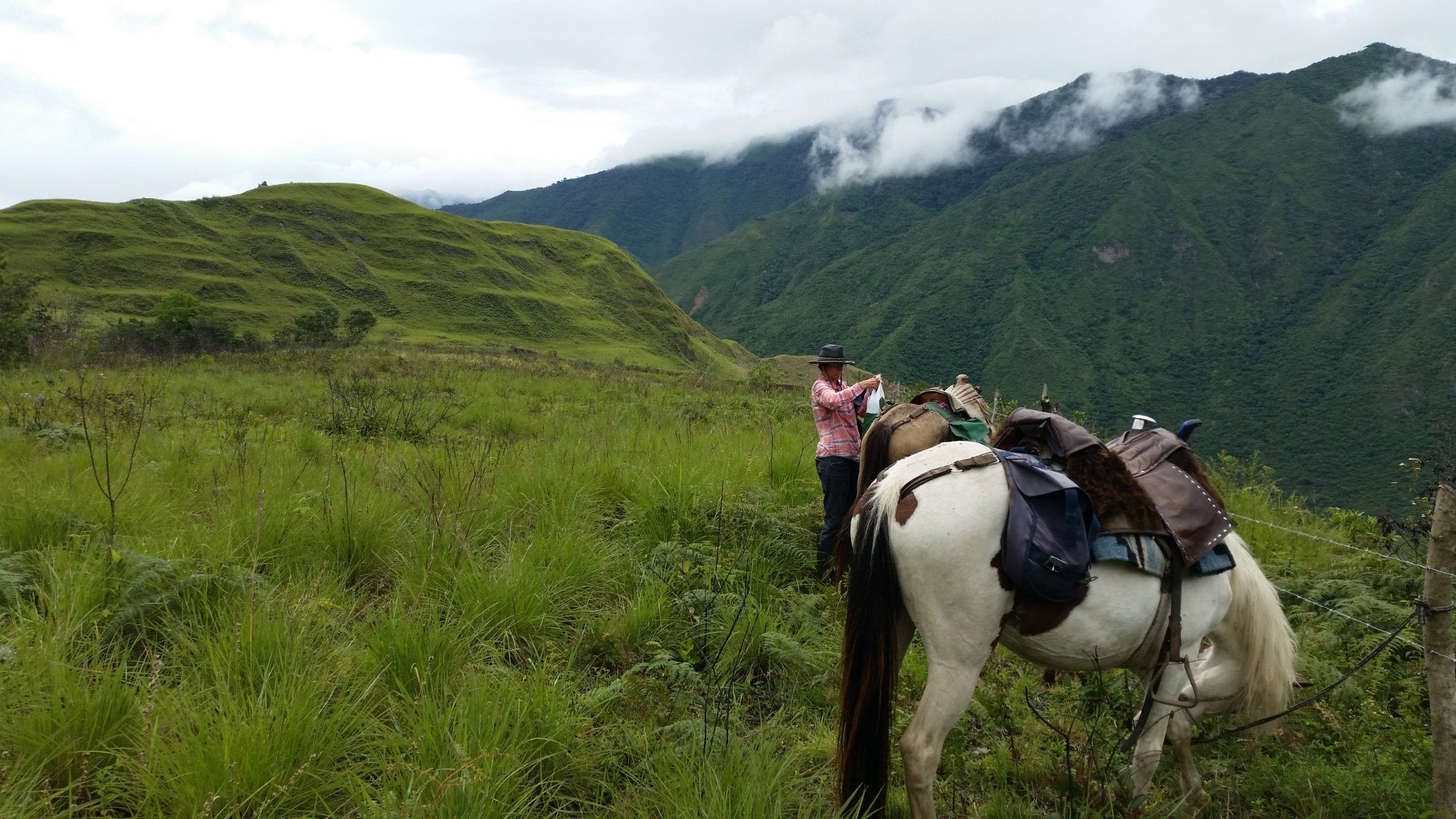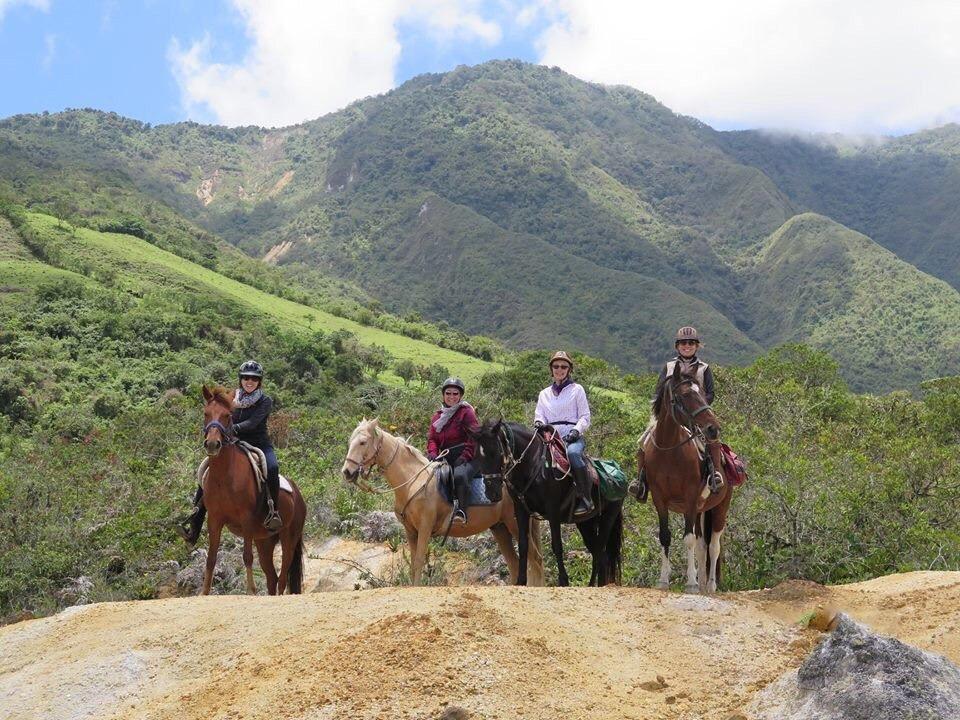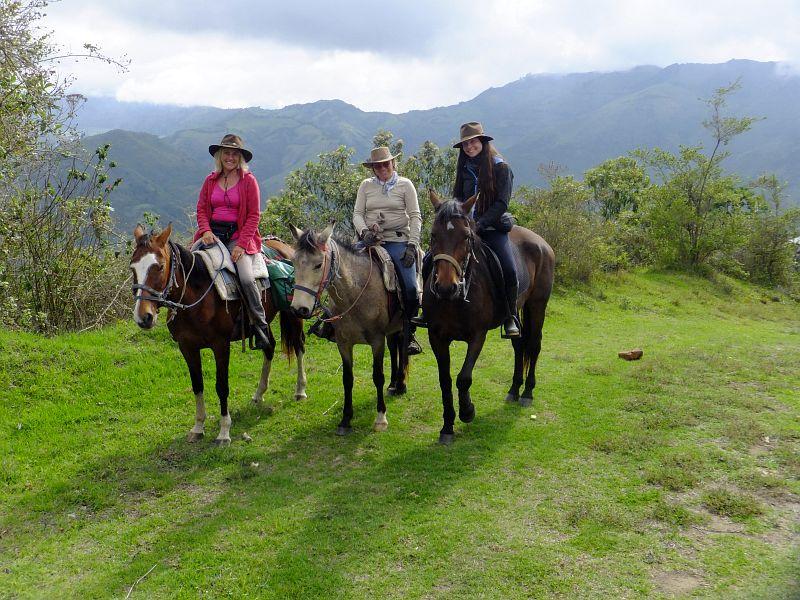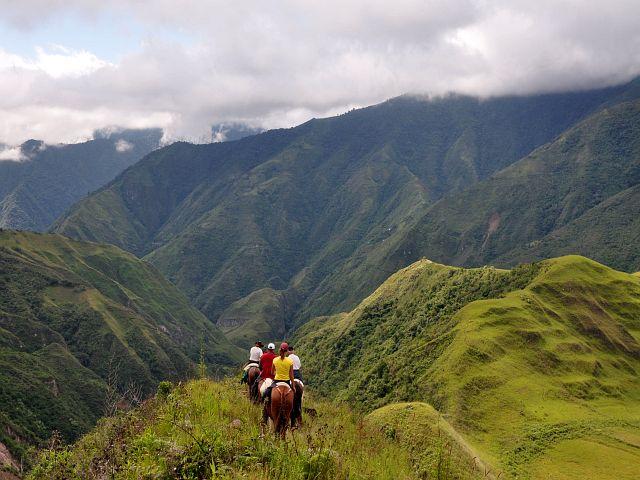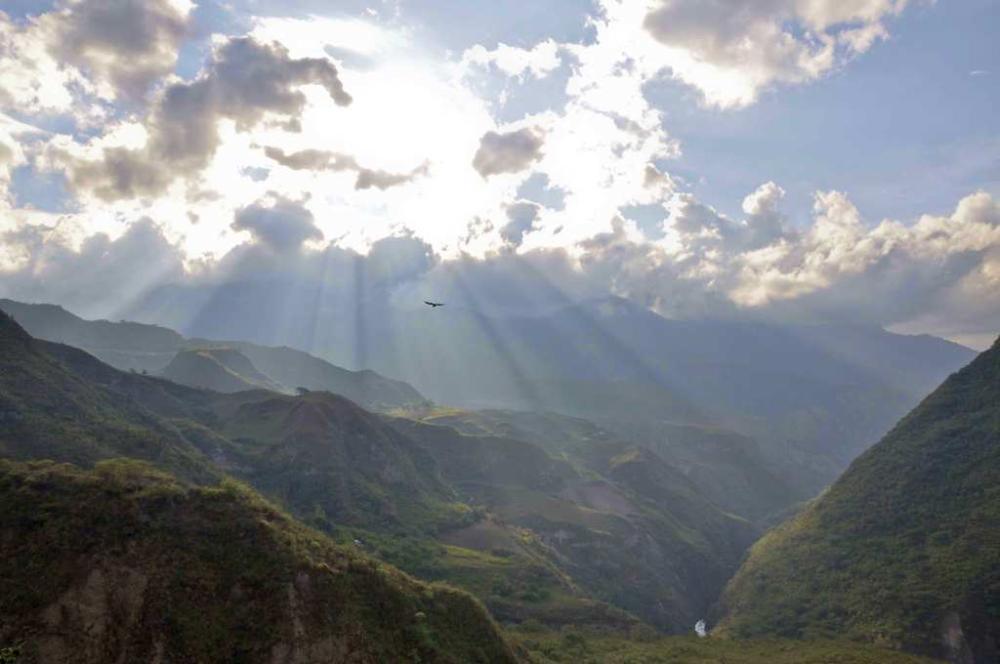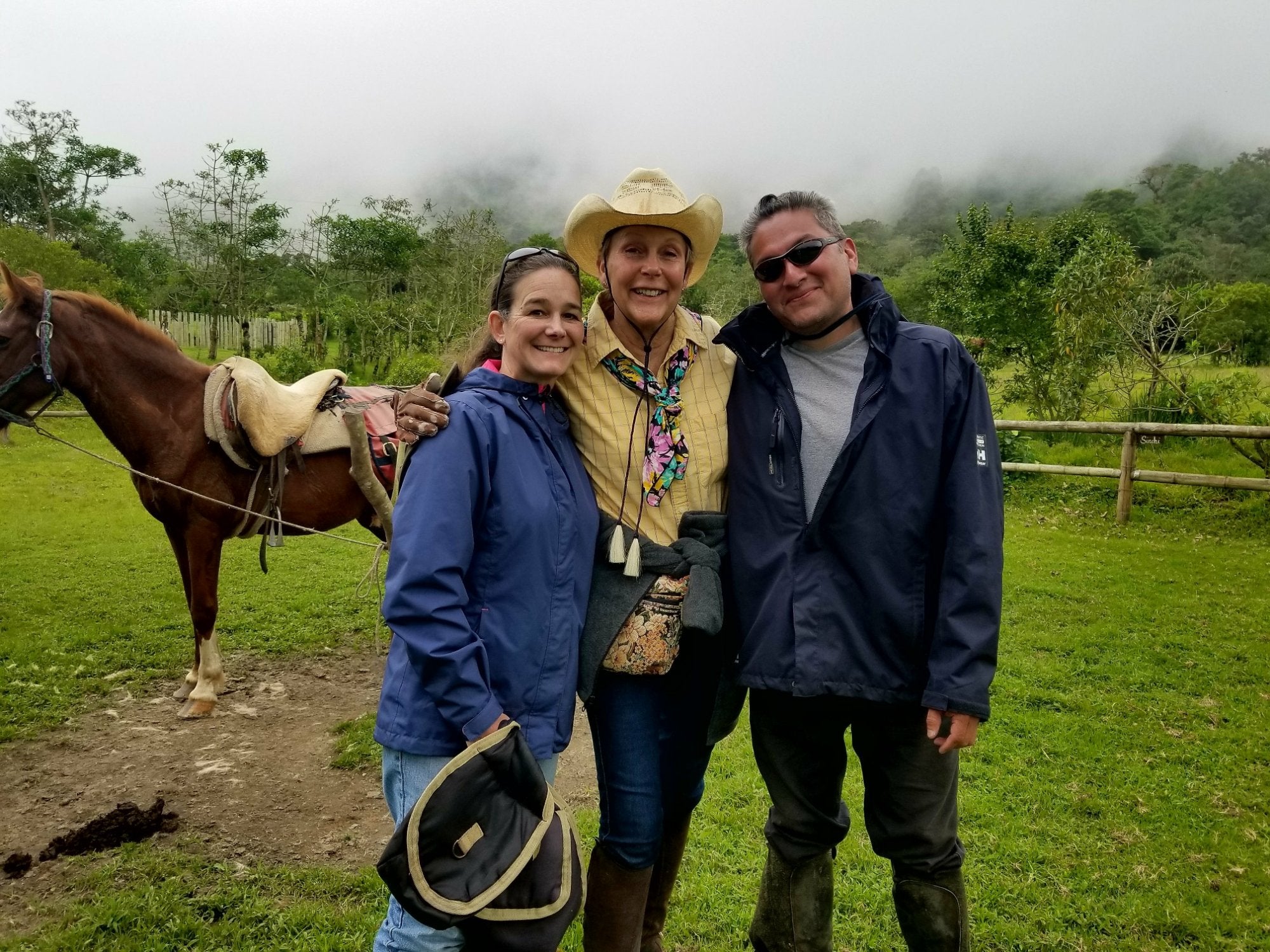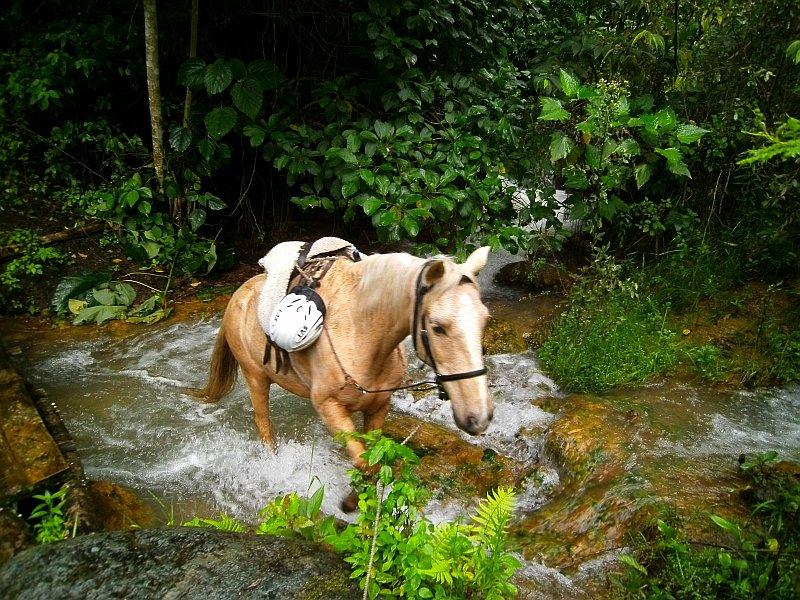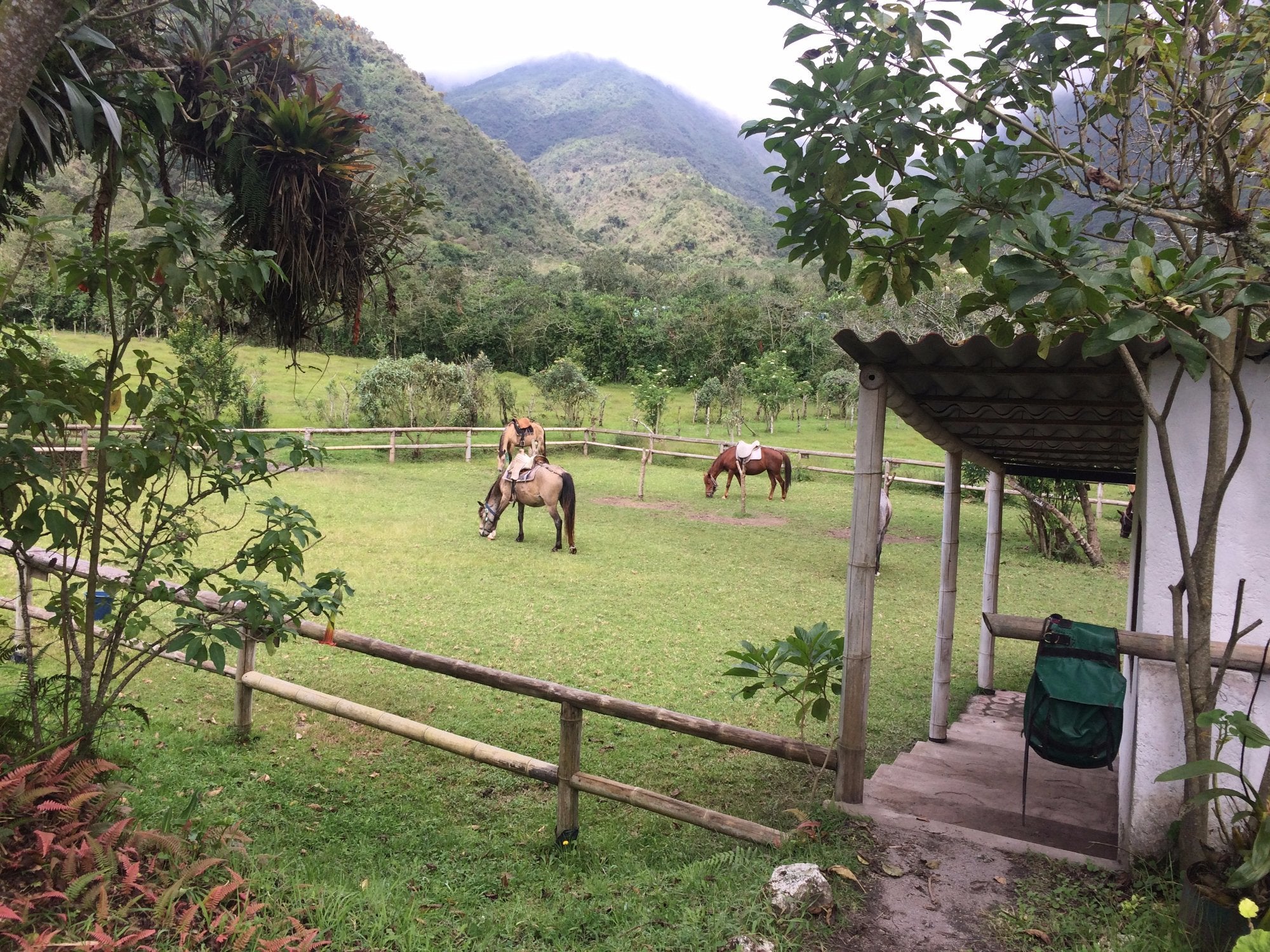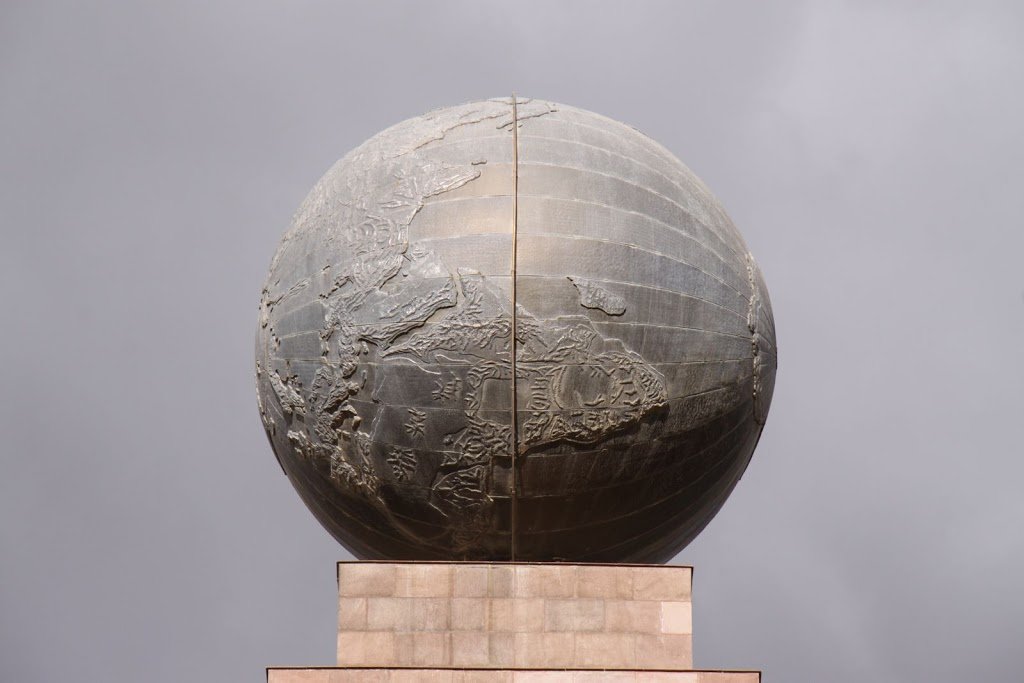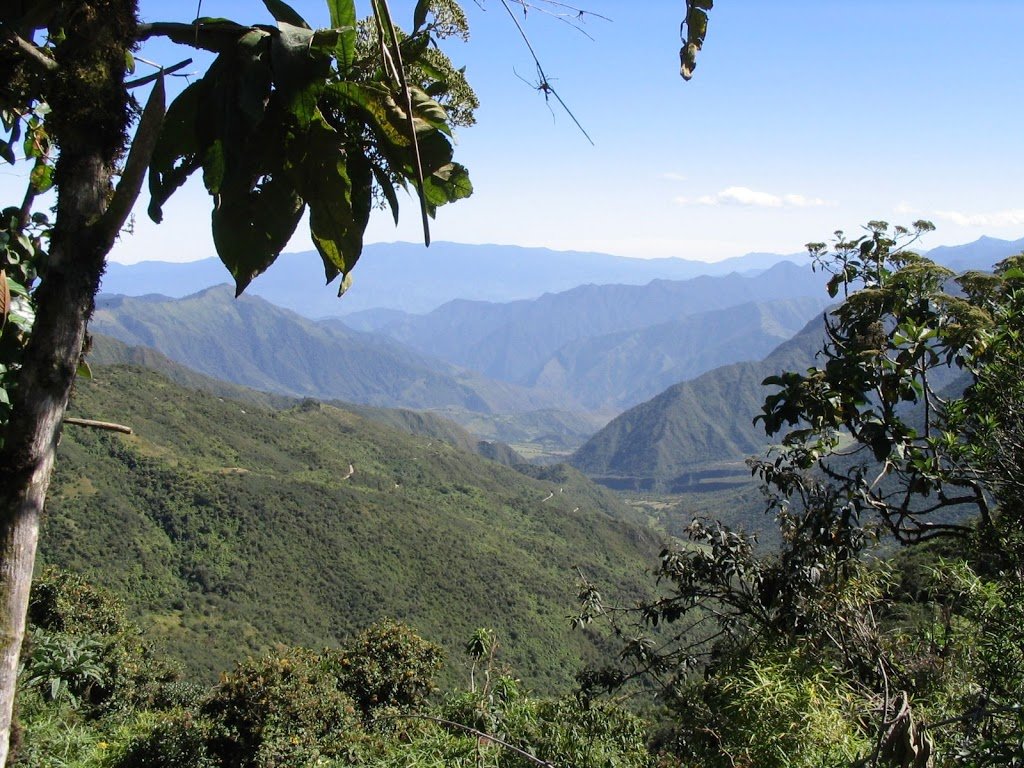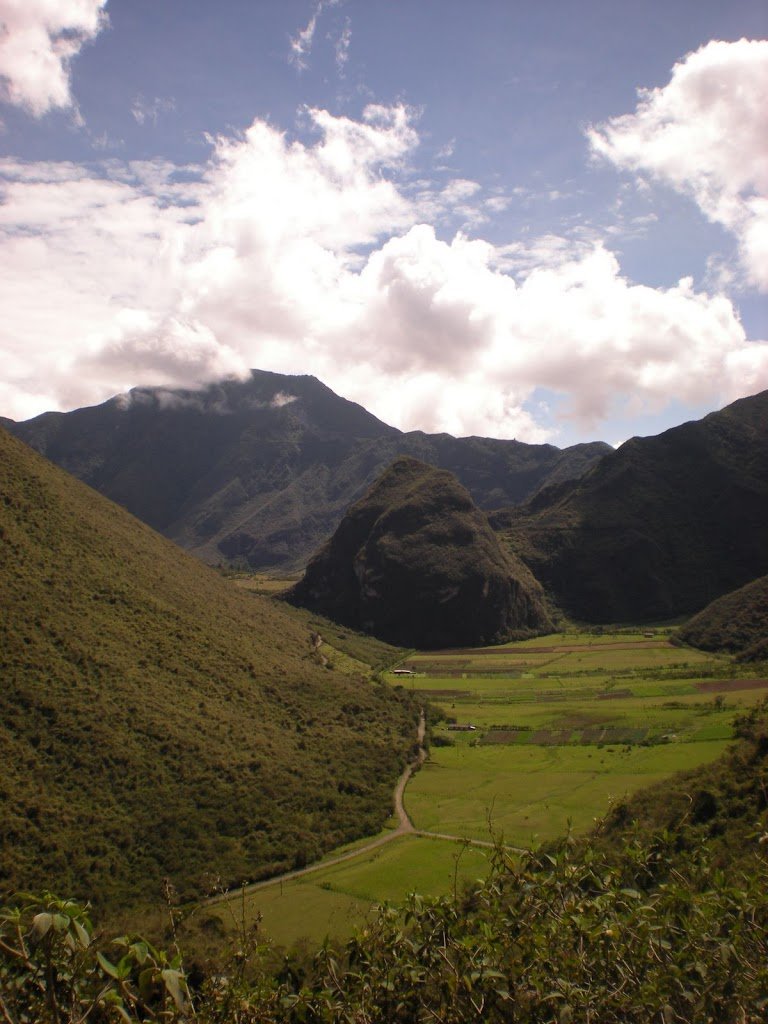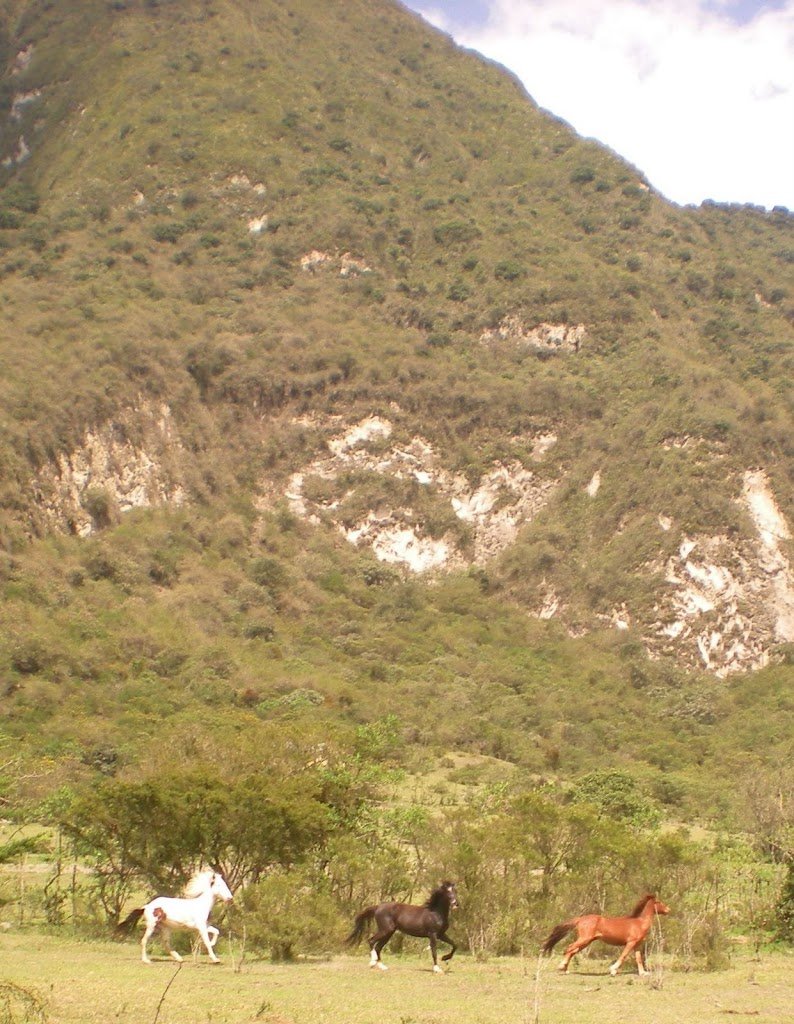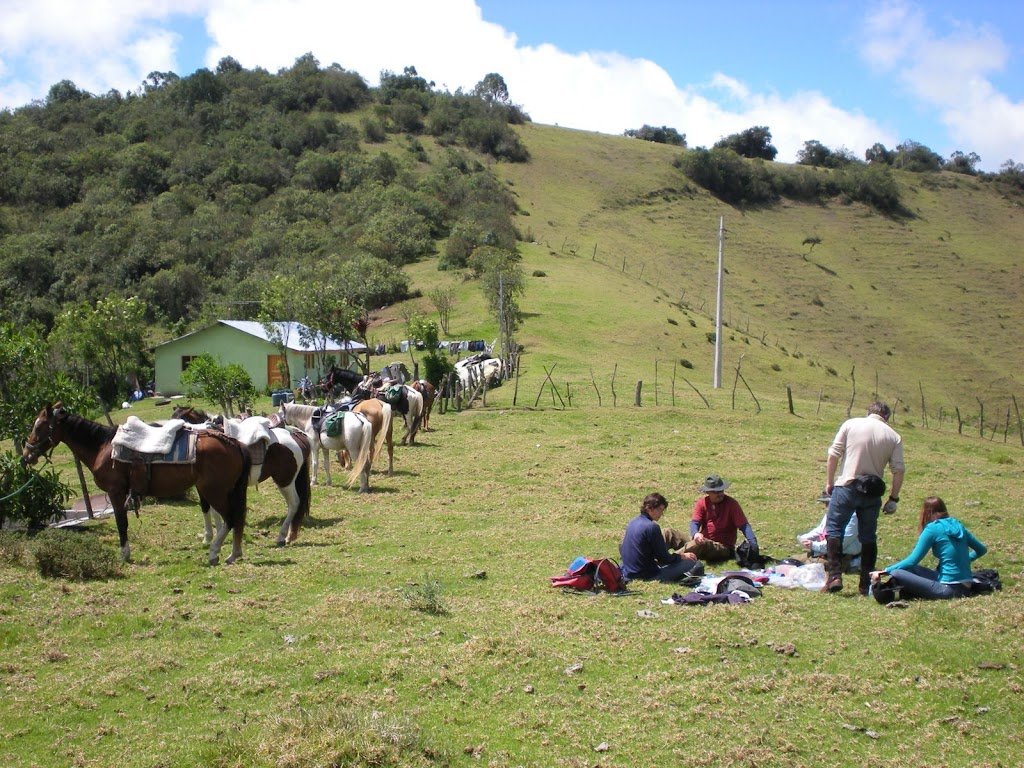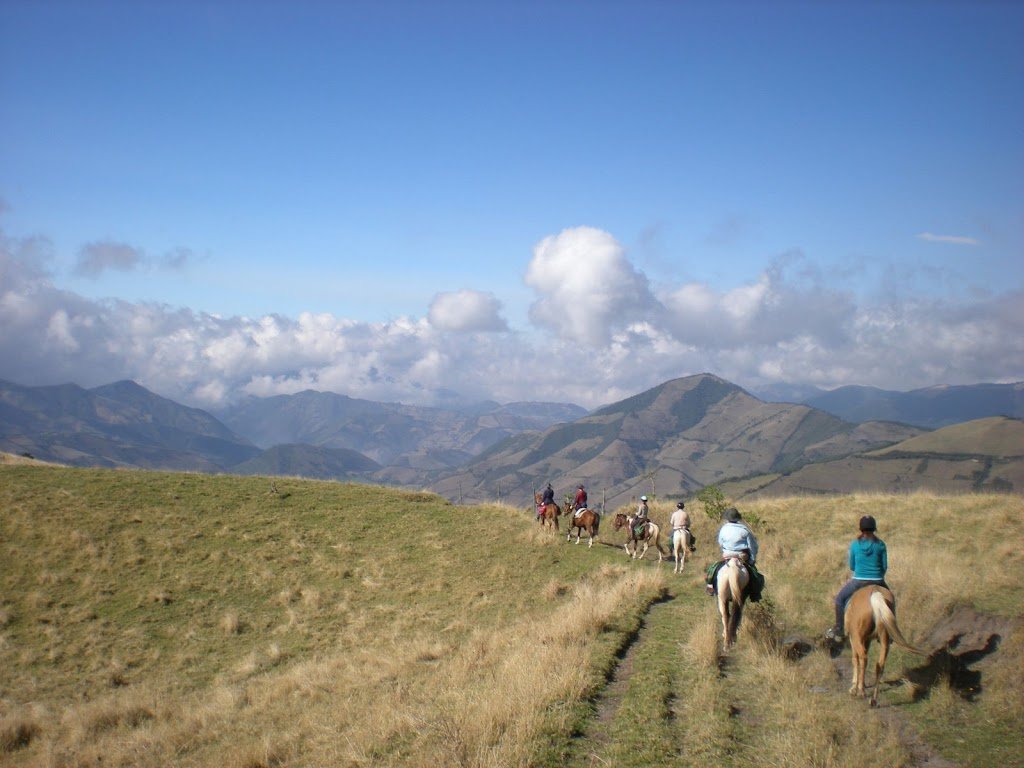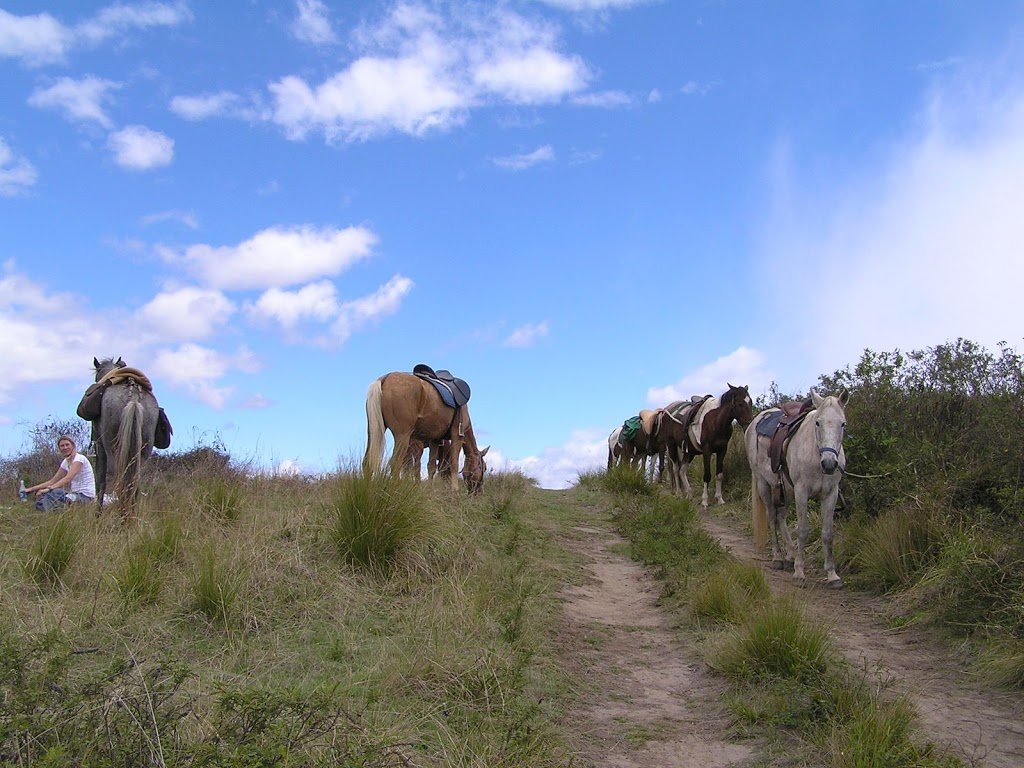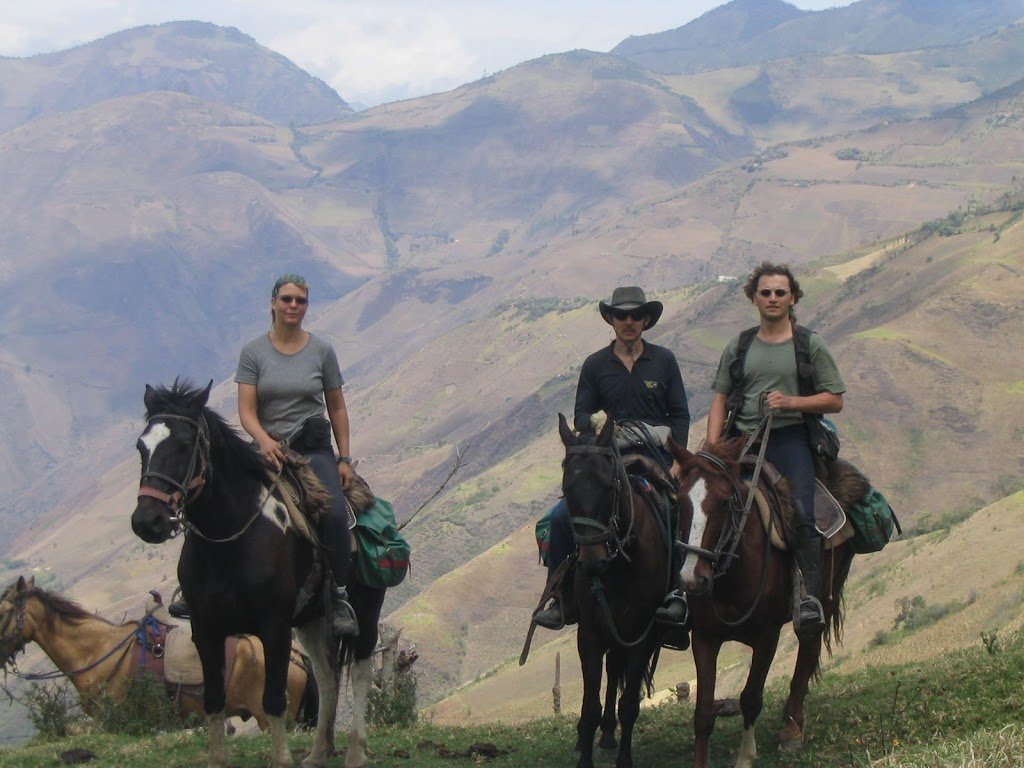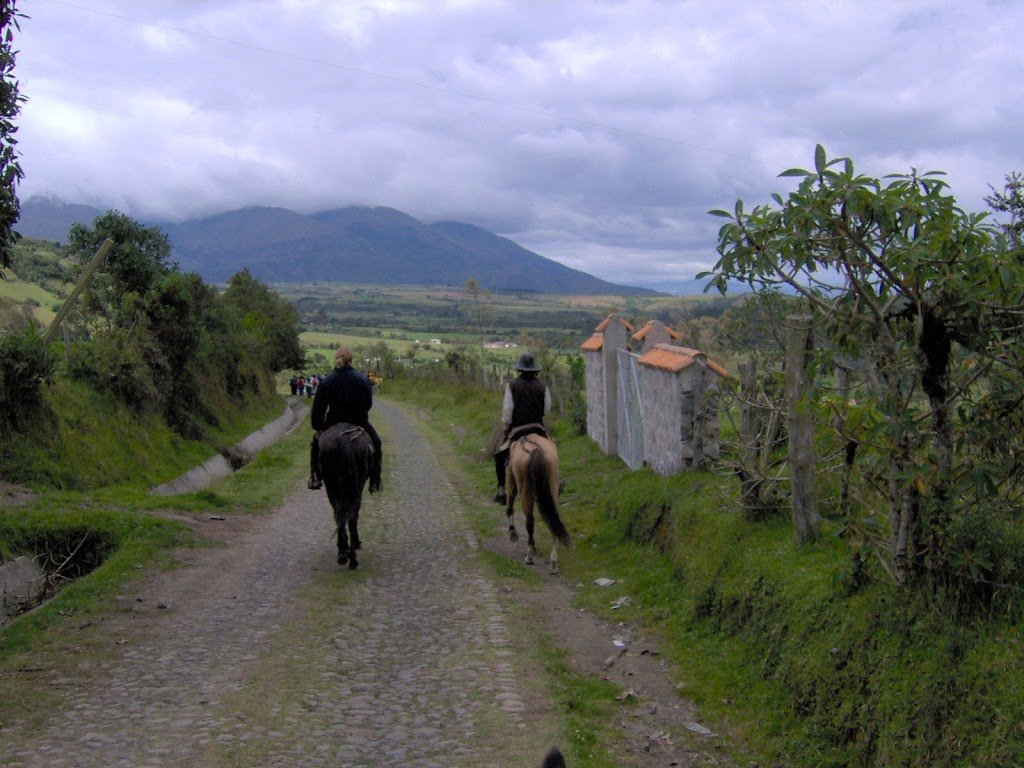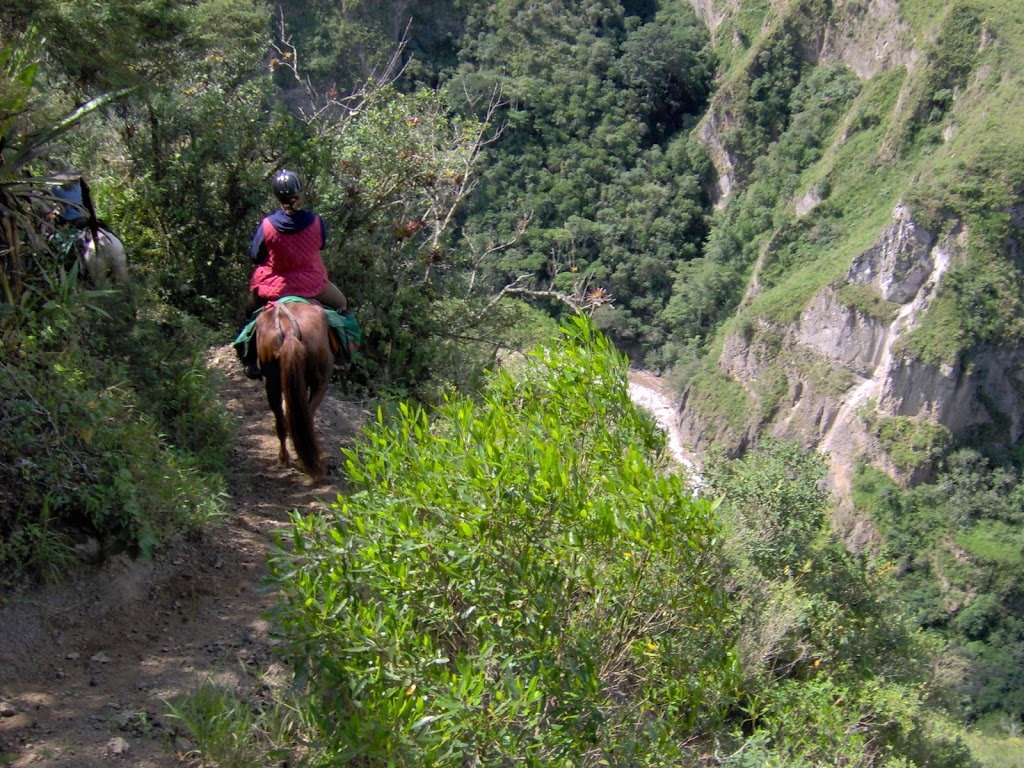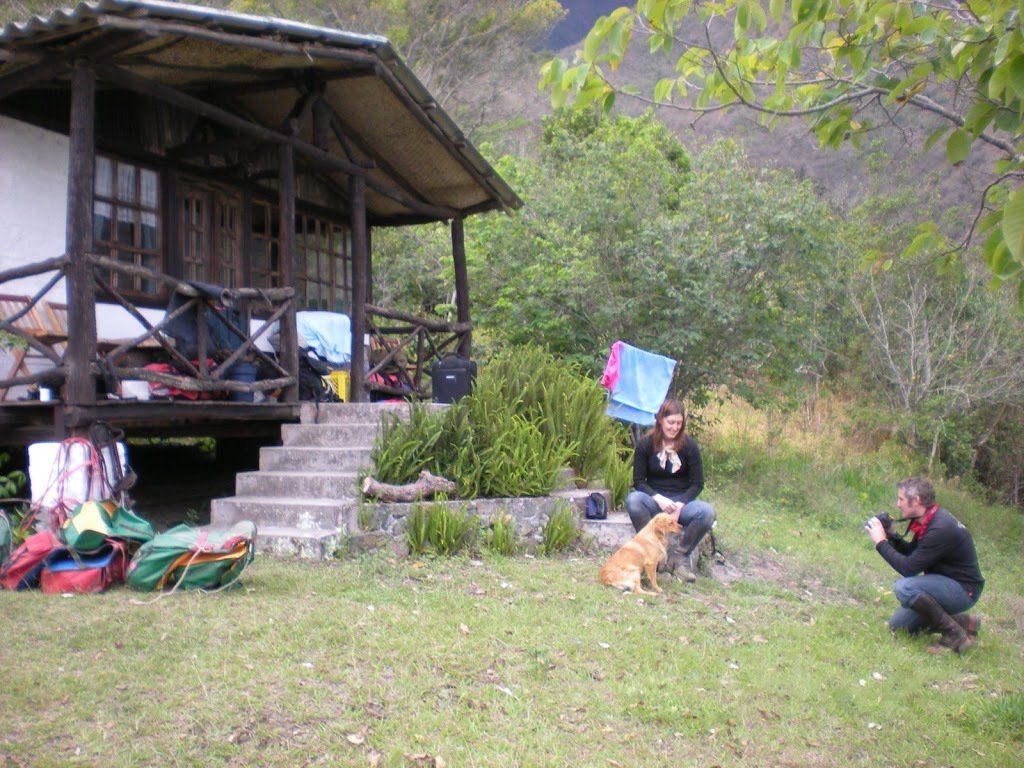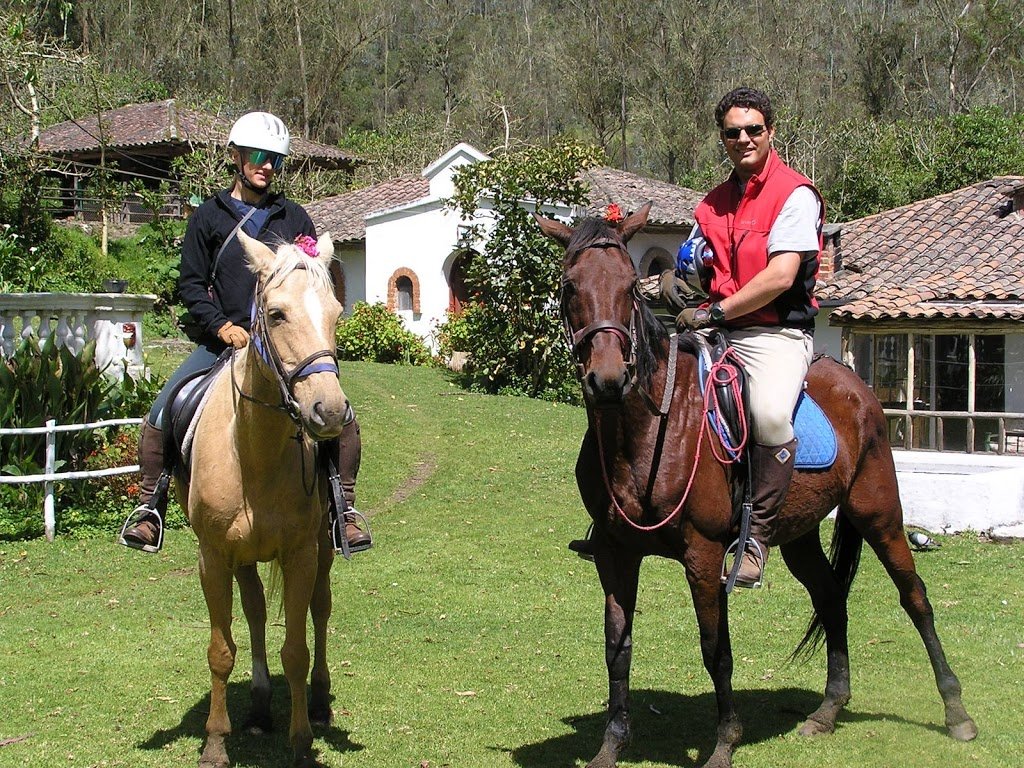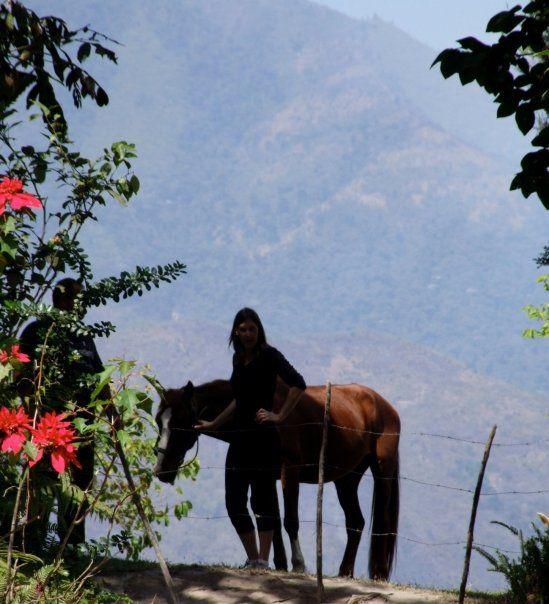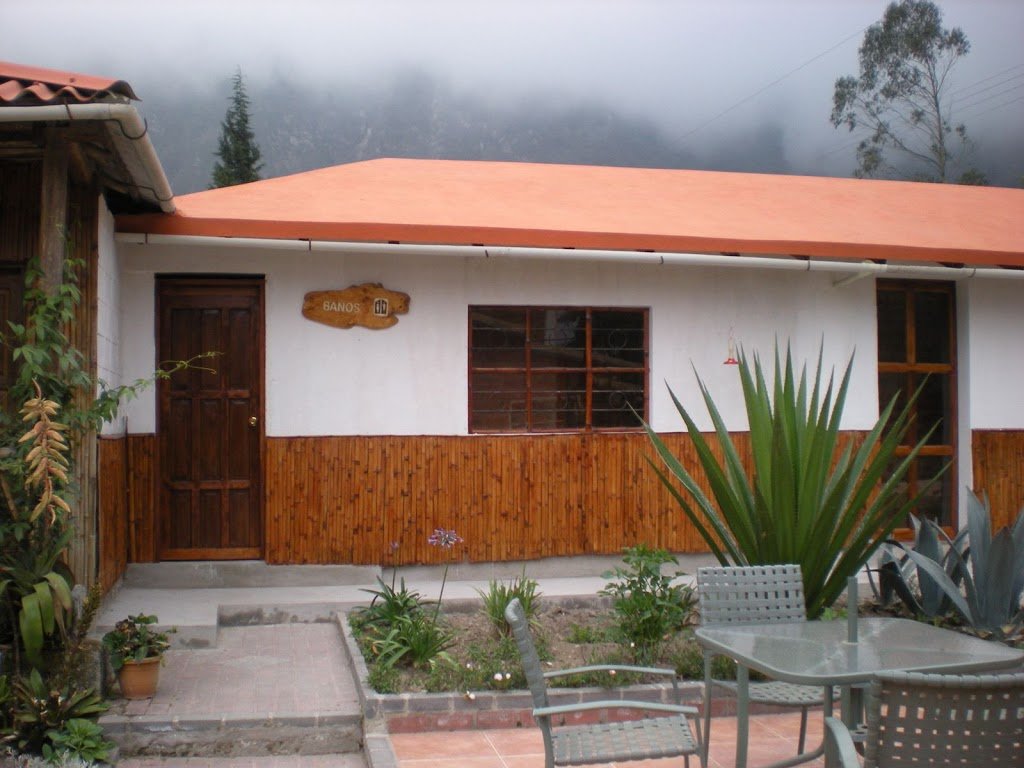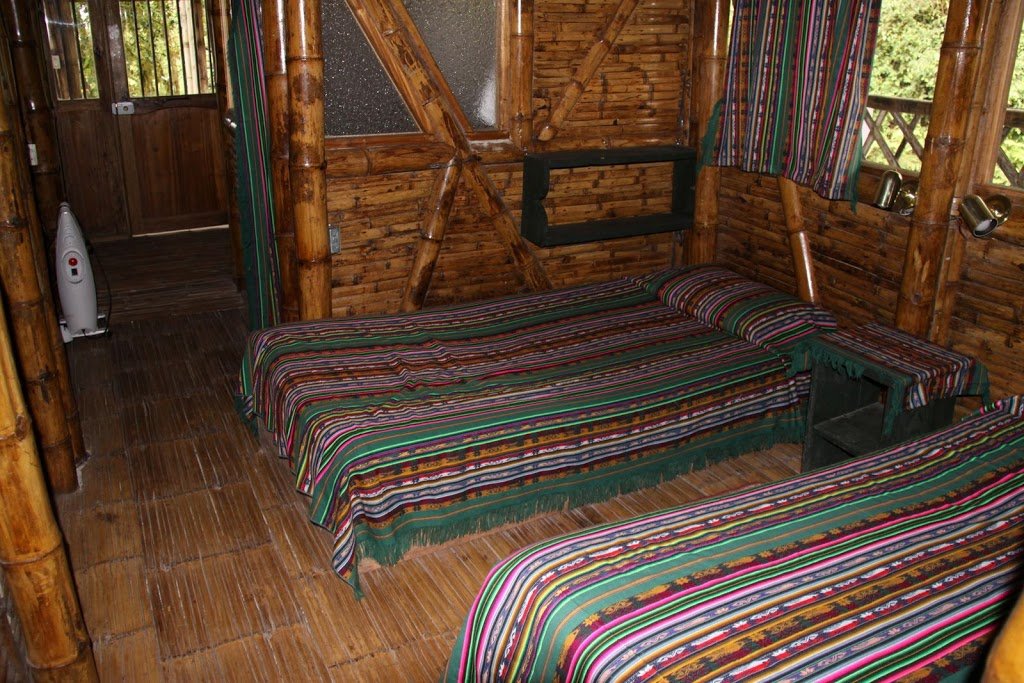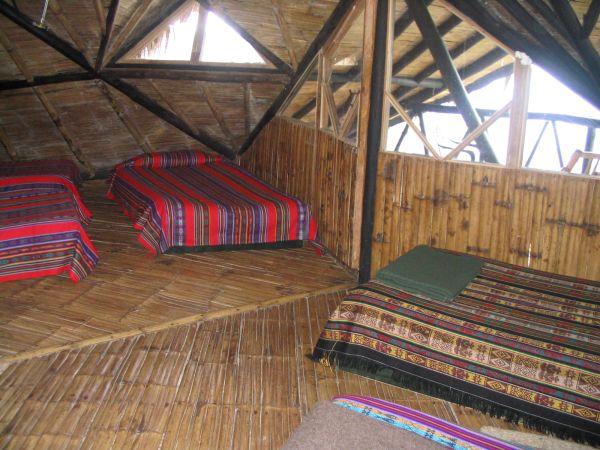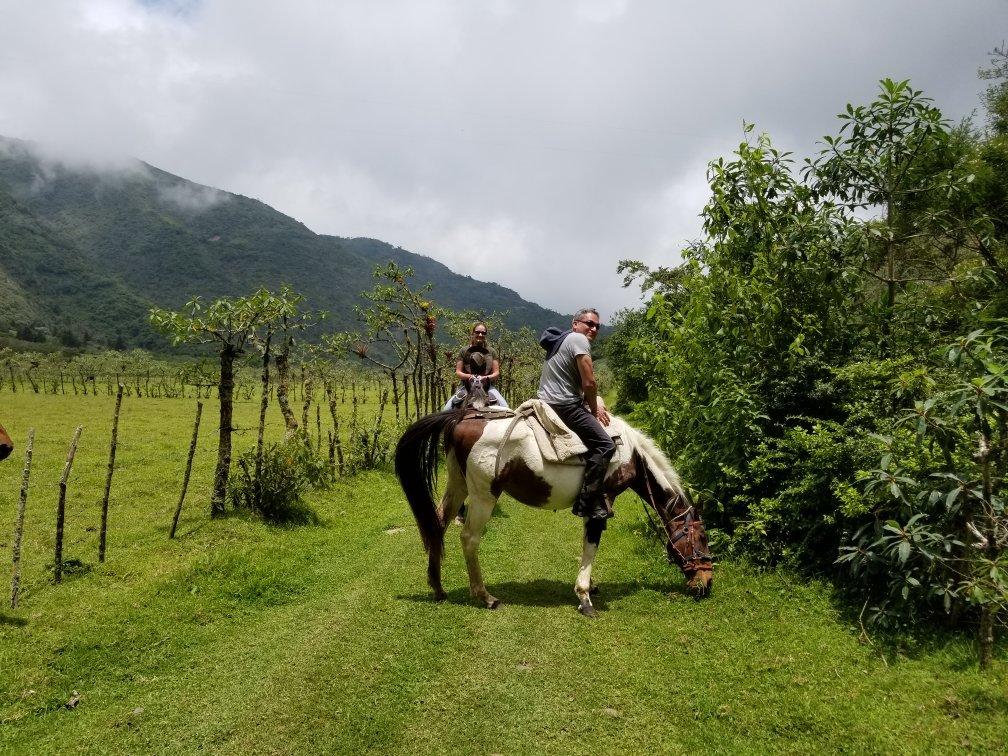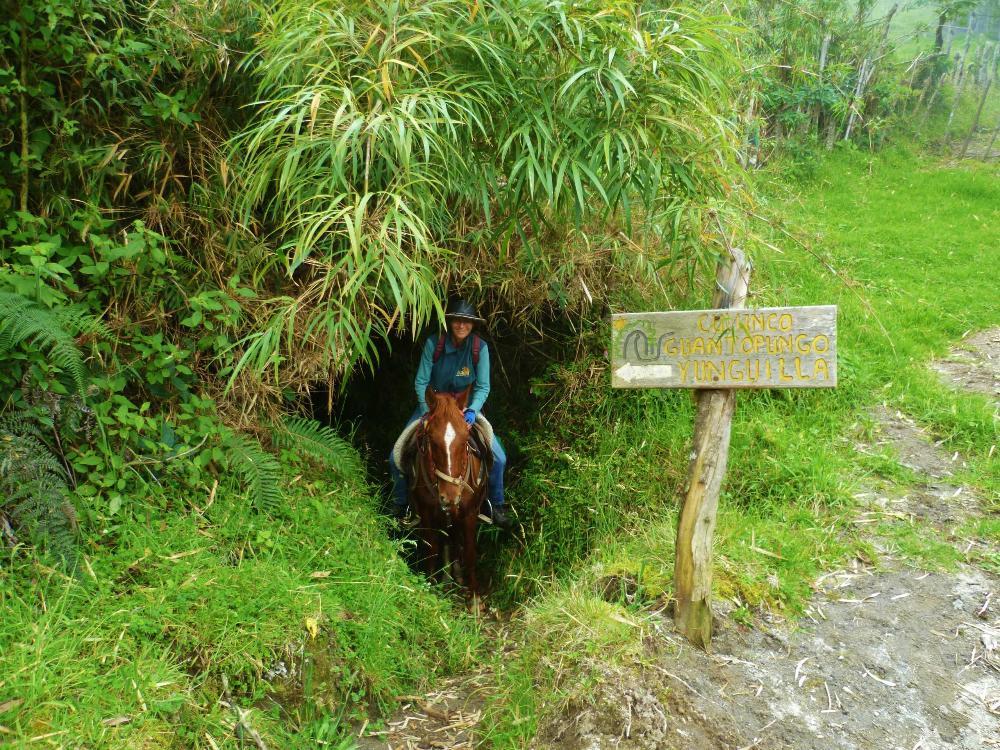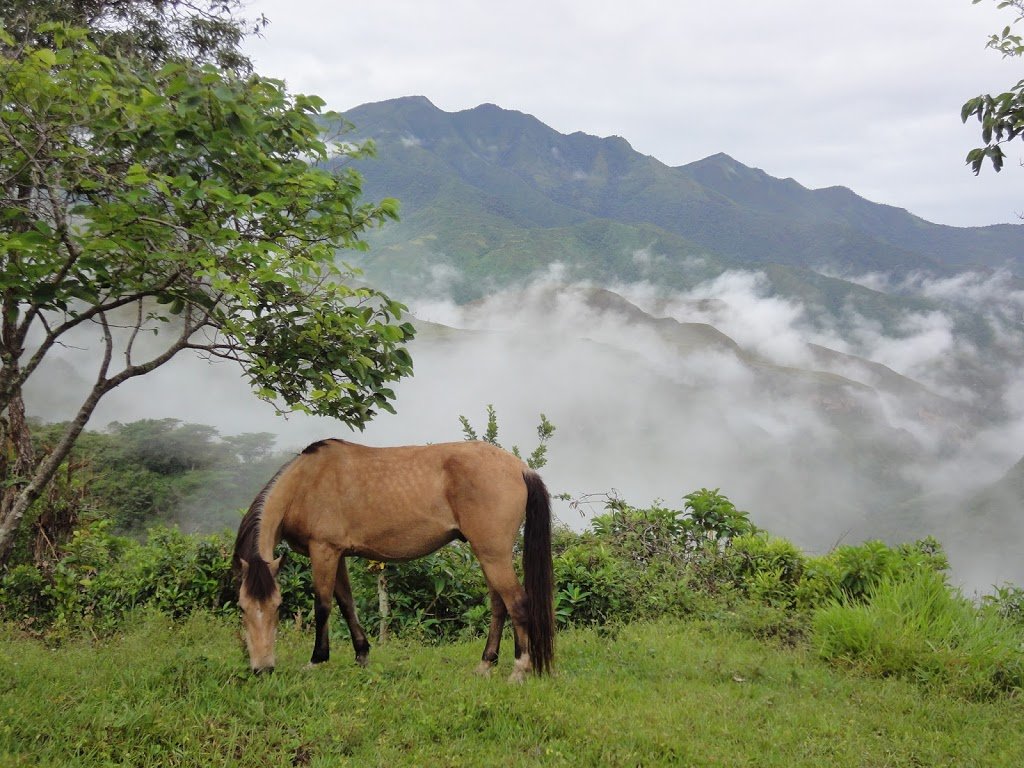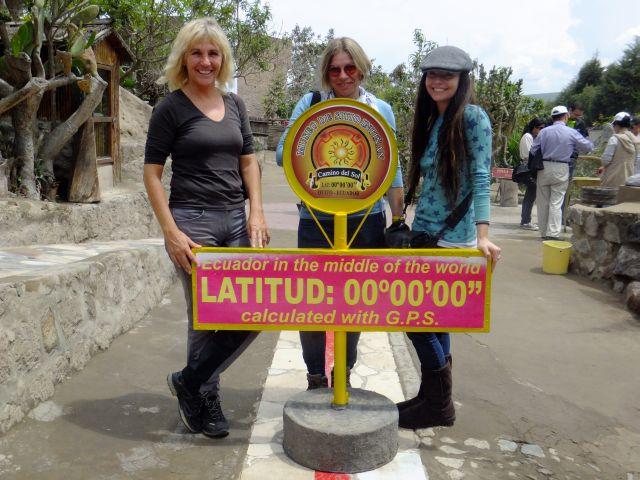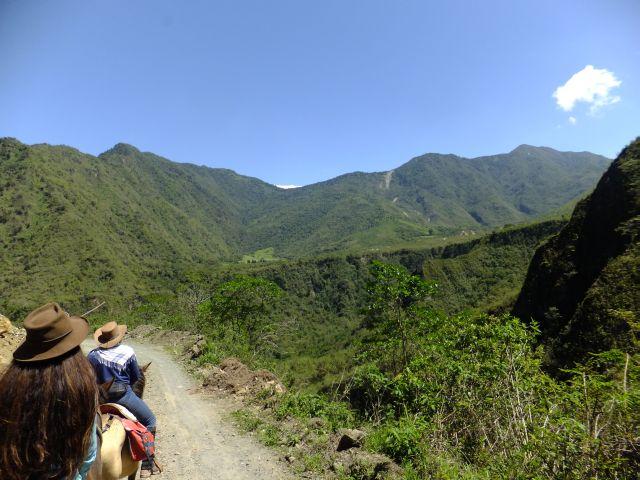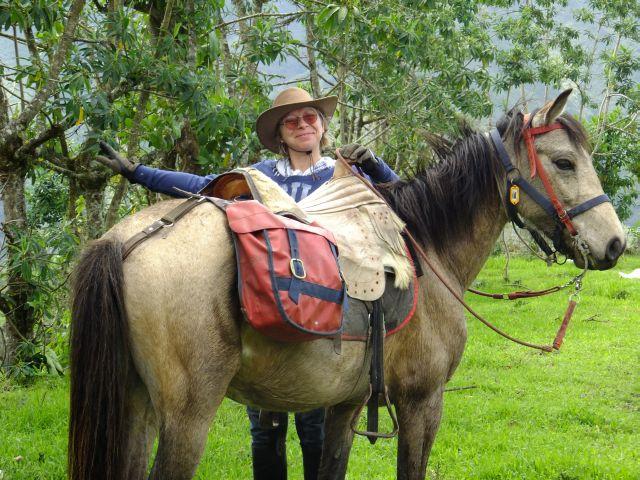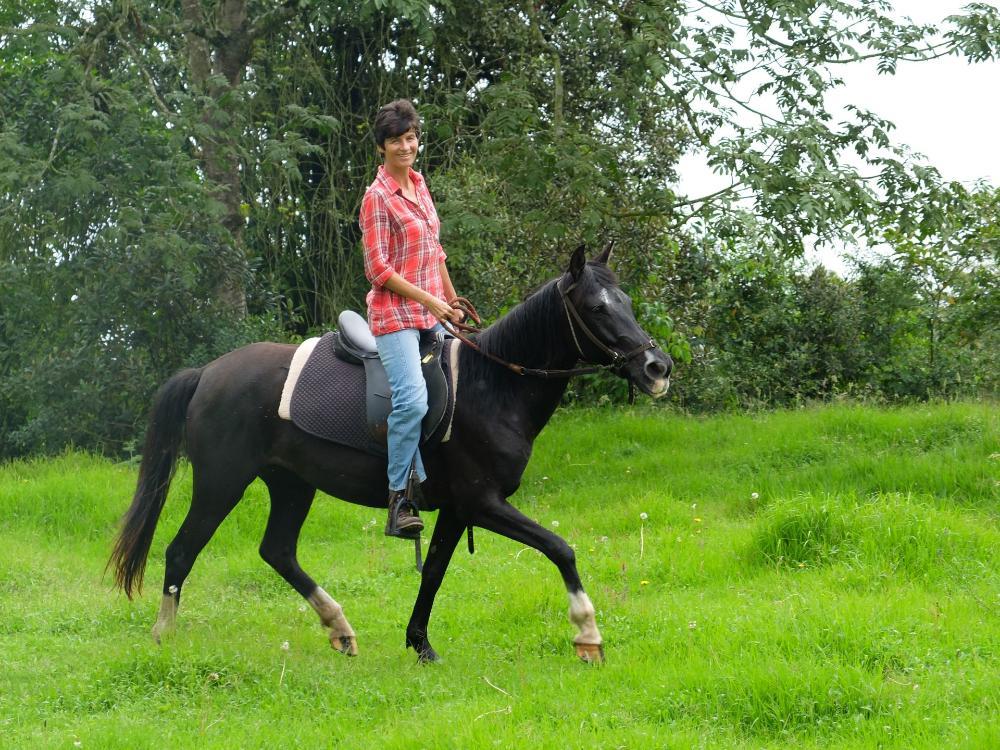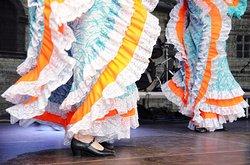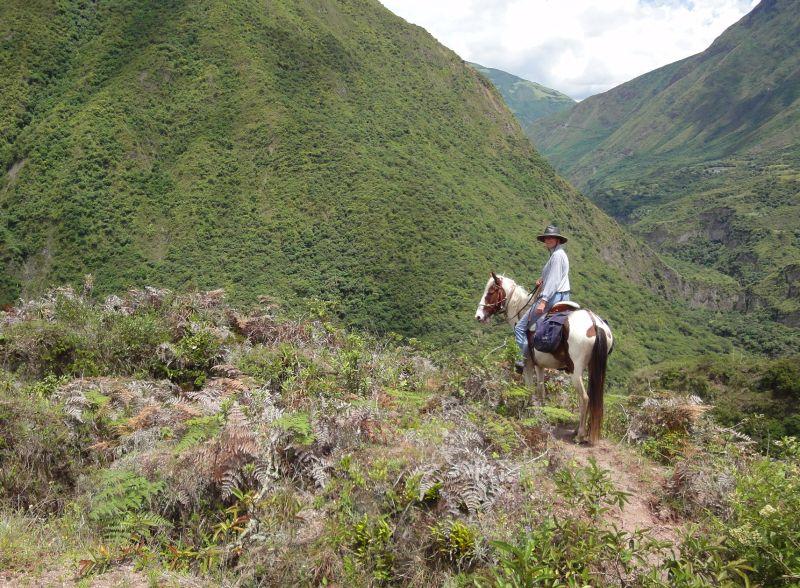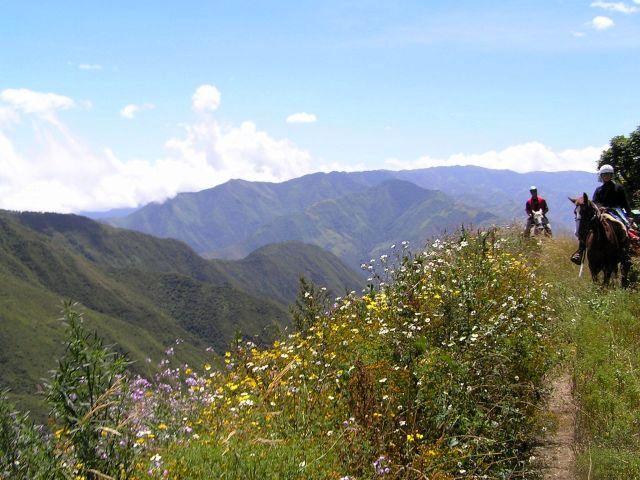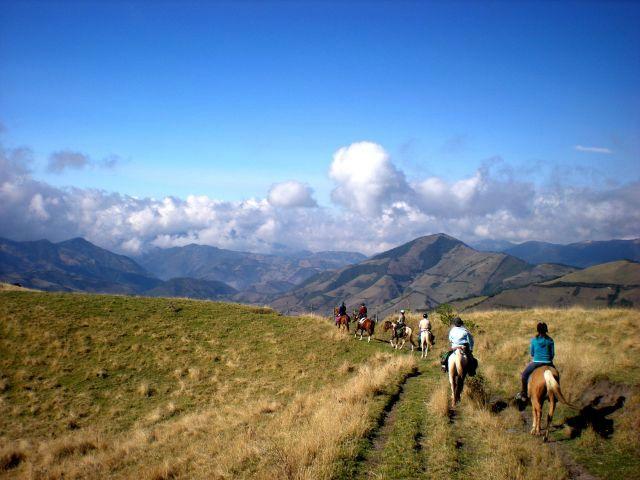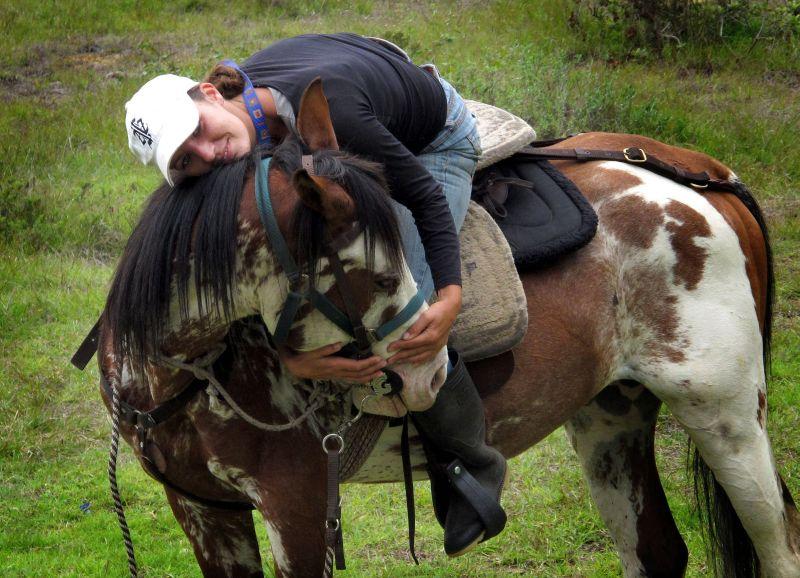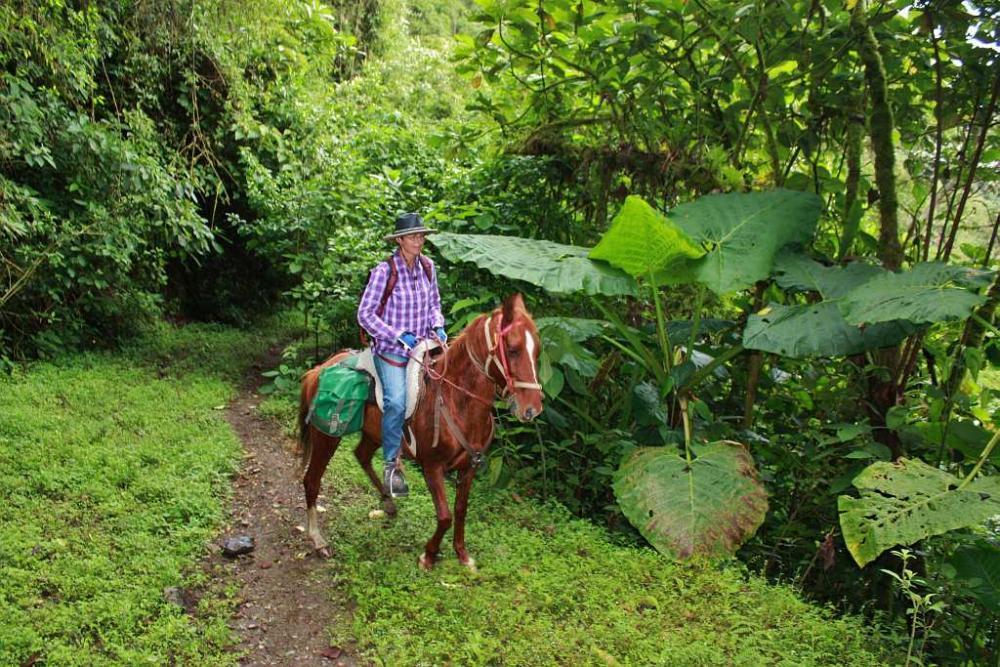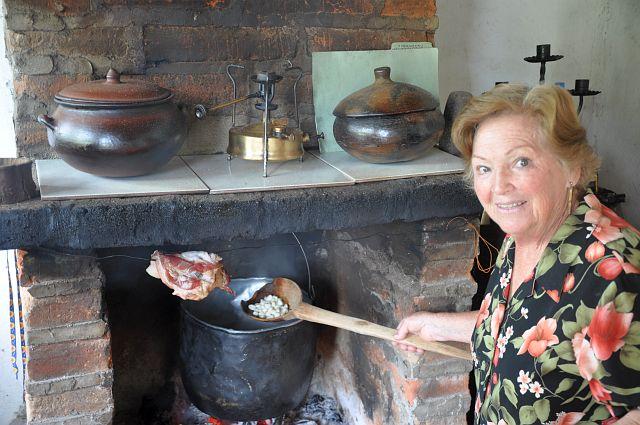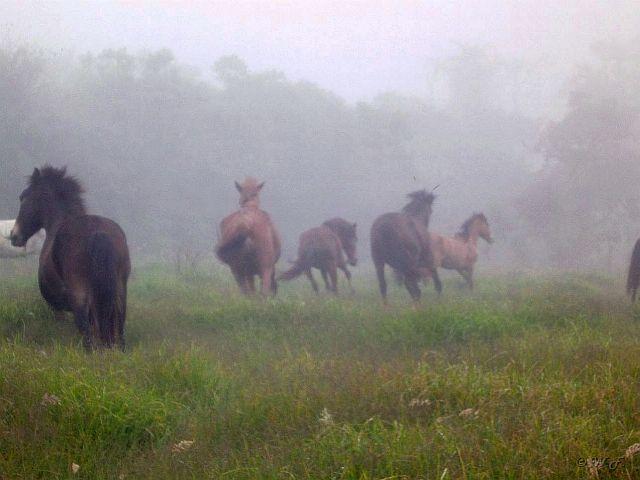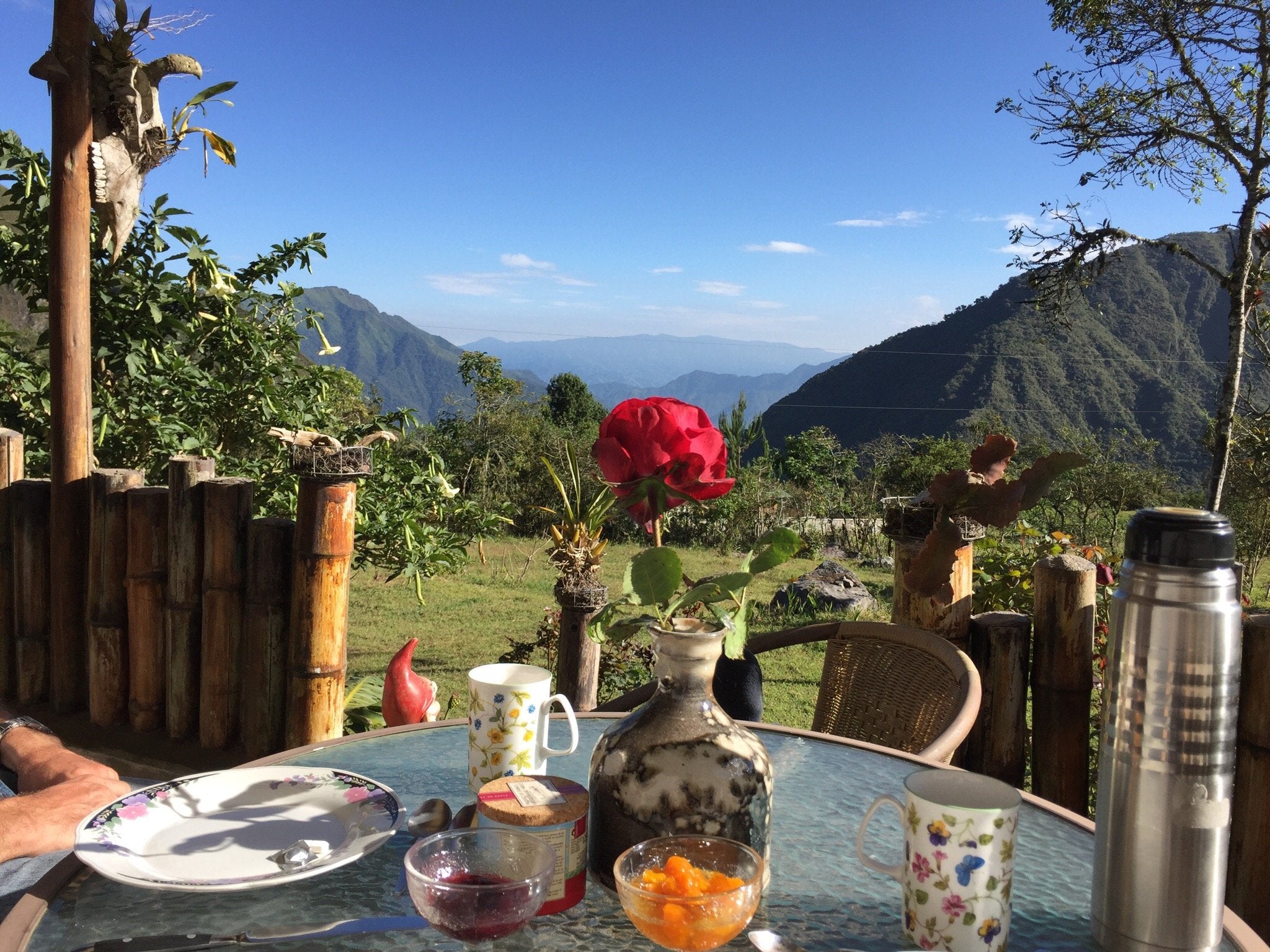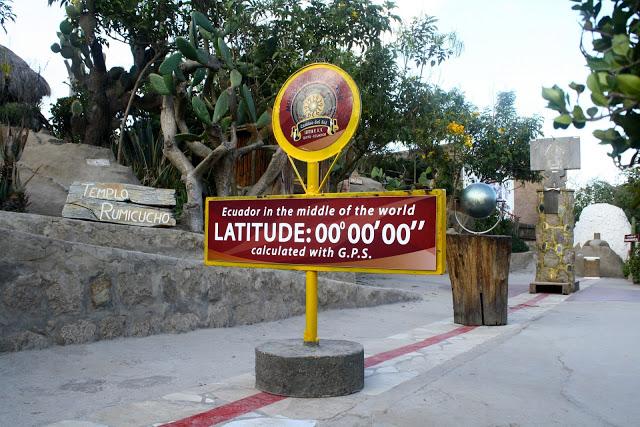 This eXperience will take you through the very heart of the Western Andes and their unbroken beauty.
Enjoy an incredible variety of Andean landscapes - jungles and deserts, hot valleys and cool windy heights, volcanoes and pristine streams, culture land and tropical wilderness - combined with fascinating in-looks into Ecuador's natural and social history.
TRAIL RIDE
8 days | 7 nights
NOT SUITABLE FOR BEGINNERS
Overview
This eXperience lead you through the very heart of the Ecuadorian Andes and their unbroken beauty.

Amazing scenery that changes from day to day accompanies you along the rides in and around Pululahua volcano and National Park. You have the chance to meet lush green cloud forests as well as desert-like landscapes, deep river canyons and steep mountain slopes, hot sunny valleys and cool windy heights, picturesque farming land and tropical wilderness.

Enjoy the magic of the very special dusk and night rides through Pululahua crater and let yourself travel into another world while having a Jacuzzi bath under the starlight. Sleep surrounded by the most epic and magical scenarios!

Due to the remoteness of the area, overnight stops are basic, though always carefully chosen, cozy and nice.

Get into contact with the hidden Ecuador, its people and lifestyle, while enjoying your ride on great, lively and very reliable horses.

Accommodation
From cozy hotels to B&B along a volcano crater, mountain cottage, bambo dome house and remote local farms
Meals
Traditional homemade food with local ingredients

Itinerary
Day 1
Morning to acclimatize to the altitude and explore your surroundings in Quito. Pick up at noon from your hotel or central meeting point, from where you will be driven towards the western cordillera in direction of the Pacific cloud forest on the slopes of Pululahua volcano.
Scenery and micro climate change around each major turn, and you get an impression of what variety awaits you on our ride. Along the way, you'll have lunch and make a stop at the Equator museum Intiñan 15km north from Quito with information on the ancient cultures that have determined the equator line more than thousand years ago.
You'll learn some interesting facts about geophysics and the people which once ruled the Center of the Earth.
In the late afternoon, you will start this adventure with one of our very special dusk and night rides through Pululahua crater, which will allow you to deeply capture the magical spirit of this unique geographical area.
As our path slowly winds into darkness and dense mists, fireflies start lightening the sky, like stardust falling down on us. With your senses sharpened by dark, this ride will be a totally different eXperience and shall build up deep trust between you and your horse.
You'll go straight from the saddle to the dinner table of your cozy country hotel where you will sleep tonight.

Day 2
Have a look at the surprising surrounding, while taking your breakfast among busy rushing hummingbirds in the cottage garden of your ecological hotel.
Another ride through the stunning landscape of this ancient volcanic crater, this time at daylight, will show its constantly changing sceneries and huge biodiversity.
Pululahua is known to be the biggest crater on the whole American continent and one of only two inhabited craters in the world. While circling the central lava cone, you witness volcanic history and nature, interesting geological formations, mineral avalanches blooming with wild orchids and traditional Andean agriculture. Enjoy an outdoor Jacuzzi under stars after dinner if your muscles should request it!​

Day 3
You'll be leaving the volcano along cloud-forest covered mountain slopes, passing by deep gorges, carved by lava streams thousands of years ago to enter the narrow Valley of the Rio Blanco with its warm and tropical climate where you shall find coffee trees, fields of sugar cane and a lot of tropical fruits.
Legendary historical sites can be observed along the way. When the afternoon light breaks through the clouds over the pre-Inca-fortress Portalanza this mountain-valley looks most certainly like taken from a fairy tale.
"Aguacatal" is the name of the very remote (no electricity!) and beautiful farm that offers us beds for tonight in cozy wooden cabañas (alternatively ancient Jesuit Hacienda Niebli de la Compañia, depending on availability). Ice-cold Caipiriñha, hot solar shower and delicious evening meal should make you happy.

Day 4
In the morning, You'll enjoy the pleasant climate of this end of the world place, as much as the opulent breakfast that your host Sonja has prepared for you.
Today's ride leads you along and above the dramatically beautiful Guayllabamba river valley, combining steep adventurous climbs through dense vegetation with gallop stretches on mountain ridges with wide open views, overlooking the steep and winding gorges, a comprised version of the Grand Canyon. This valley has been settled long before the arrival of the Incas, by cultures who were farming the land, building temples for their gods and knowing the exact position of the equator line.
You shall encounter some of their testimonies on your ride, while overlooking grave hillocks, terrace hills and 1300 years old stone carvings.
Zigzagging dense forests and bush land, sometimes requiring a machete, climbing steep slopes, crossing pristine water streams, you wind through ancient paths, nearly forgotten nowadays, used only by the very few farmers still living out here, to make your way back into the volcano.

Day 5
More open views to expect! Today, you'll be taking an even closer look on the pre inka hill Portalanza that you've seen from across the canyon yesterday. Along flower fields for exportation, sugar cane, banana and pine-apple plants, you approach the narrow ridge between Rio Blanco and Rio Tanache, which you will follow down to the plains, where once stood a Quitu-Cara village. Today only swaying grass in the wind.
The view is truly breath-taking. You'll enjoy your lunch to the sound of the crickets, while viewing vultures and hawks sailing above you. Return through jungly mountain forest and house-high elephant grass. Back to your little hotel and well deserved freedom for your horses and Jacuzzi for you if desired.

Day 6
Forests of bamboo are marking your picturesque trail up the mountain, while climbing gently but continually in order to leave the crater to the west. A pleasant and rather easy ride in comparison to the dramatic slopes you conquered so far. In the remoteness, you only come across a few small farmhouses, where the highland farmers scratch a meager income from the steep, infertile land beside the forest.
The higher you climb, the more the cloud-forest covered mountains and valleys you leave behind unfold below you like from a bird's perspective. An eco-friendly cottage or family stay awaits you in the mountain village Yungilla, which is dedicated to a self-sustaining community-tourism project for many years. A lot to learn about sustainable development for who is interested.

Day 7
Want to check out how villagers produce their own cheese and marmalade? Happy to invite you for a little tour.
Back on your horses, once again, you go hunting for traces of lively Ecuadorian history. After a scenic ride along the ridge, you dive into the north-western cloud forests and the land of the Toucan.
An ancient smuggler's path, where cane- schnapps was transported on mules from the coast to the highlands during the time of the prohibition, leads through narrow hollow earth tunnels within thick jungle. You emerge on the other side to more spectacular high Andean view-points, in case the afternoon clouds still allow the view!
Accommodation in the private guest house of Marcelo and Maritza at Pelagallo, sitting alone on the ridge.

Day 8
Relaxed return ride to the ranch, while overlooking the places you went before from up high. A gentle day with time to let impressions sink while riding.
Farewell drink and return to Quito. Arrival in town around 4 pm.

Day 9 Optional
Instead of driving you back to Quito on day 8, we take you some further into the magic of the Cloudforest by car, to end this Andean riding eXperience with some special time to take it all in again.
You'll be welcomed into a unique lodge with hot showers and delicious, wholesome food. The bamboo-built, rounded "dome house", allows a 360º degree few on the vivid bird and plant life around you. The place is surrounded by hundreds of colorful hummingbirds, often Toucans and bright blue shining Jays. From the balcony of your shared room, you can enjoy a breathtaking view far over the cloud fore stand listen to the sounds of exotic birds, before the mist races in.
After a hearty breakfast, a tour of Bellavista reserve is open to whoever wishes. Self-guided maps help you to design your adventure through this Andean jungle. You have plenty of time to enjoy the beautiful surroundings and the variety of plant and bird life before lunch. Transport back to Quito in the afternoon and arrival by 4 pm.

Additional information
*Single supplement not available in some nights

We recommend to arrive Ecuador the day before you start your journey. To help you with that we can book a first extra night in Quito for only 200 Euro

Transfers included | Airport Gateway UIO

Additional beverages not included

Local Tours included

Bookable with a single person - 8 days | 7 nights | 1950 Euro - Contact us for more information

Secrets of the Andes
$1,483.00