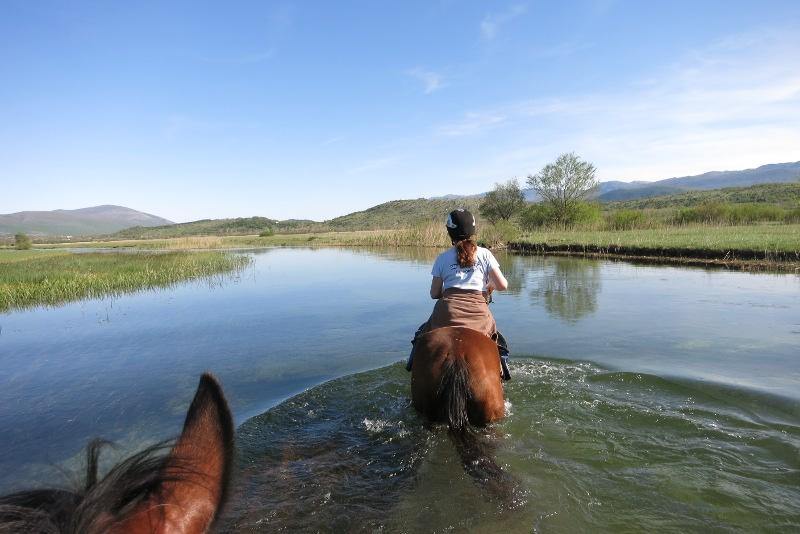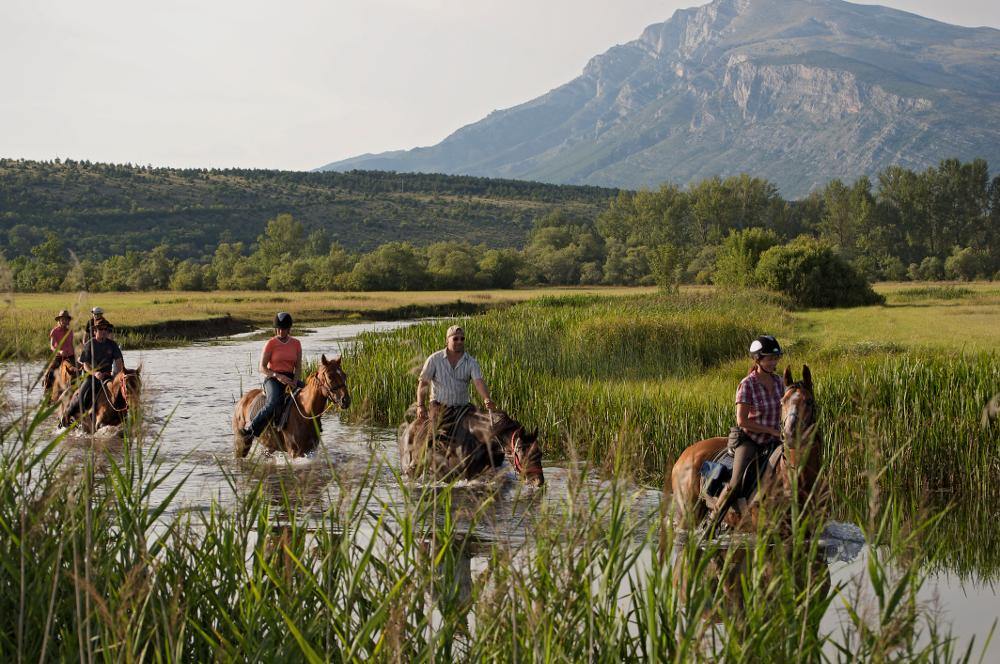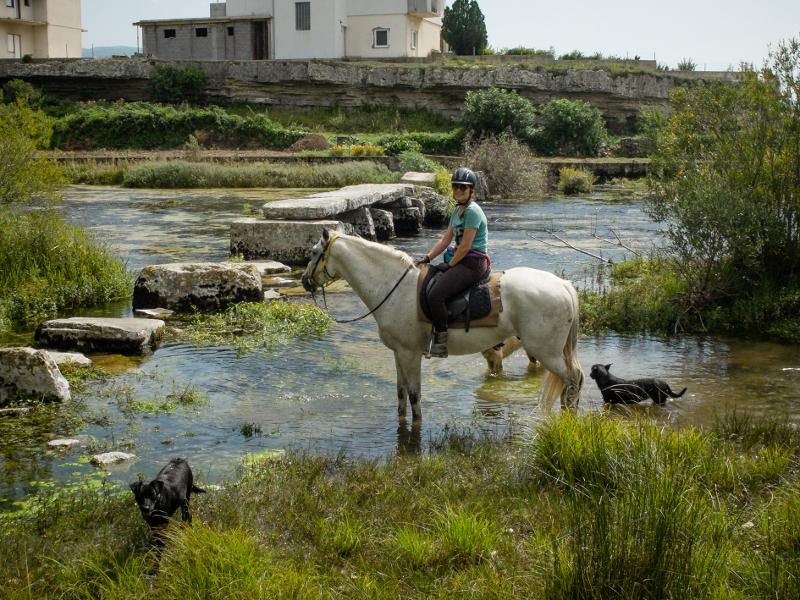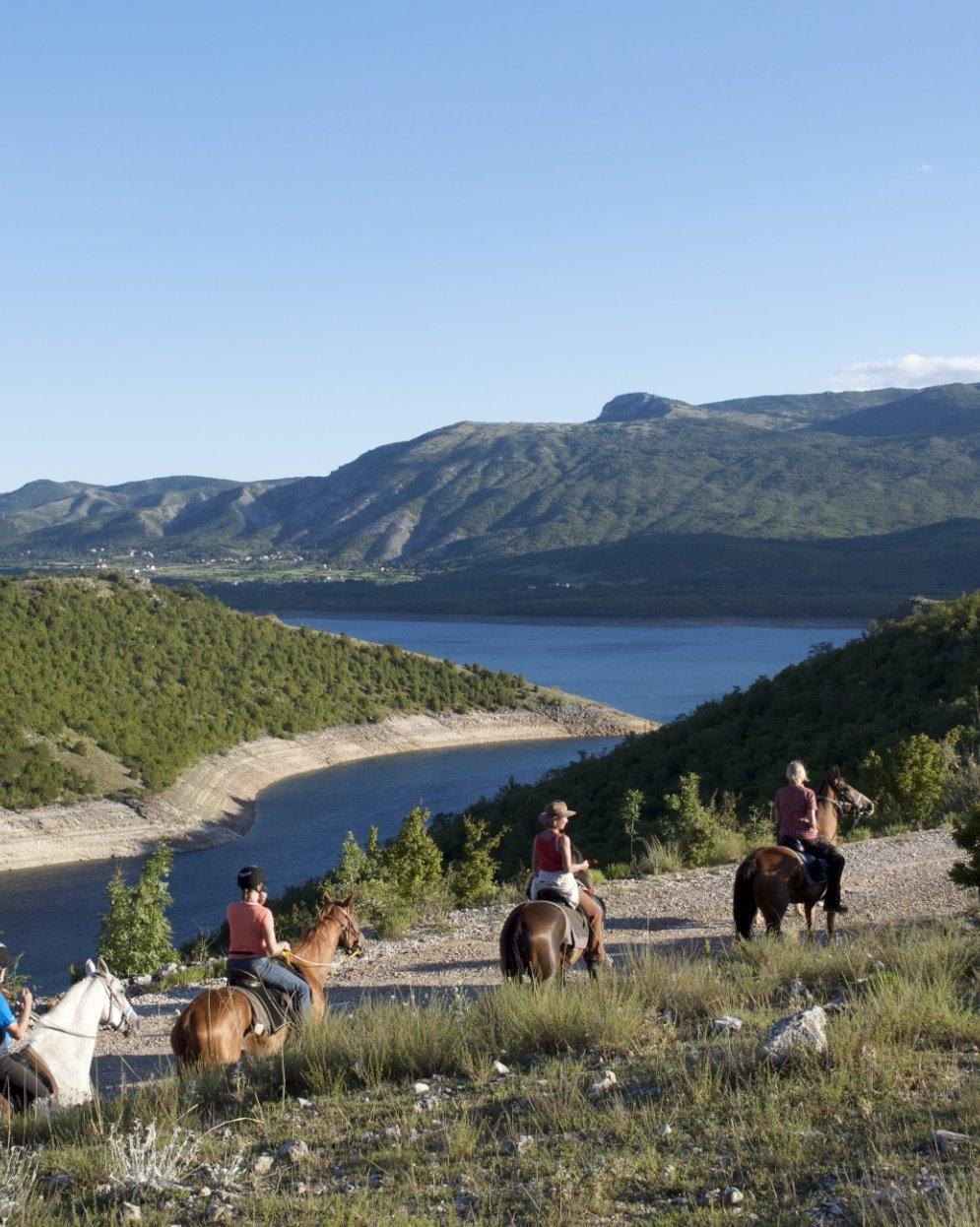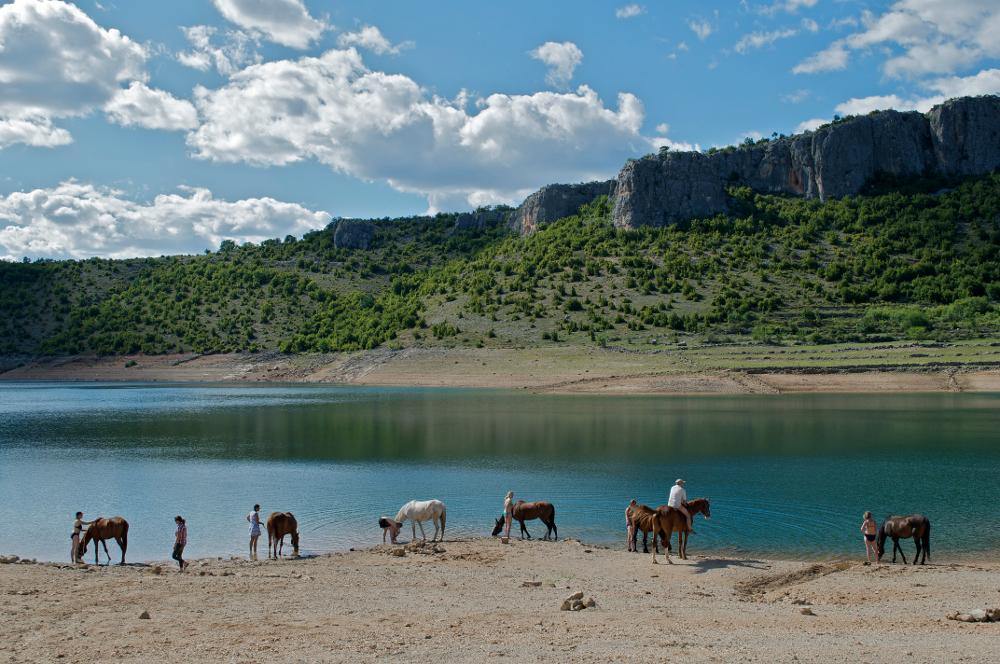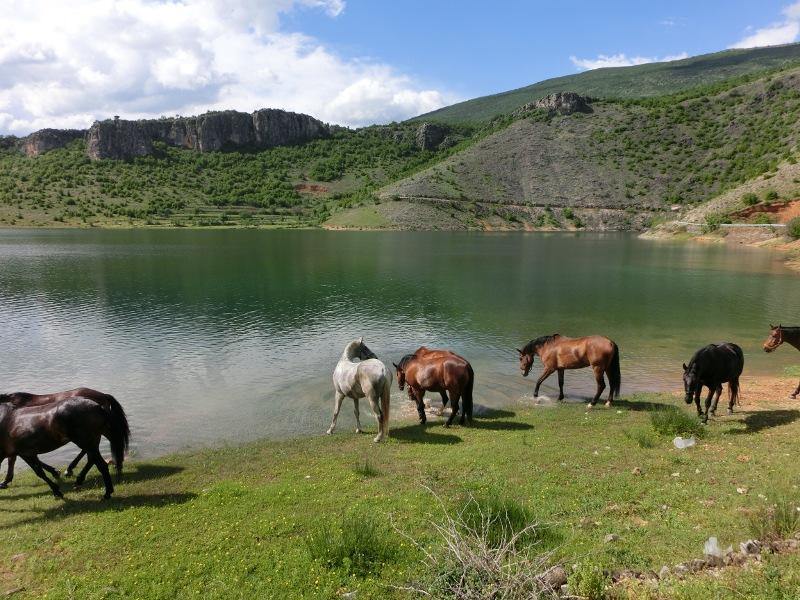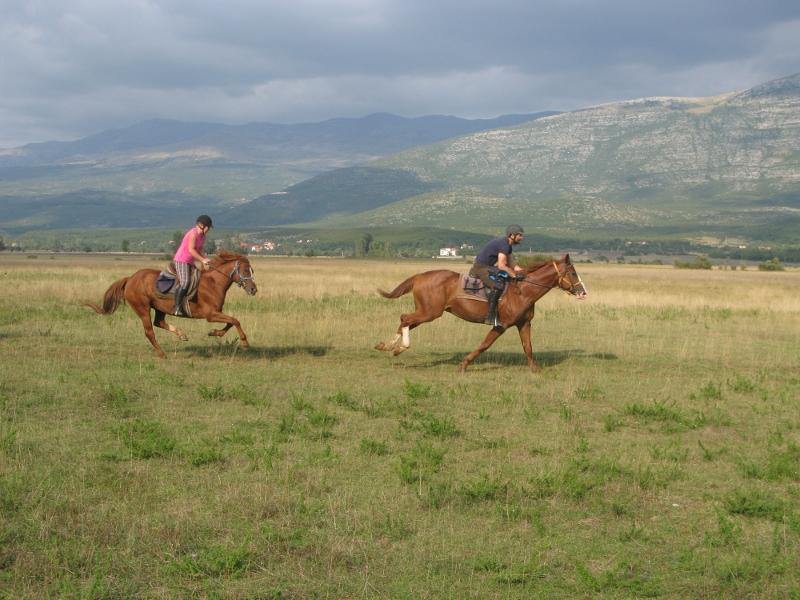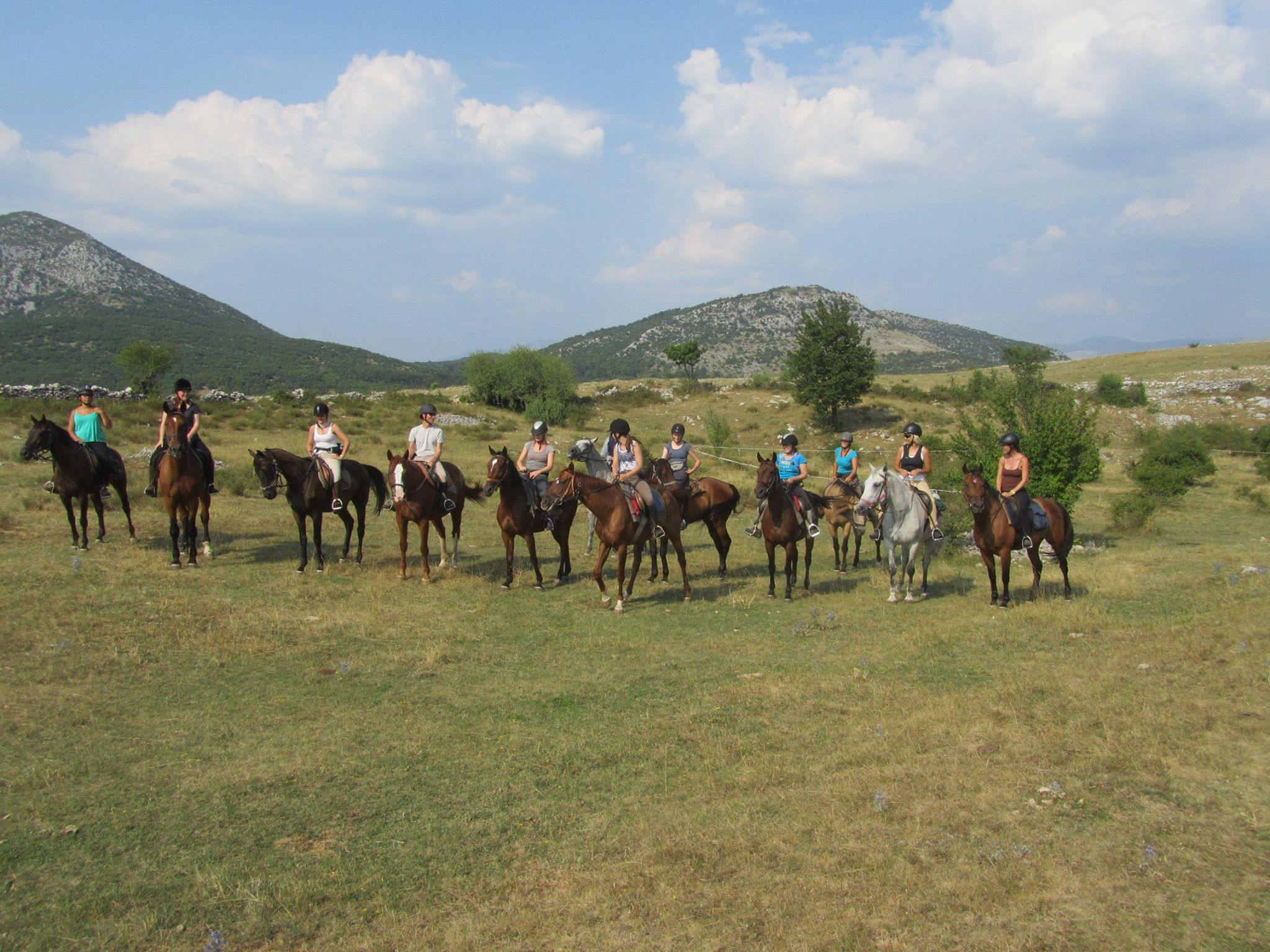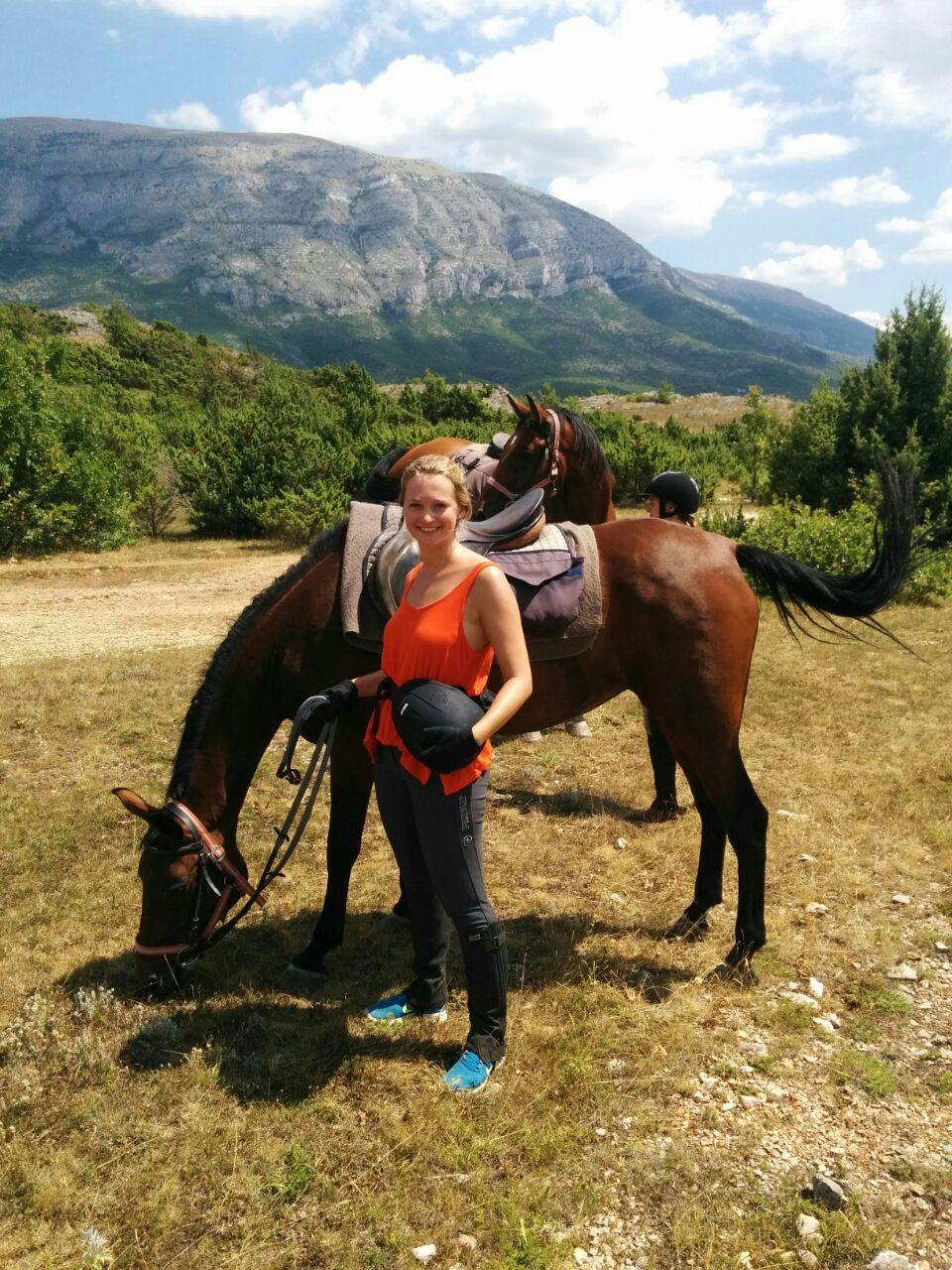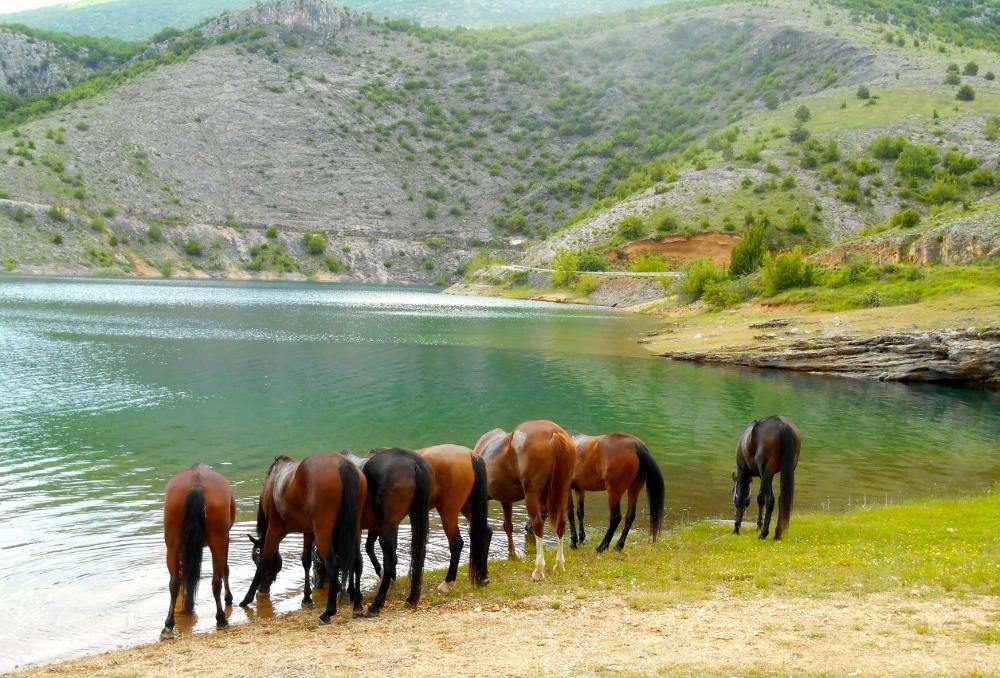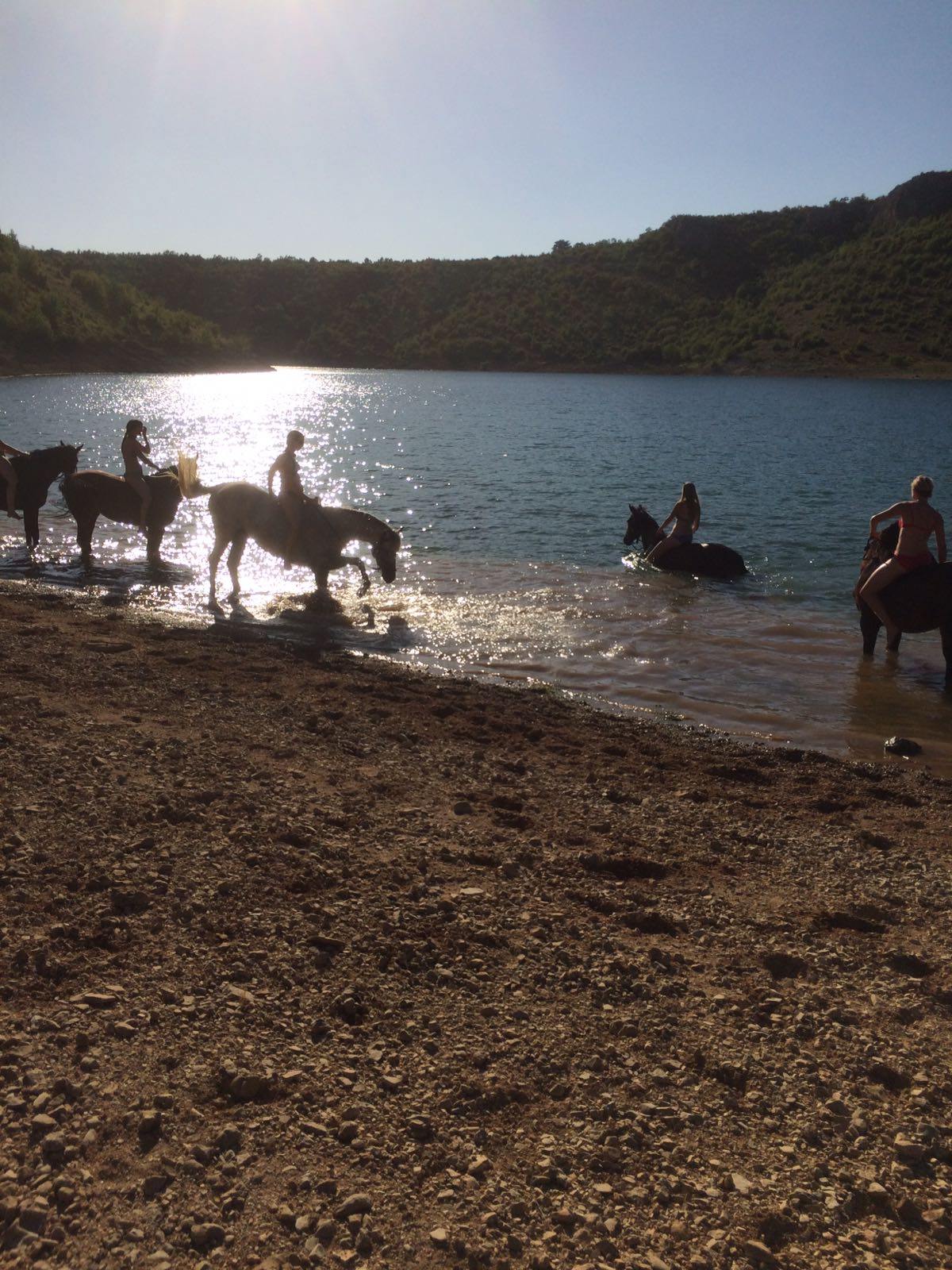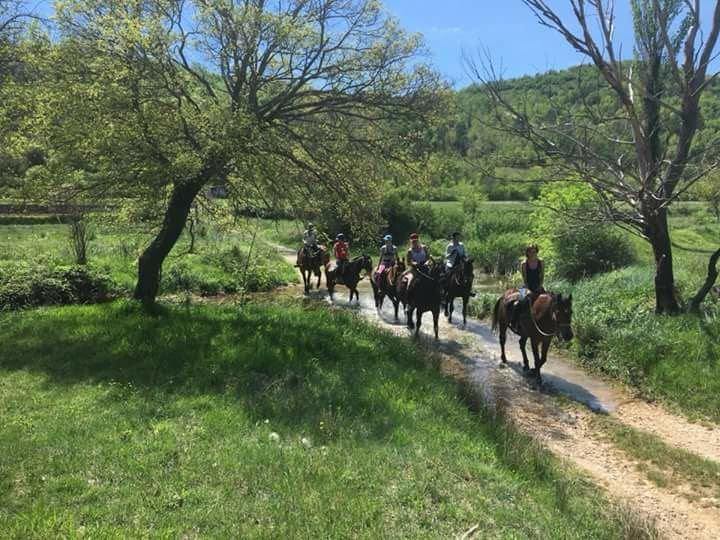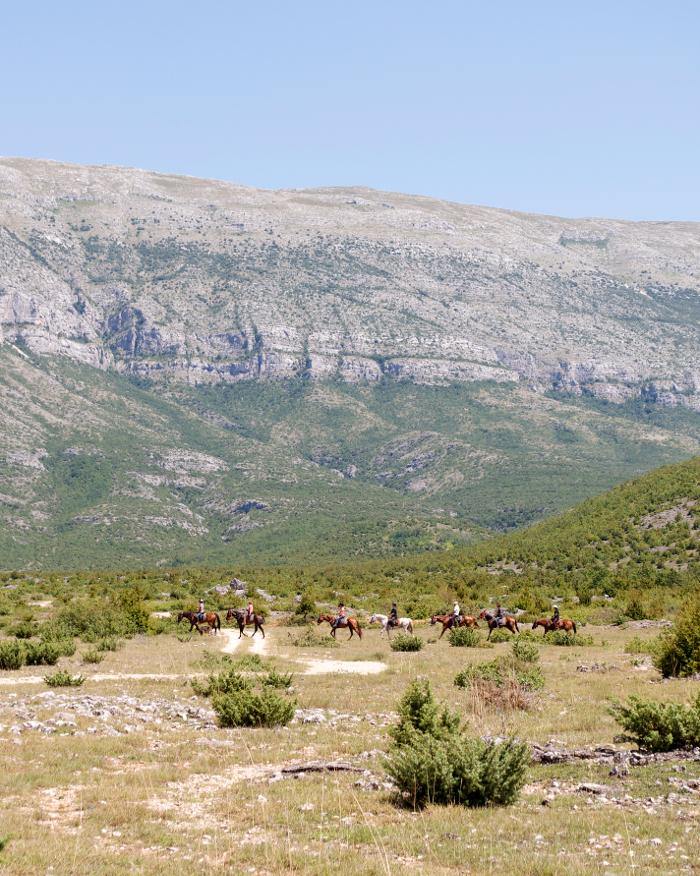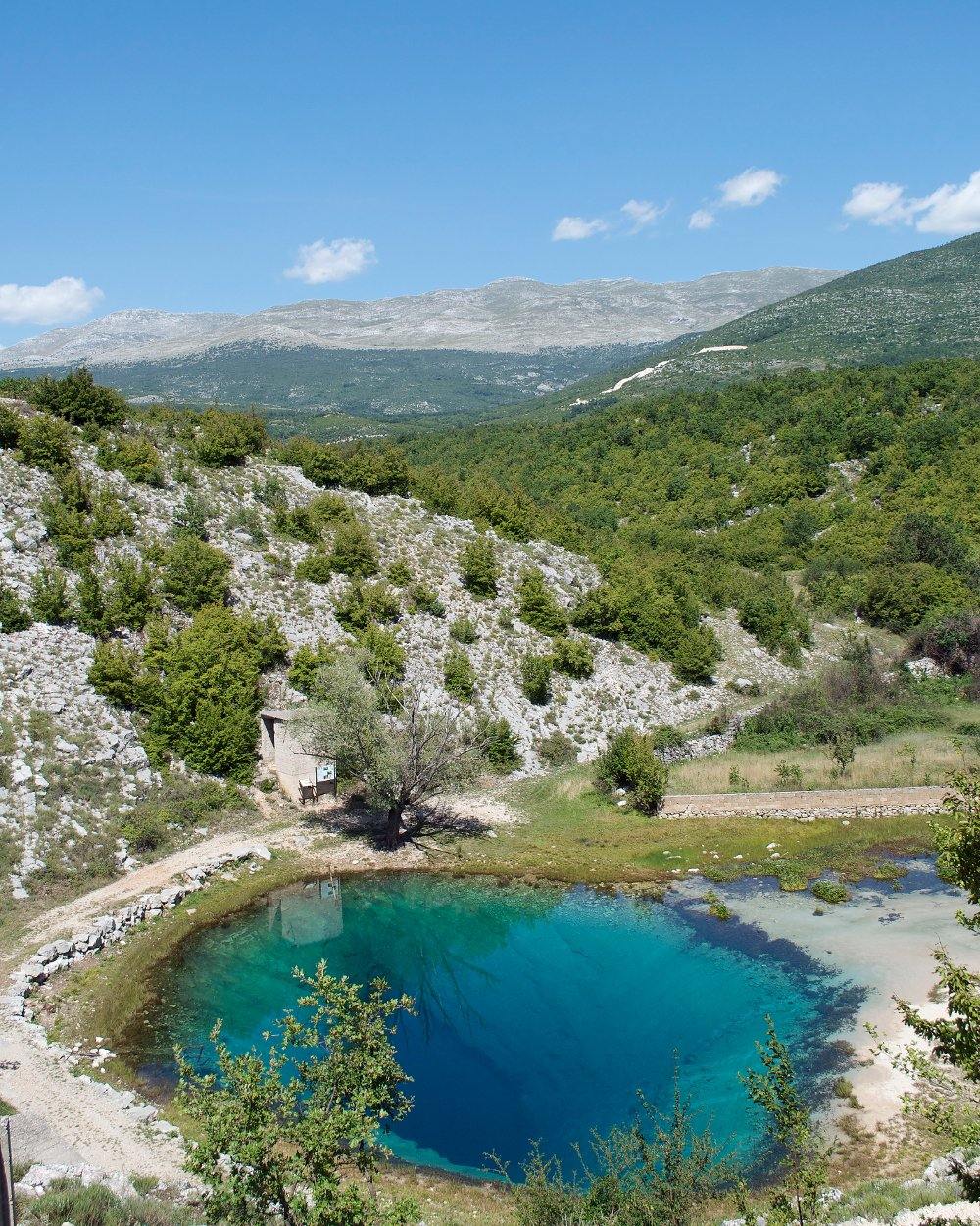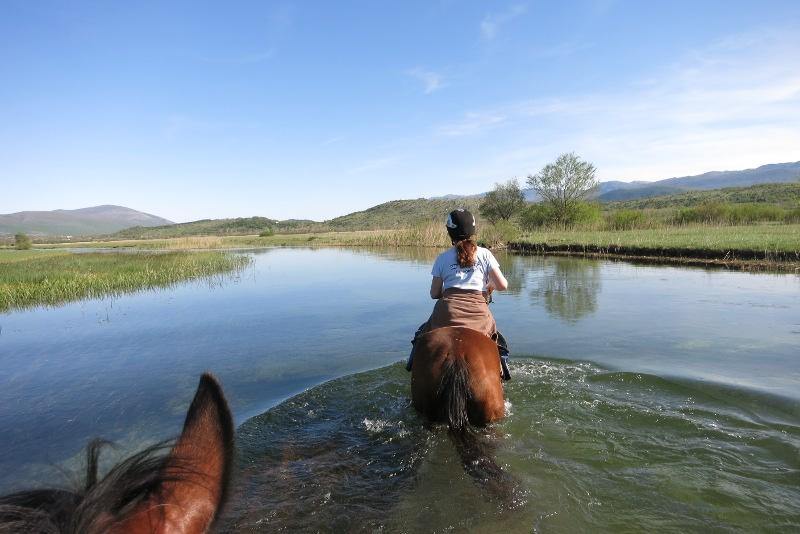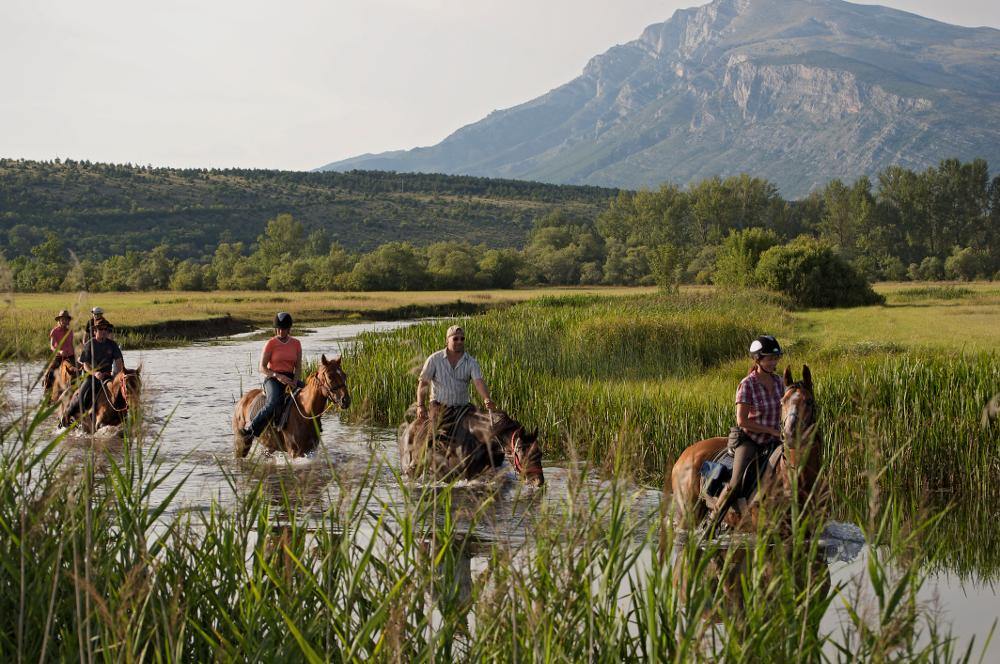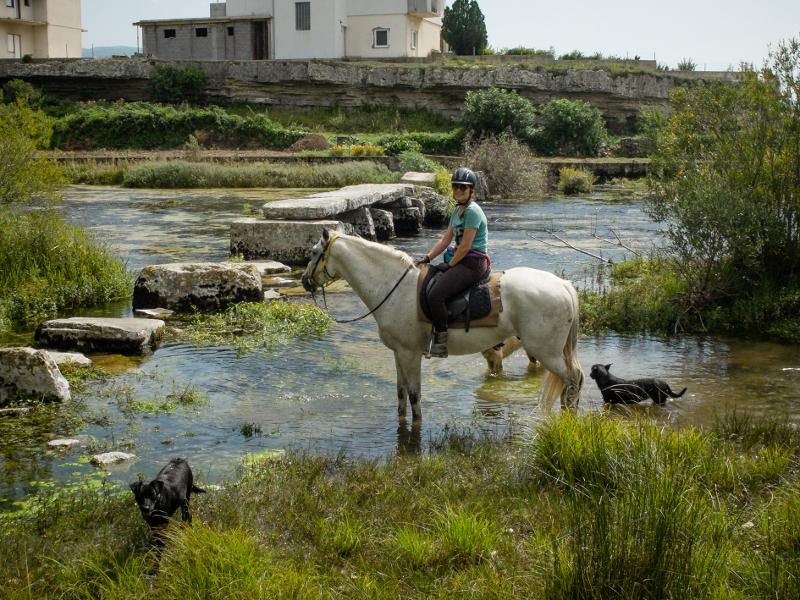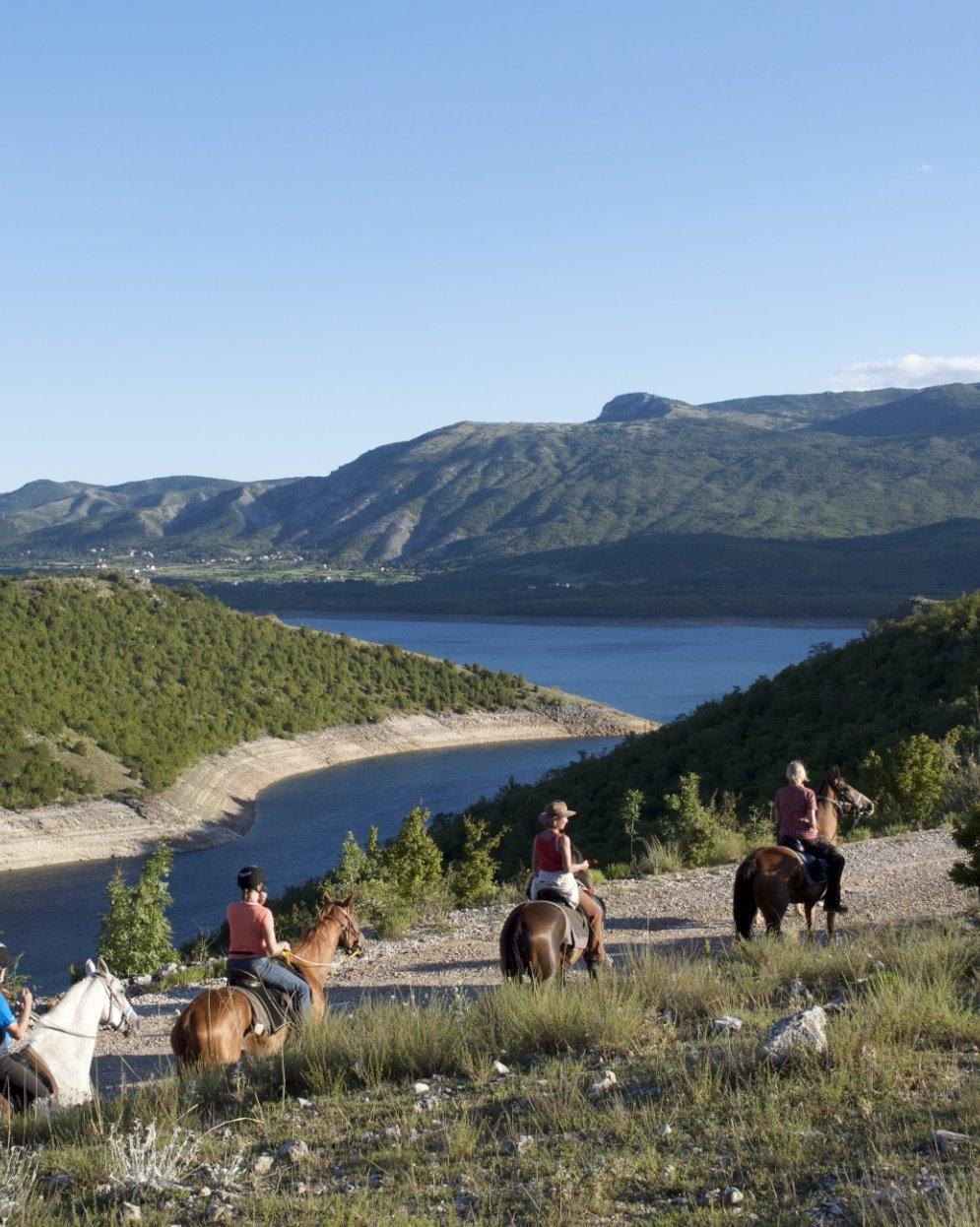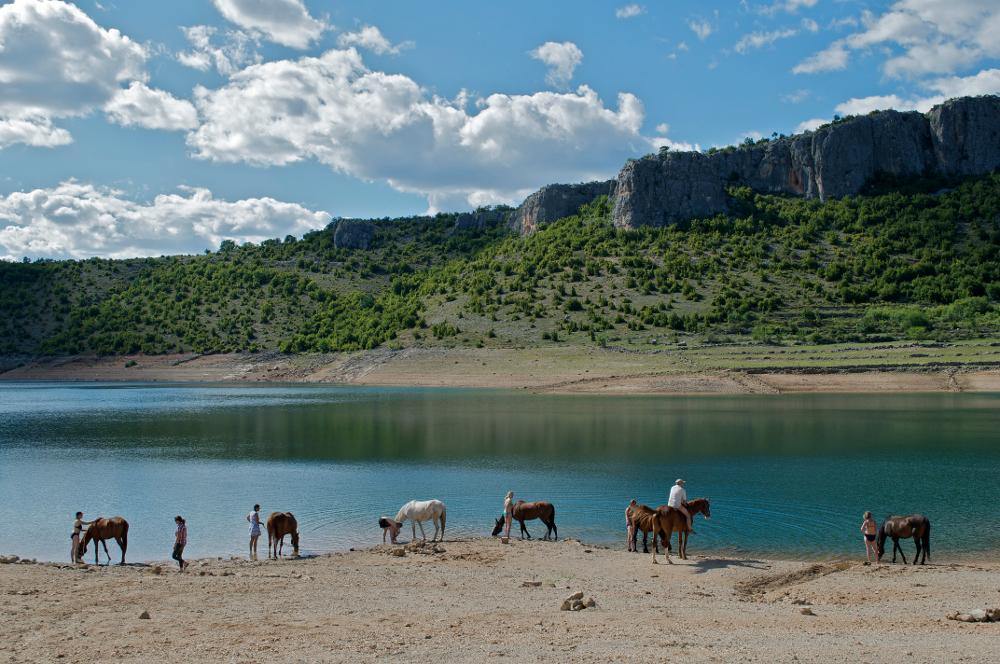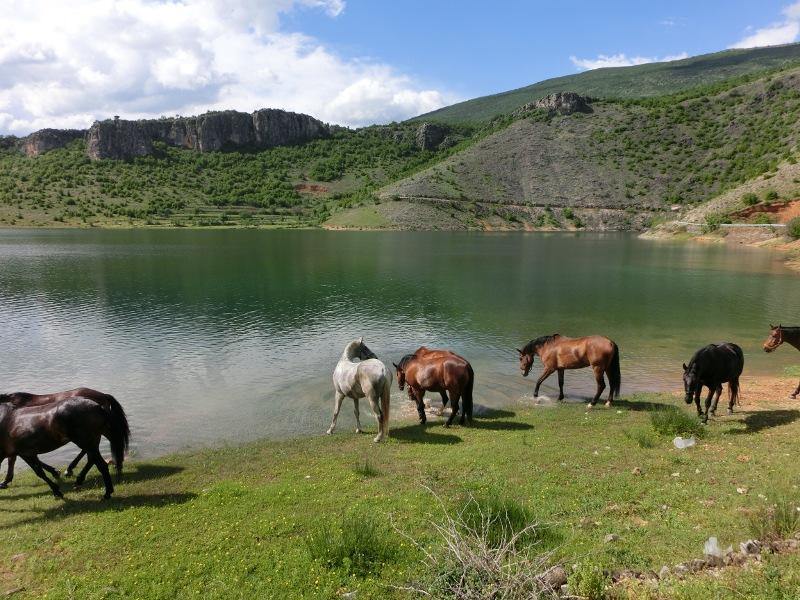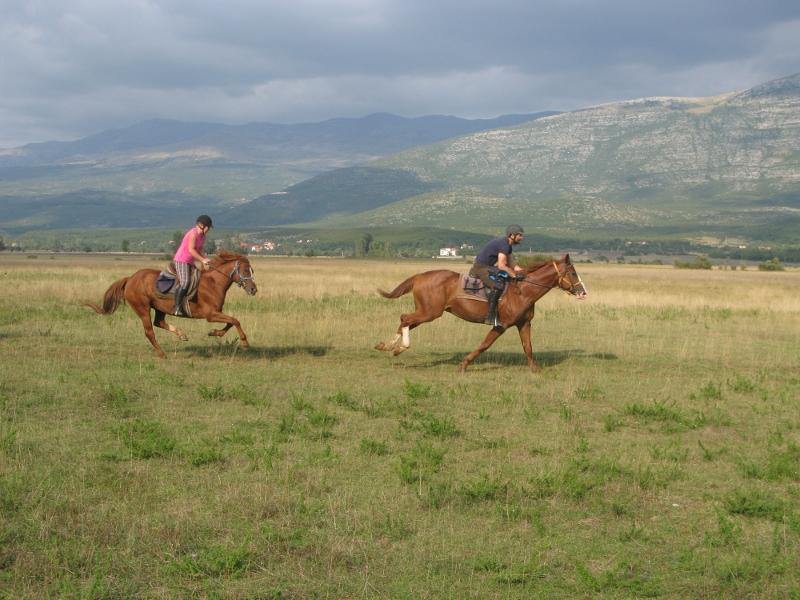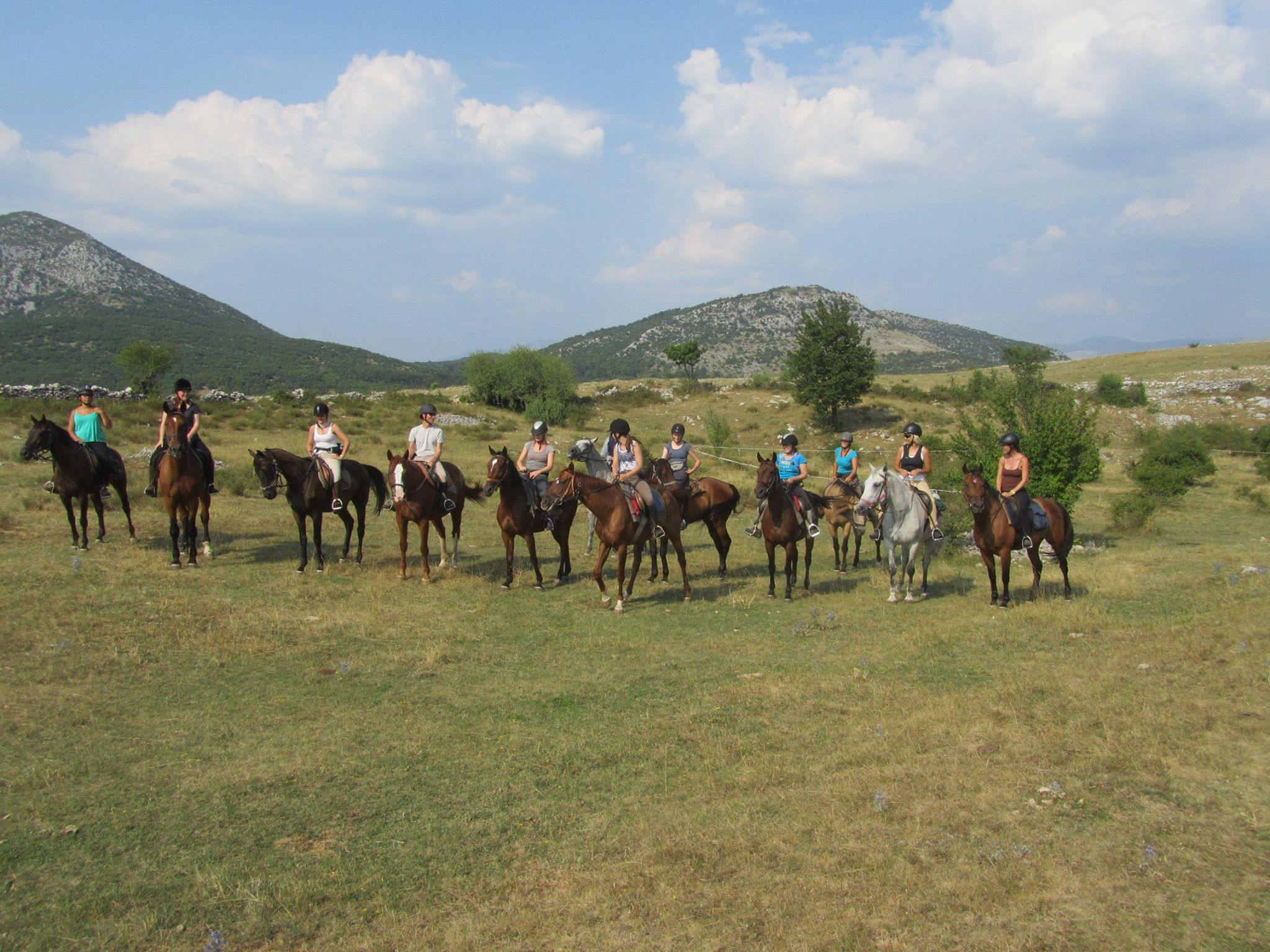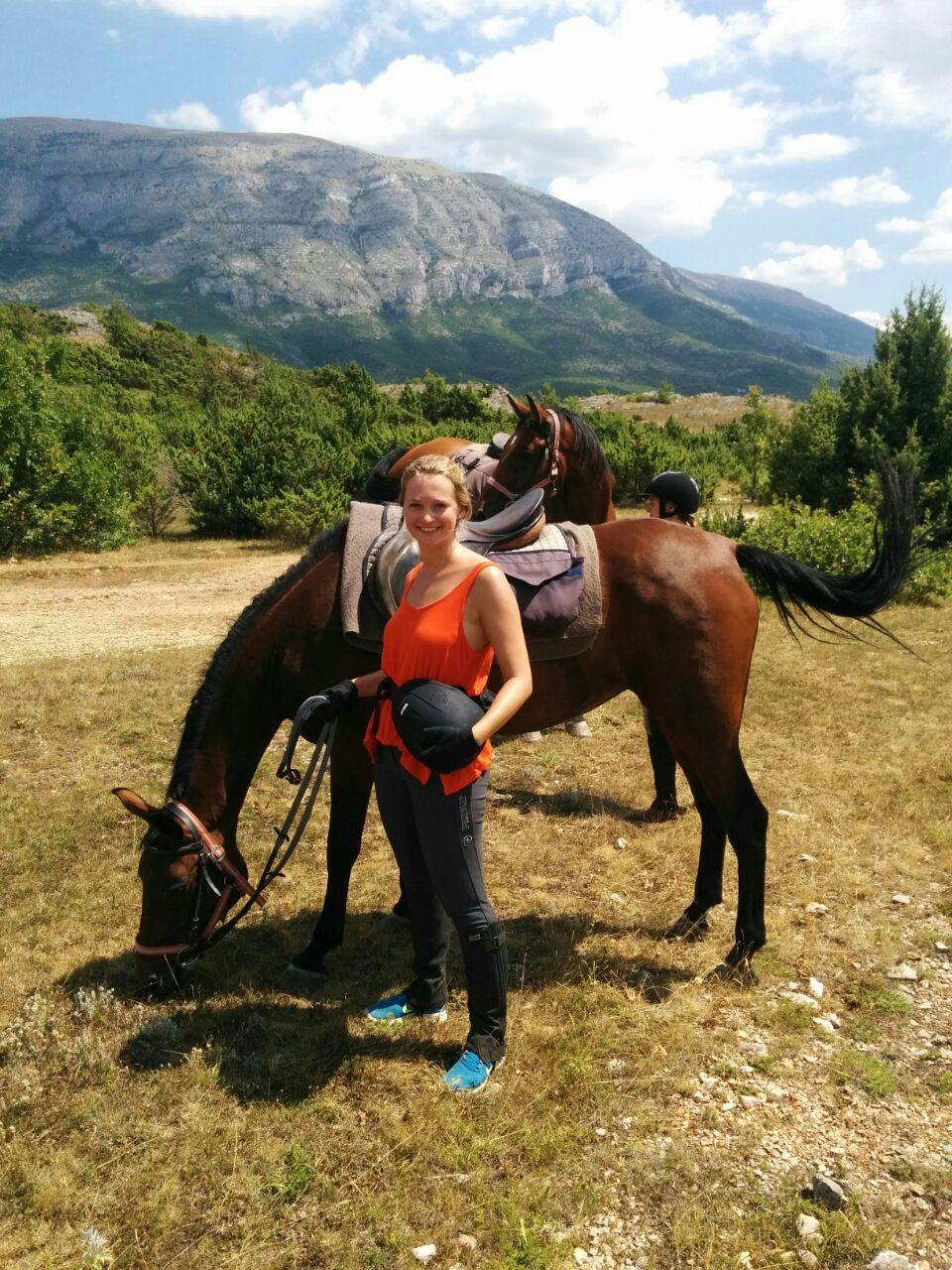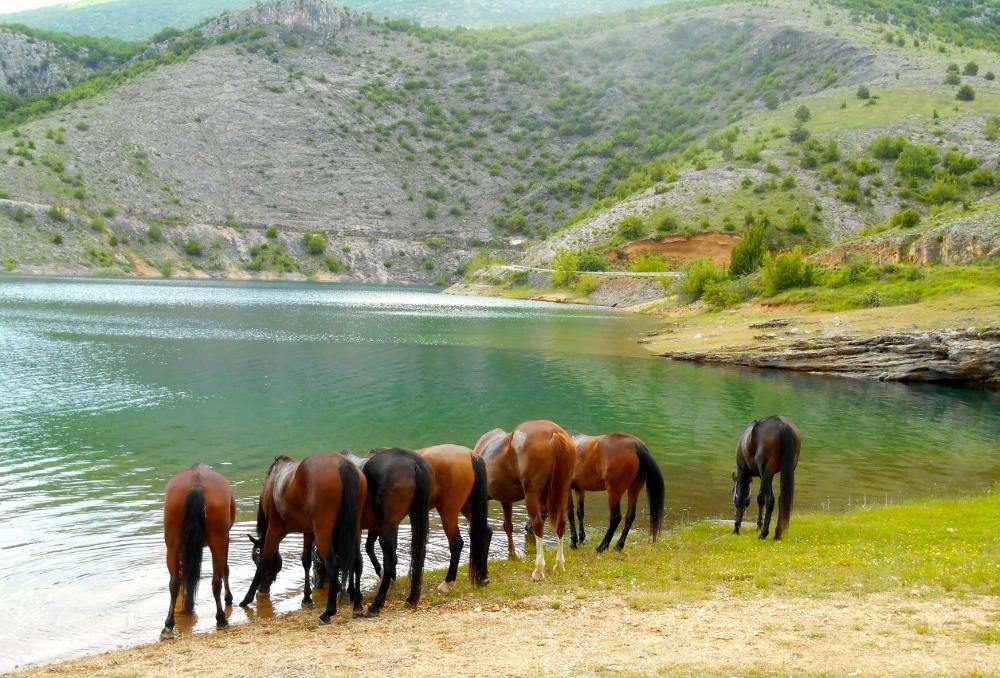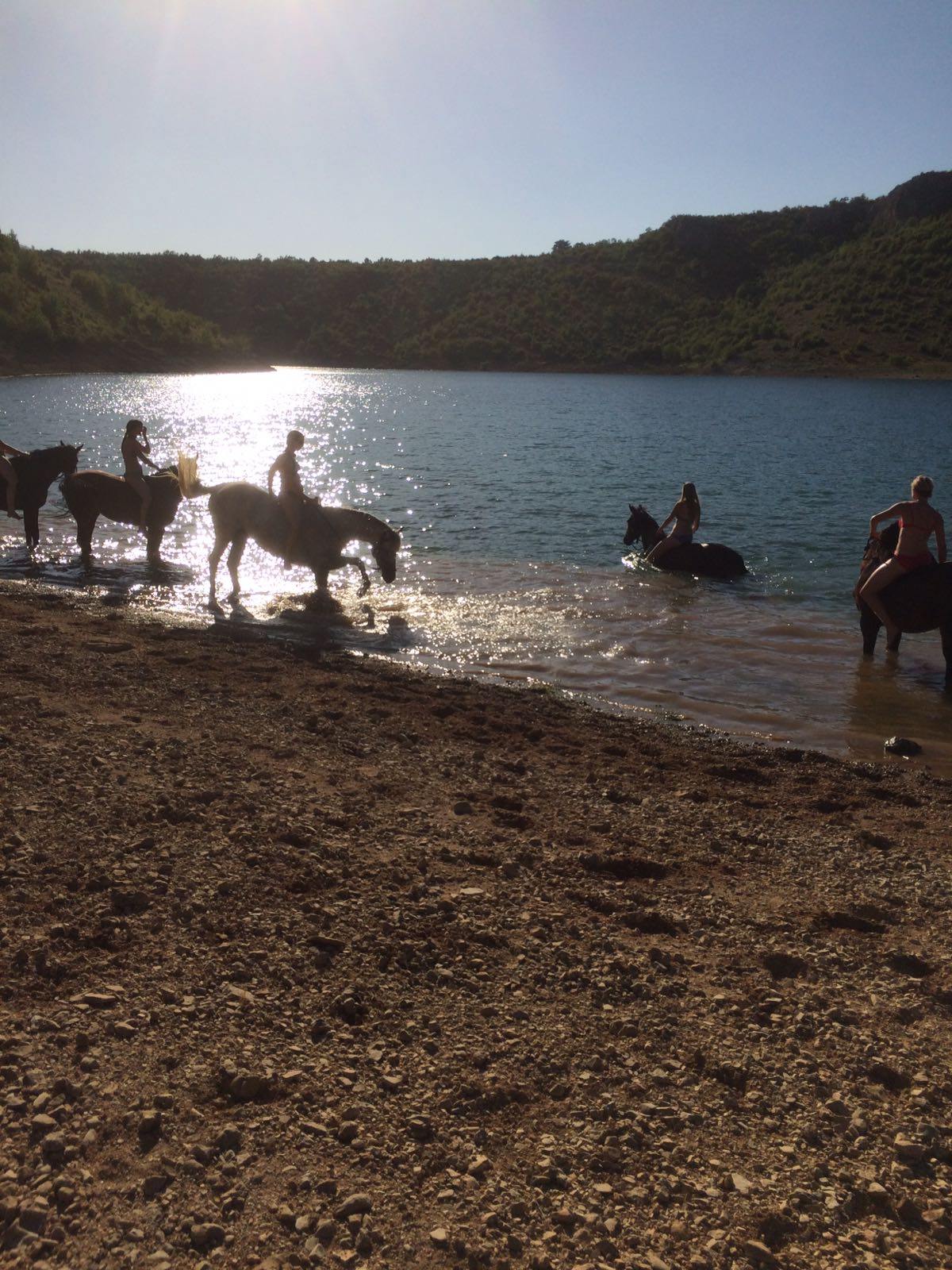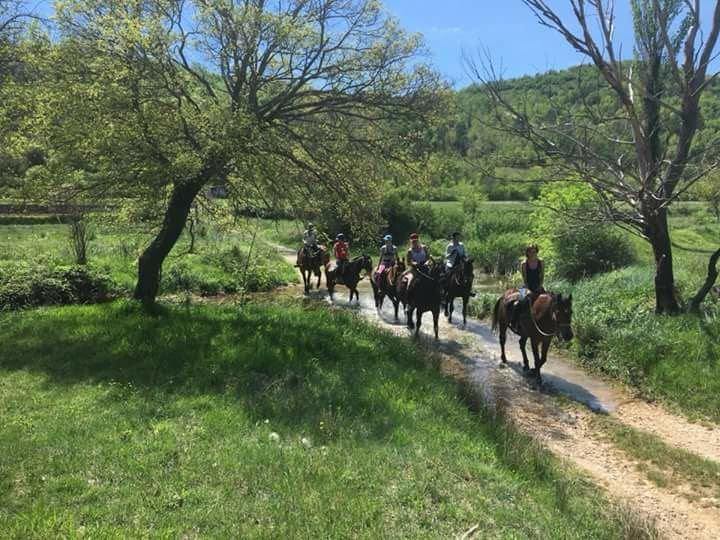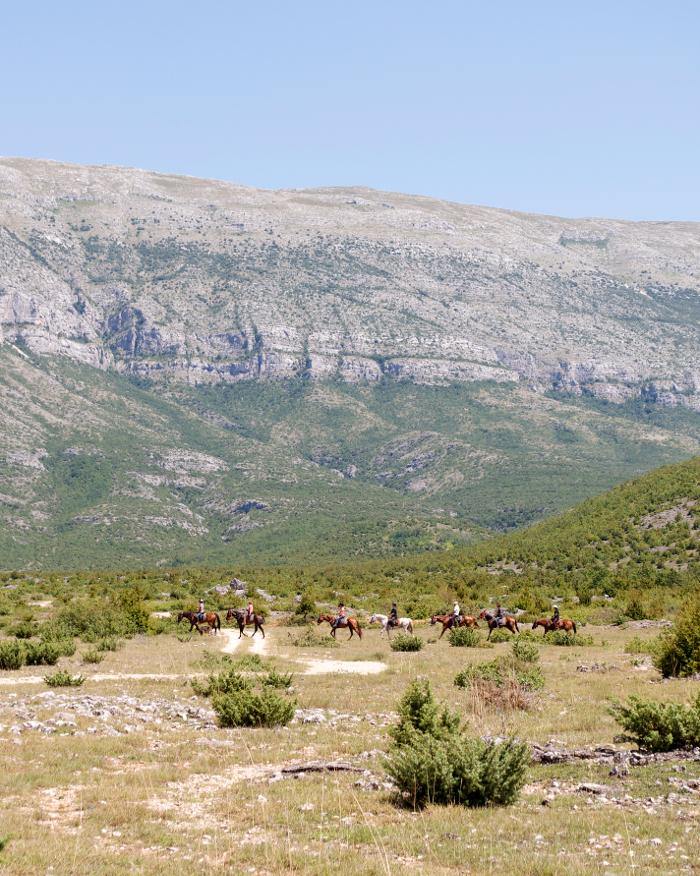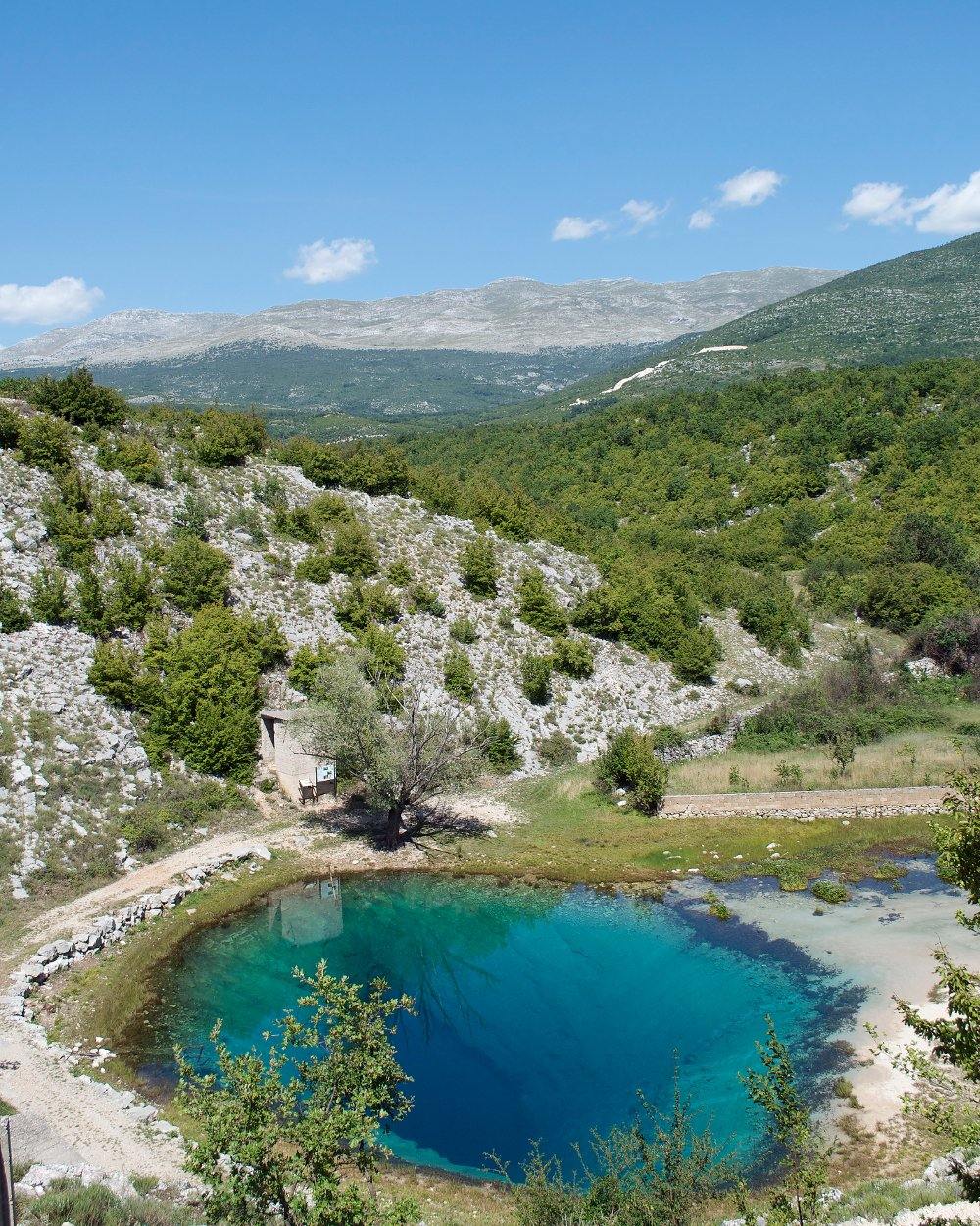 Explore the hidden nature and treasured areas of Dalmatia, Croatia. You will find stunning views and varied landscapes where riding areas are unspoilt and surrounded by small villages, open plains, pastures, mountains, lakes and rivers.
This Xperience is designed for people looking for adventure and challenges.
COMBO EXPERIENCE
8 days | 7 nights
NOT SUITABLE FOR BEGINNERS
Overview
Ride on historically old tracks, Roman and Napoleon roads, old cattle ways and through the beautiful rural parts of Dalmatia with its Karst landscape. You will follow the River Cetina and Peruca lake straight to one of the sources of the river where clear and refreshing spring water rises from deep down the earth. In the summertime there are various opportunities to refresh yourself and your horse by swimming in the lakes and rivers. You will also admire and enjoy the local culture when passing through the small villages full of friendly and welcoming people.

You will eXperience breathtaking rides; crossing and swimming through rivers, galloping through open plains and climbing mountains.

You need to be competent in grooming, tacking up, mounting and dismounting of your horse, however there is always help at hand if needed. It is important that you can take care of your horse and equipment and enjoy entire days on the horse in every pace. Luggage and extras are transported by vehicle to each stop off point. Each day of your trails you can explore the natural beauty of the varied landscape.

This eXperience is designed for intermediate to experienced riders who are used to spend long days on horseback and are also willing to fast gallop. You start your ride after breakfast and will have short breaks and water stops before lunch. Over lunch breaks the horses are always turned away on the pasture land and set free to roll and graze and relax. And you too have a chance to chat or take a short nap!

You wll spend 3 nights in basic-styled rooms with shared bathroom on the ranch. During the trail you will be accommodated 4 nights in a local guesthouse or hotel in single, double or triple room. You will enjoy Croatia's delicious traditional cuisine, wines, Schnapps and other drinks.

The horses are fit, some lively, some quiet, but all responsive and each having their own individual character. In more than 20 years of experience of running and guiding trails your hosts always care most for your happiness and their horses!

During the trails you will stay in places that allow you to explore the stunning countryside and eXperience the lives of locals who are indeed very generous, warm-hearted and kind. Don't expect full luxury, your hosts try to keep it the natural way and close to nature.

This trail is for adventurous people, be prepared for good food and forward going horses!
Accommodation
The farm house offers basic accommodation in double and triple rooms and shared facilities. The bathrooms are to be shared between guests. The rooms are basic and simply furnished with single and double beds. Single rooms upon request.
Depending on the weather meals are taken outside on the terrace or inside in the club room. In summer the garden with big nut and cherry trees offers enjoyable shadow.

During the trails you will be sleeping in various places from guesthouses or hotels, to a hay barn in sleeping bags.
Meals
The host's concern is that you receive tasty food including two hot meals per day, which are always freshly prepared. You will be cooking outside on open fire or enjoy traditional Dalmaian food with homegrown vegetables, fruits and meat in restaurants or private houses. You will also enjoy typical Croatian specialties as domestic wines and schnapps or cheese hand made 'the old way' form goat's, sheep and cow's milk.
Vegetarian dishes and special diets can be catered for.

Alcoholic drinks, such as, spirits and wine are often locally produced. The most famous spirits include walnut, honey, grape and plum schnapps. There is always a possibility to take a bottle of schnapps or traditional cheese home.
Itinerary
Day 1
Arrival day. In case you wish to visit the town of Split and the remains of the Diocletian Palace (over 1700 years old,) or the little town of Trogir, (both under UNESCO protection) we can also arrange transfer from the town. Split is one of the biggest and most beautiful cities in Croatia with nice beaches. Once on the ranch you have the opportunity to get to know the other riders, horses and people. Dinner in the evening at the ranch.

Day 2
After breakfast you get to know the horses and set off for your first ride and enjoy a typical Croatian lunch. Dinner and overnight at the ranch.
This day is important to familiarize yourself with your horse. If you feel you are not yet matched with the right horse you can change your horse before the start of the trail.

Day 3
The trail starts heading eastwards, towards the village of Ogorje. You ride through forests and have lunch on a high plateau where you can enjoy beautiful views from the surrounding valleys and mountains. After lunch you continue your ride into the next valley where you reach the night place for the horses. Dinner and overnight in a nearby hotel.

Day 4
After breakfast you start the ride towards the river Cetina. You cross the river (if waterline is not too high) and follow the river for climbing the next mountain. In the early afternoon you reach Peruca lake where you and the horses can relax and can have a swim. Early evening you continue your ride for the the overnight sleeping place in a nearby guesthouse.

Day 5
In the morning you head towards the spring of the river Cetina following the lake on typical dalmatian Karst landscape. Lunch place is close to the river where the brave ones can have a swim in the clear but very cold water of Cetina. In the afternoon you cross a wide open field where often big herds of sheep and their sheepdogs are to be seen and ride to the town of Vrlika. Overnight in a nearby guesthouse.

Day 6
Today you ride to the town of Vrilka and climb the hill behind the town. You reach lunch place on top where you can relax and enjoy the spectacular view. After lunch you climb down into the next valley and continue your ride through small villages and forests to overnight place of horses. Overnight and dinner in a nearby guesthouse.

Day 7
After breakfast you ride through some big fields with plenty of trotting and galloping. After lunch you follow an old path through canyons towards home. In the evening you return to the ranch and enjoy the last dinner with your new friends.

Day 8
After breakfast it's time to say goodbye and everybody prepares to leave.

Additional information
Transfers from/to the airport/town NOT included | Airport Gateway SPU - Split

Alcoholic drinks and additional beverages NOT included

Age Limit: 16 years for trails and 12 years if accompanied by an adult

You should be fit and in case of steep terrain you will be required to walk alongside your horse