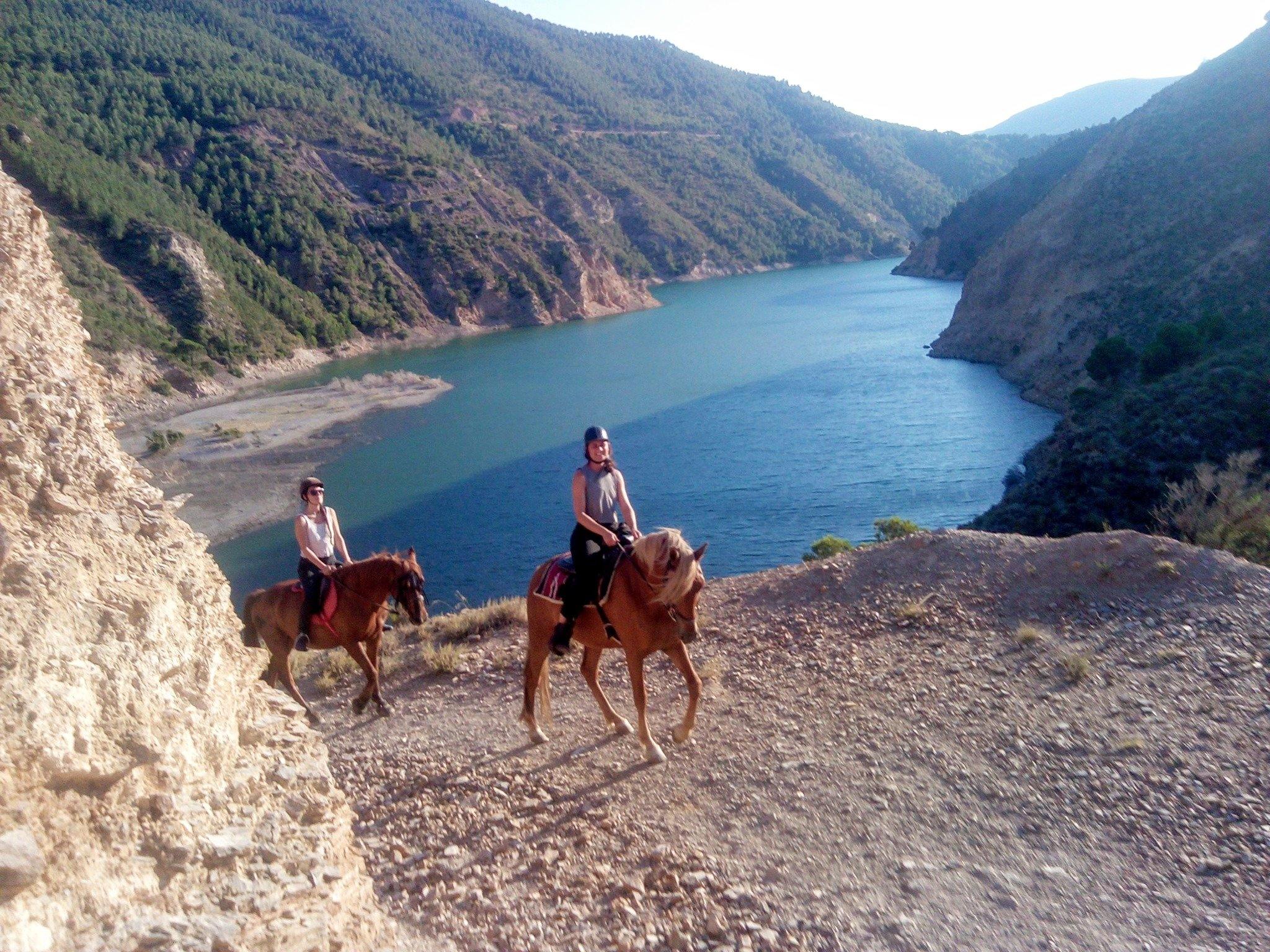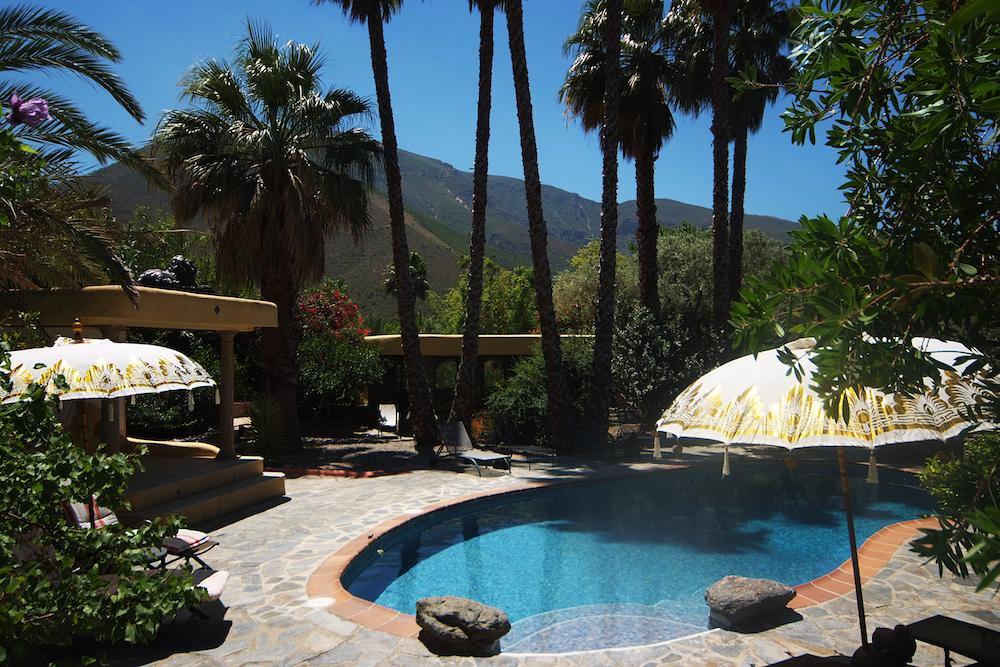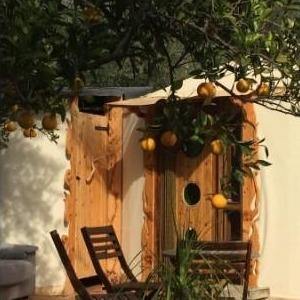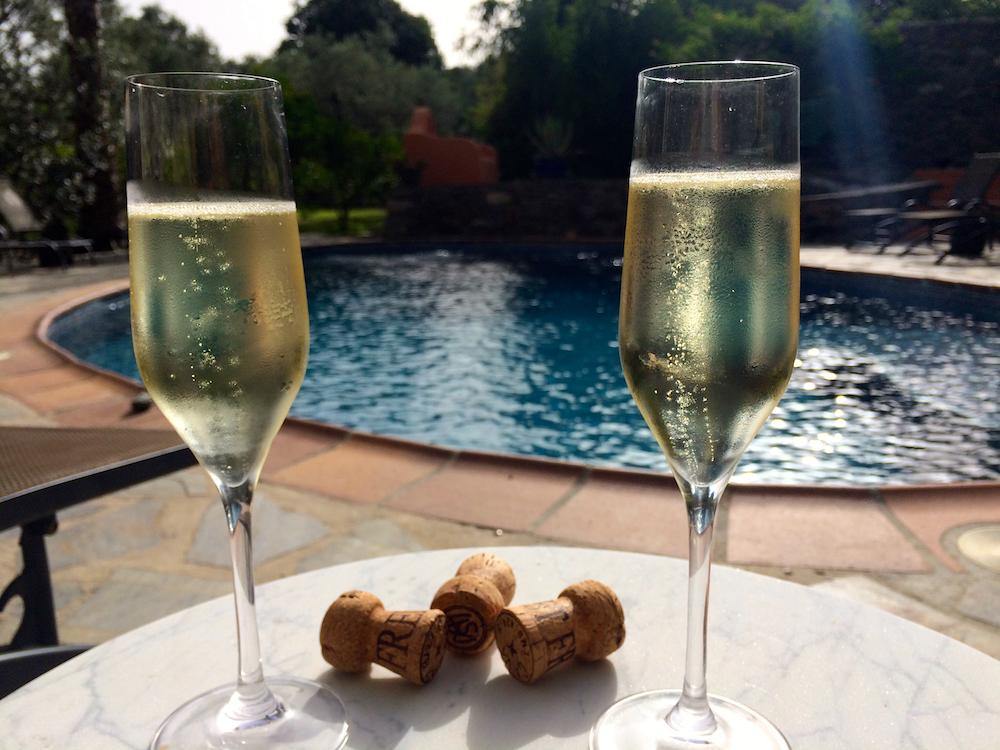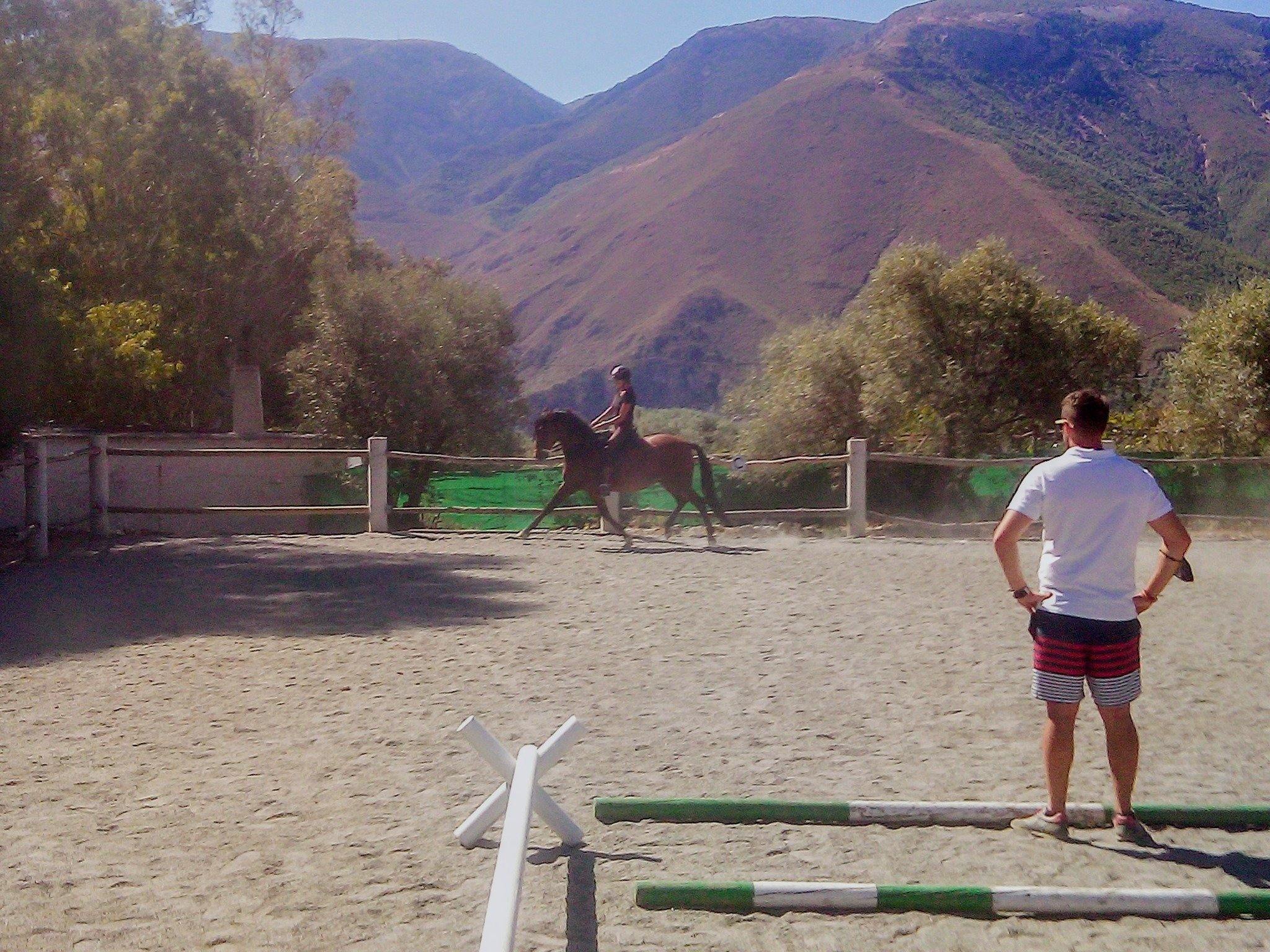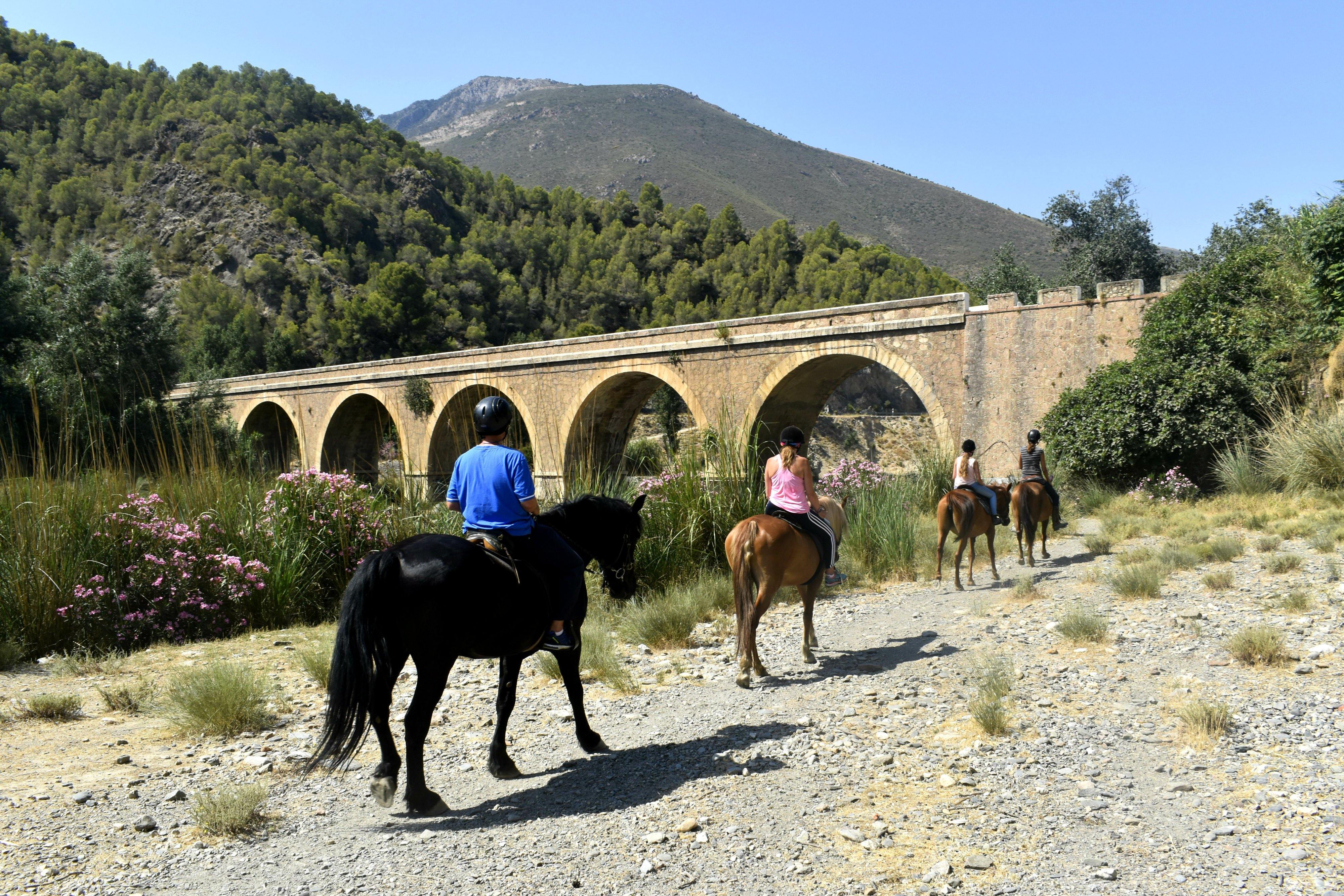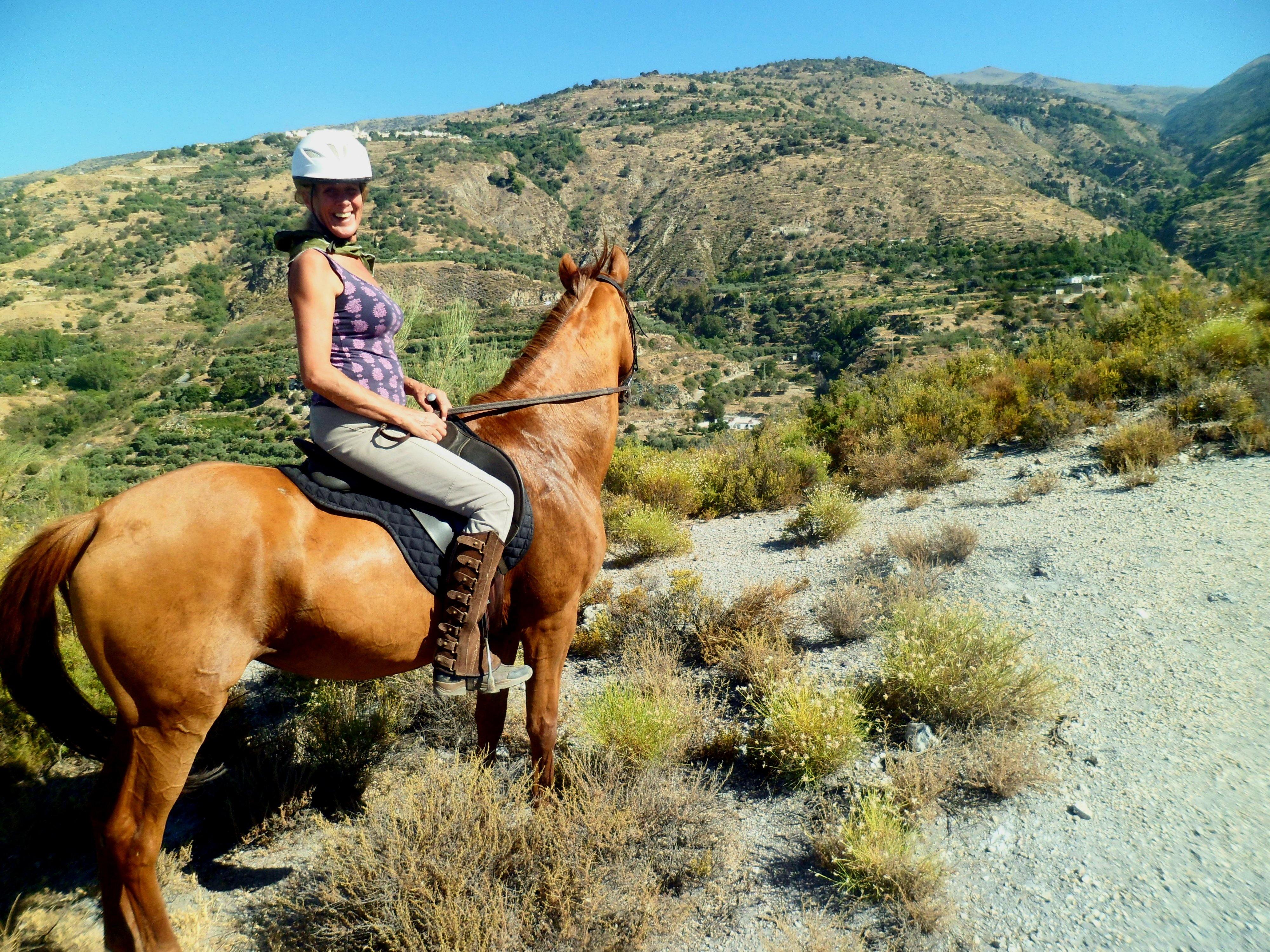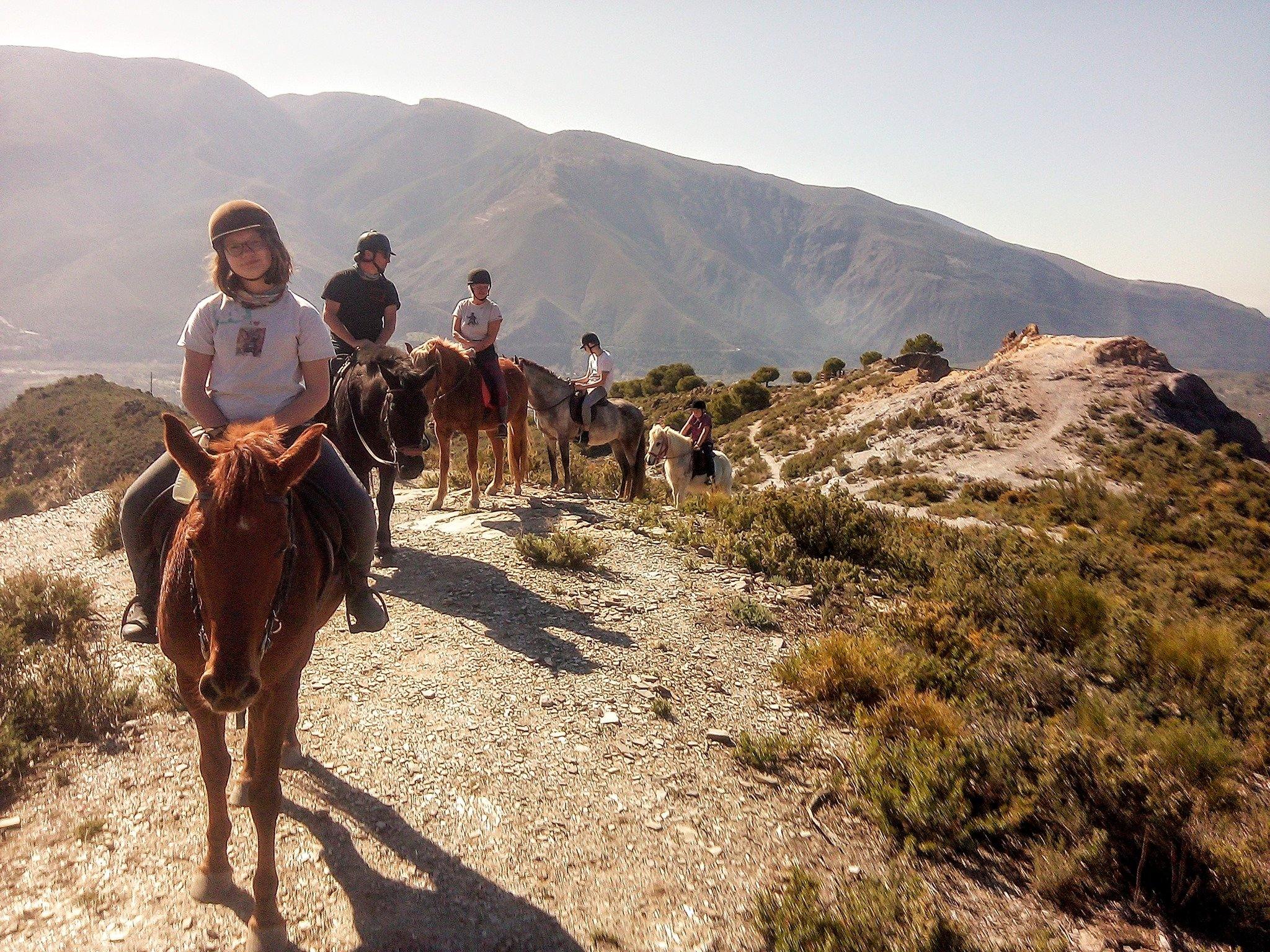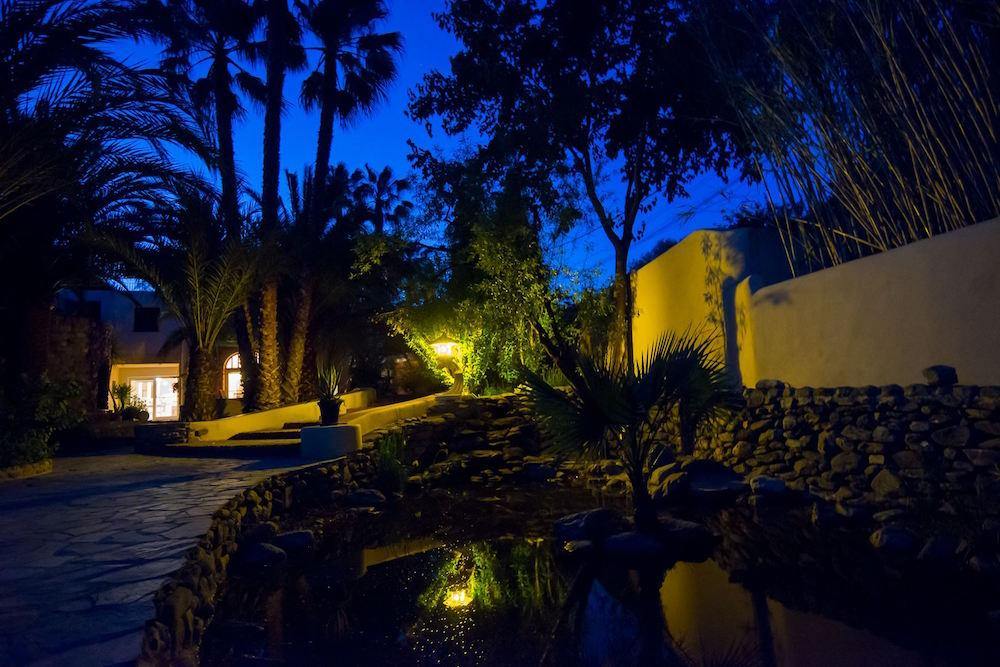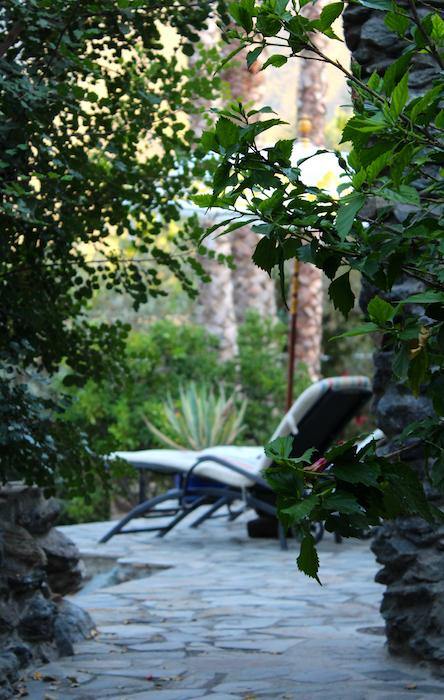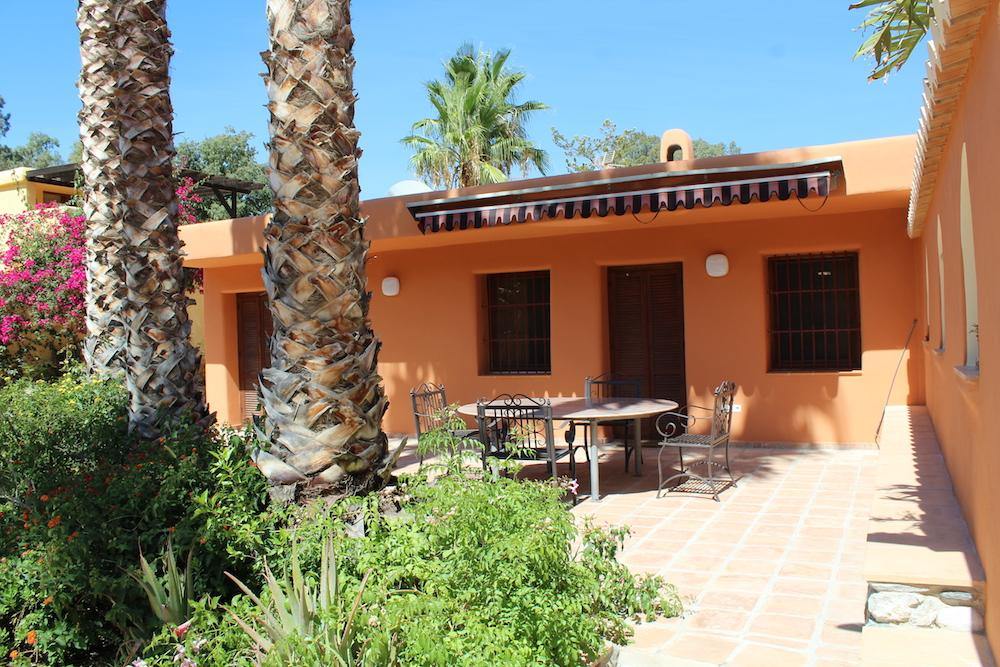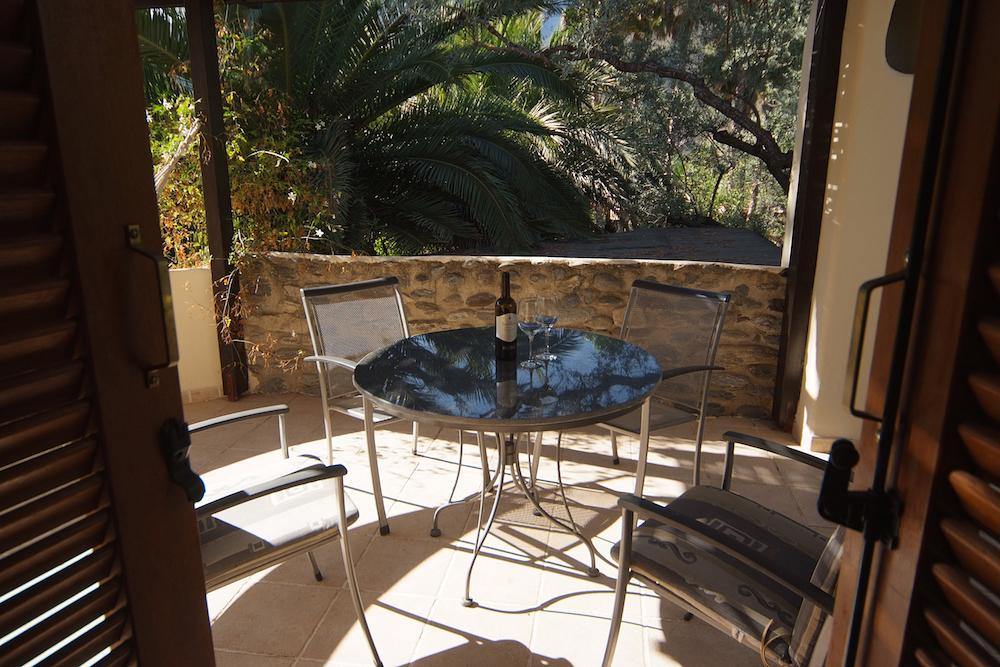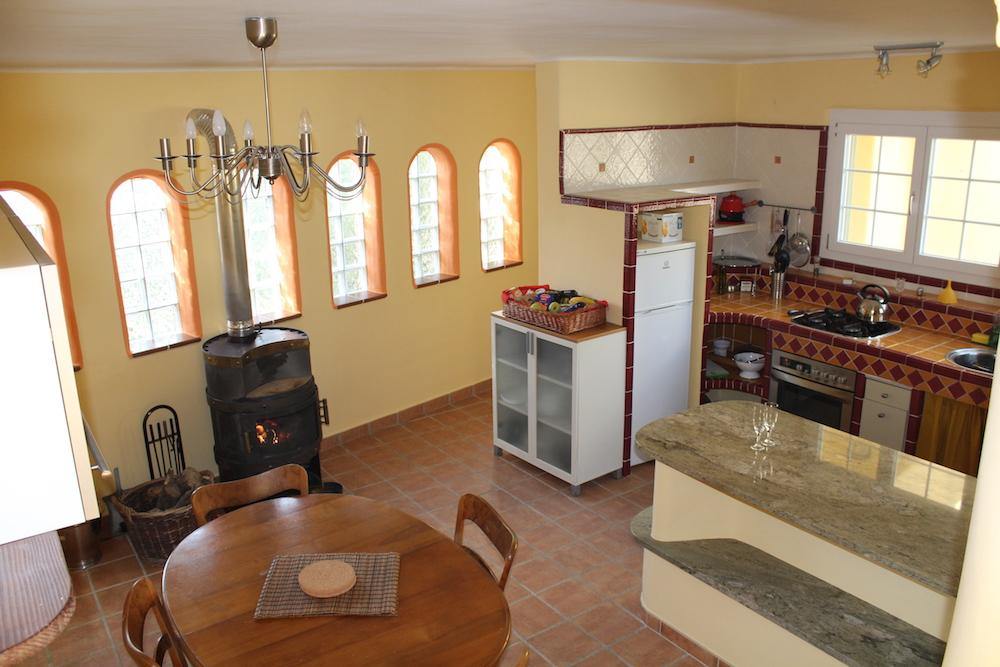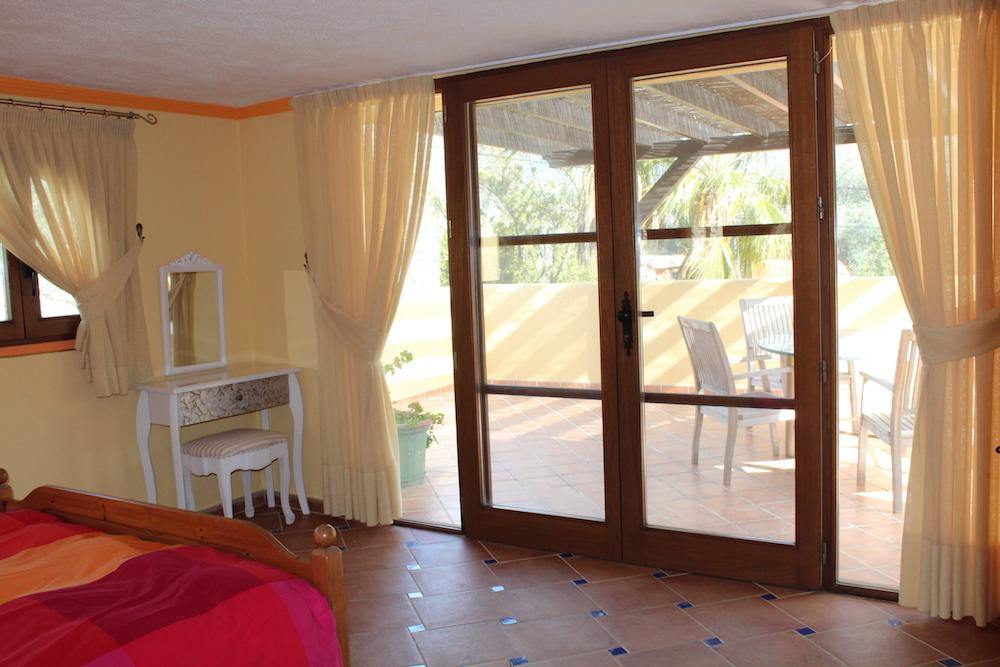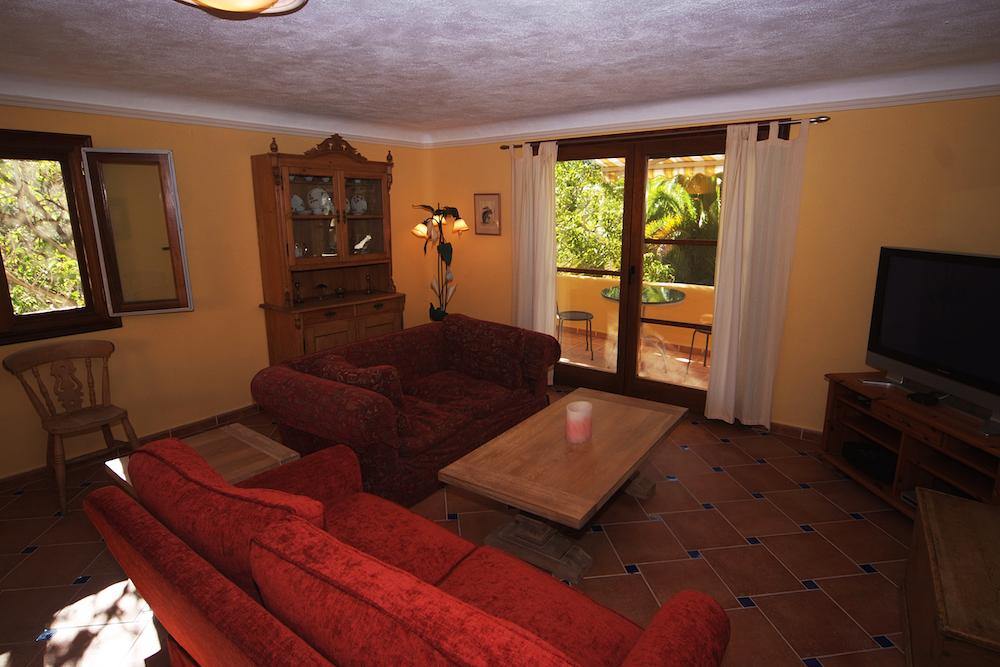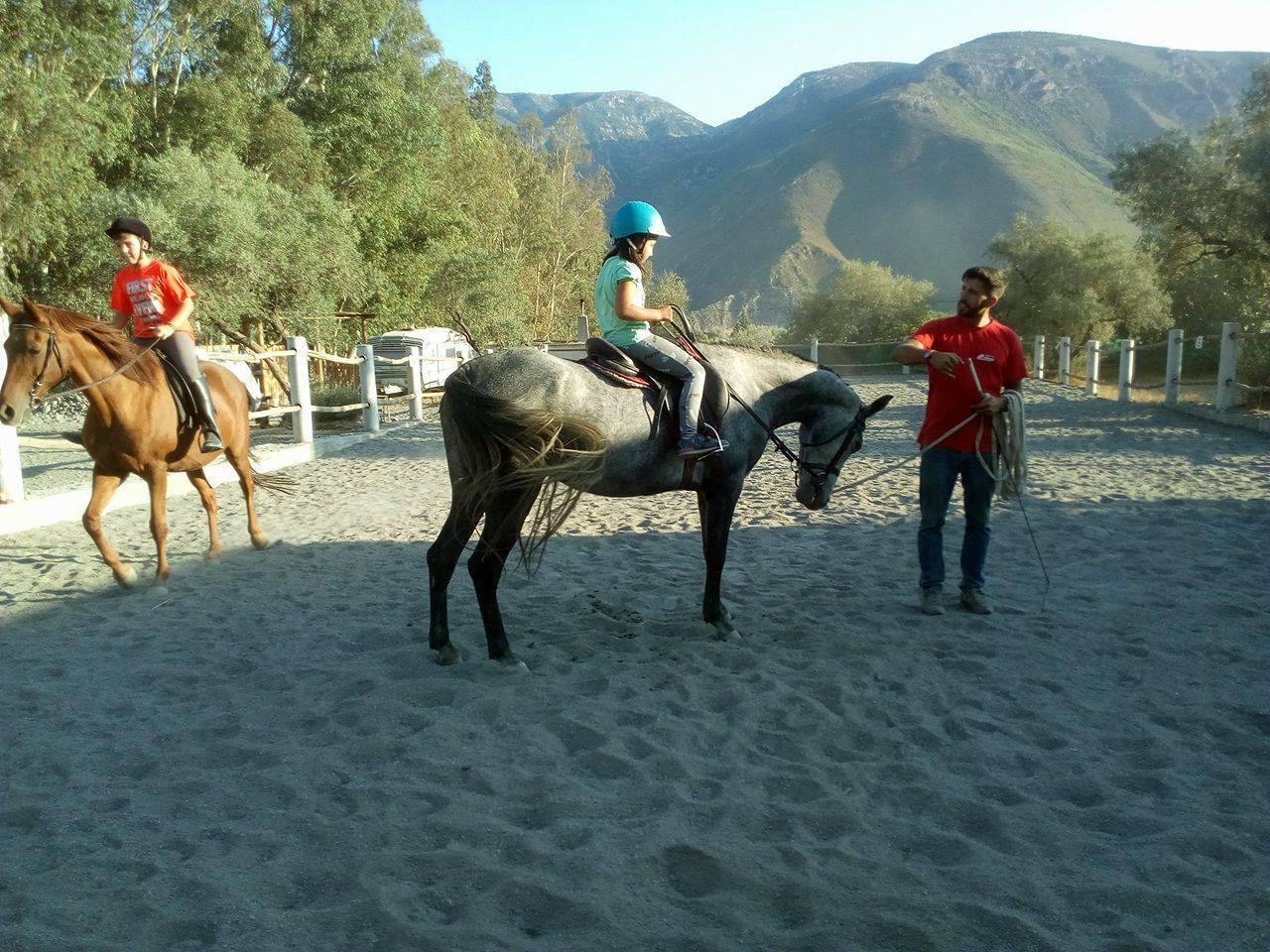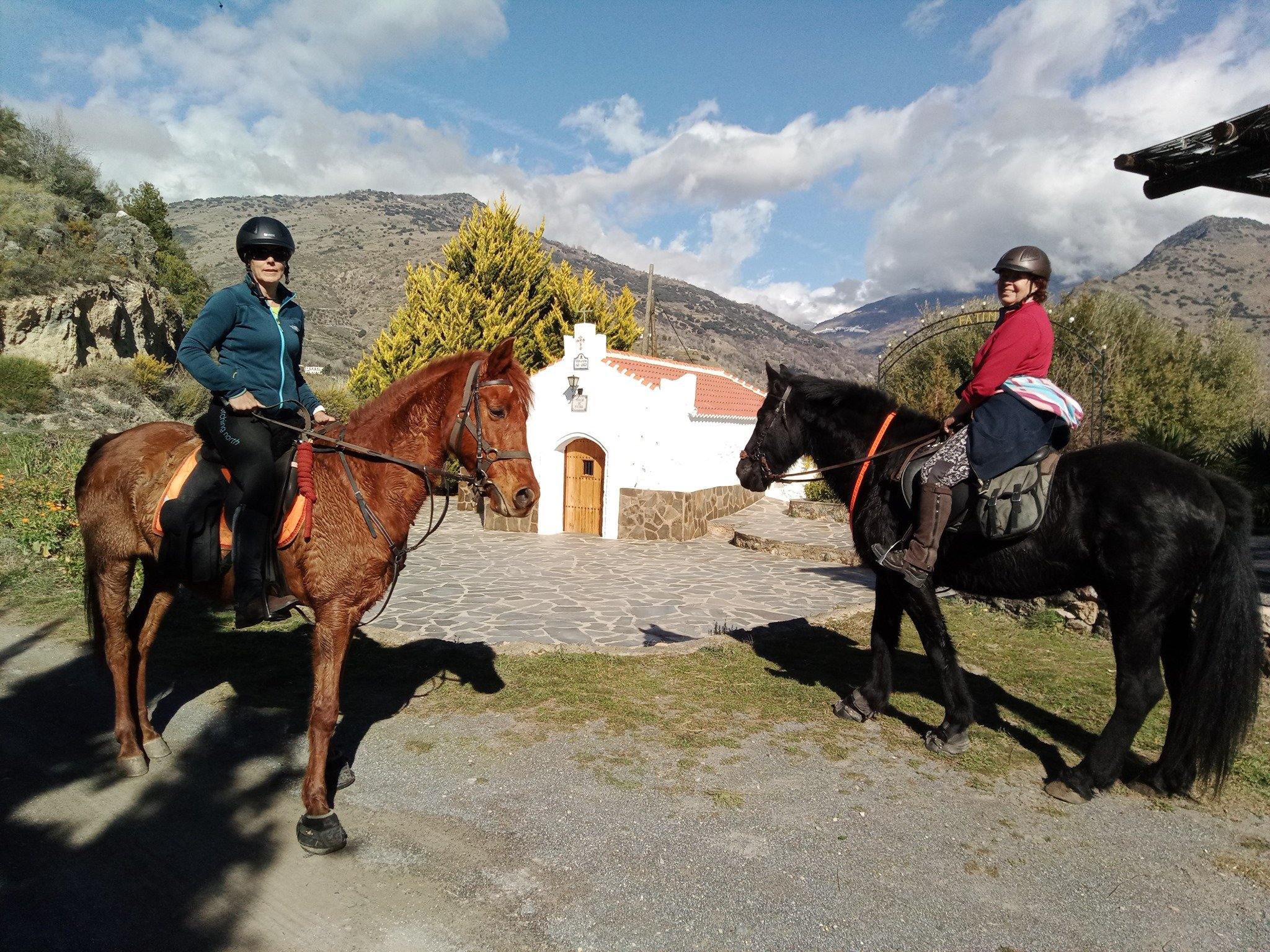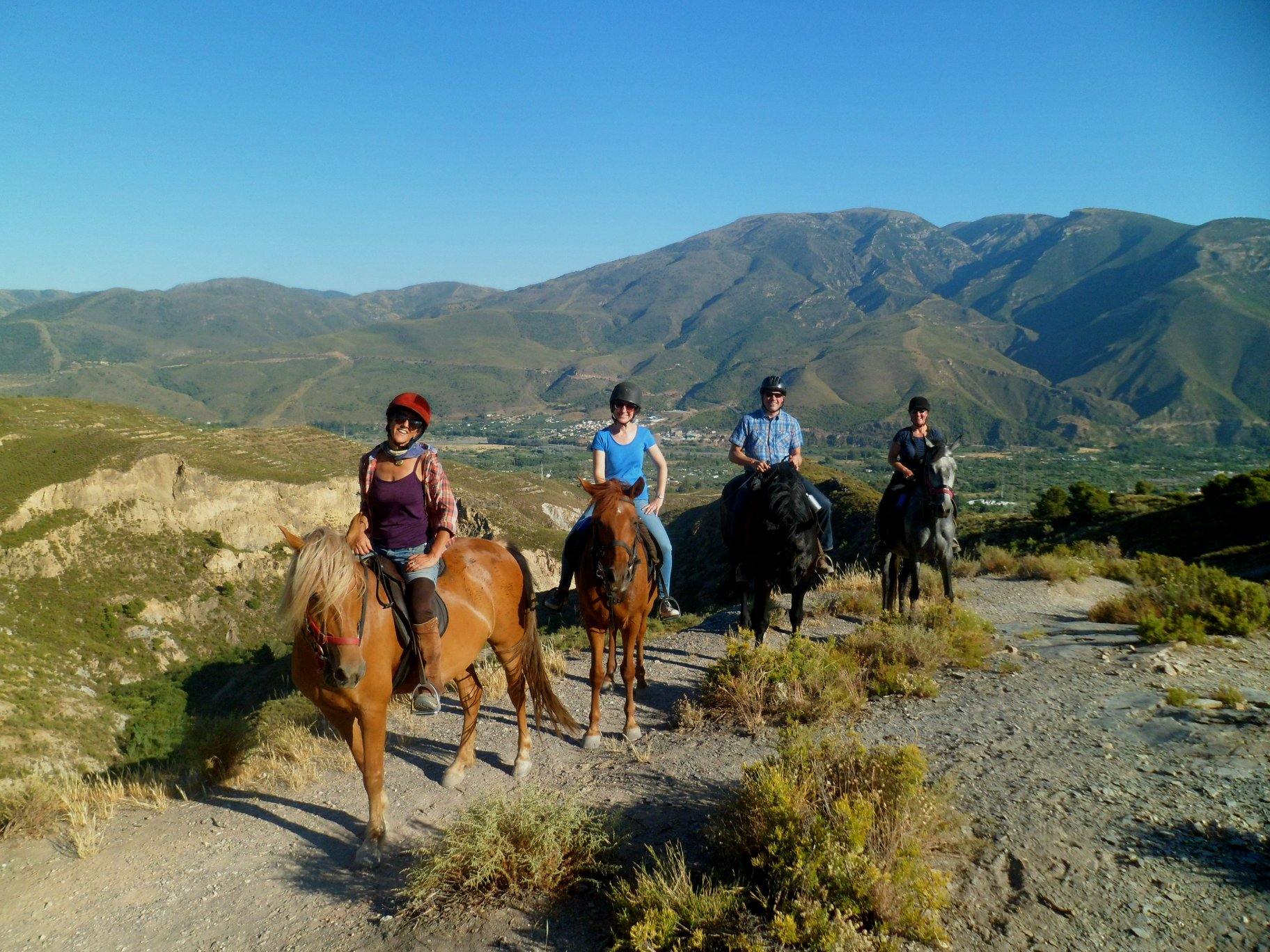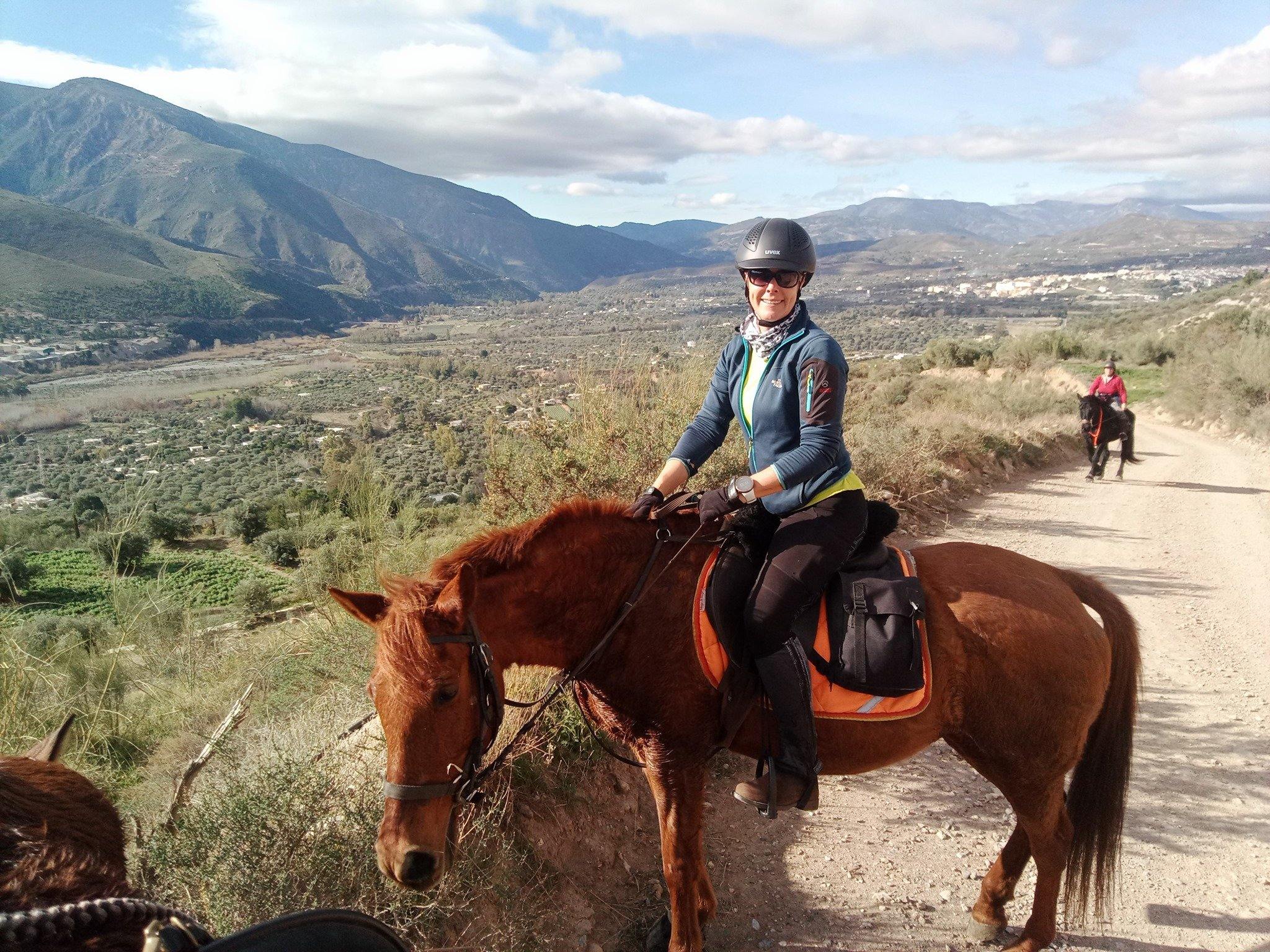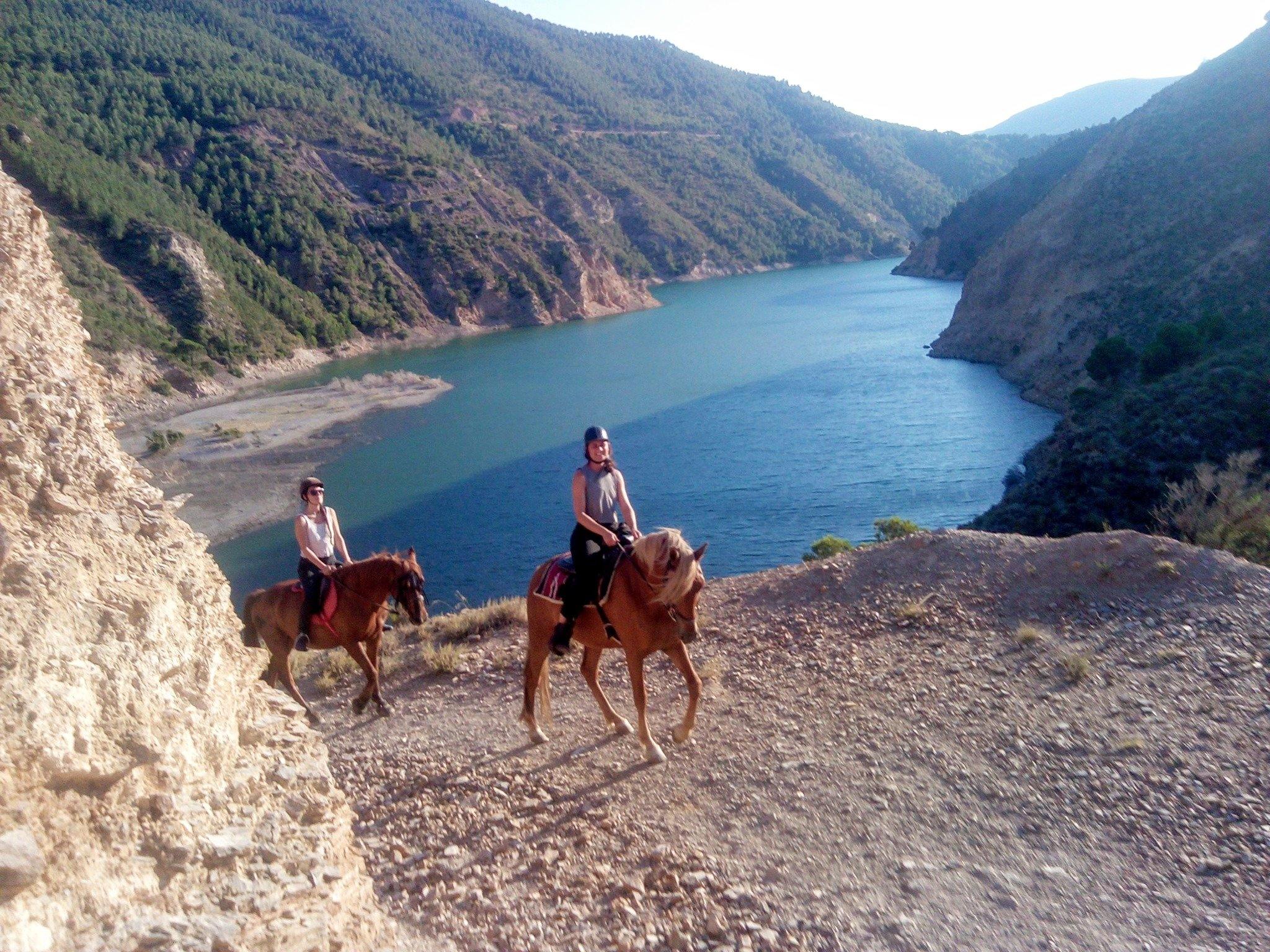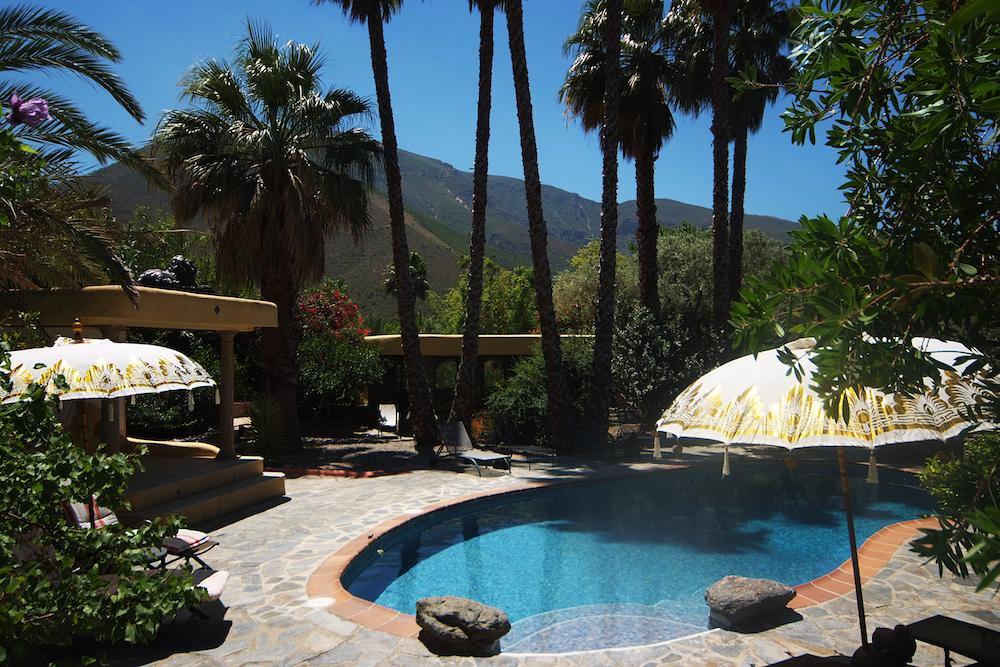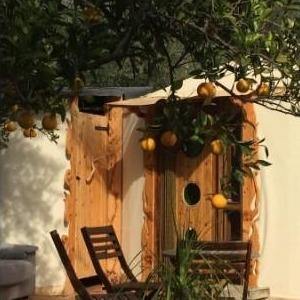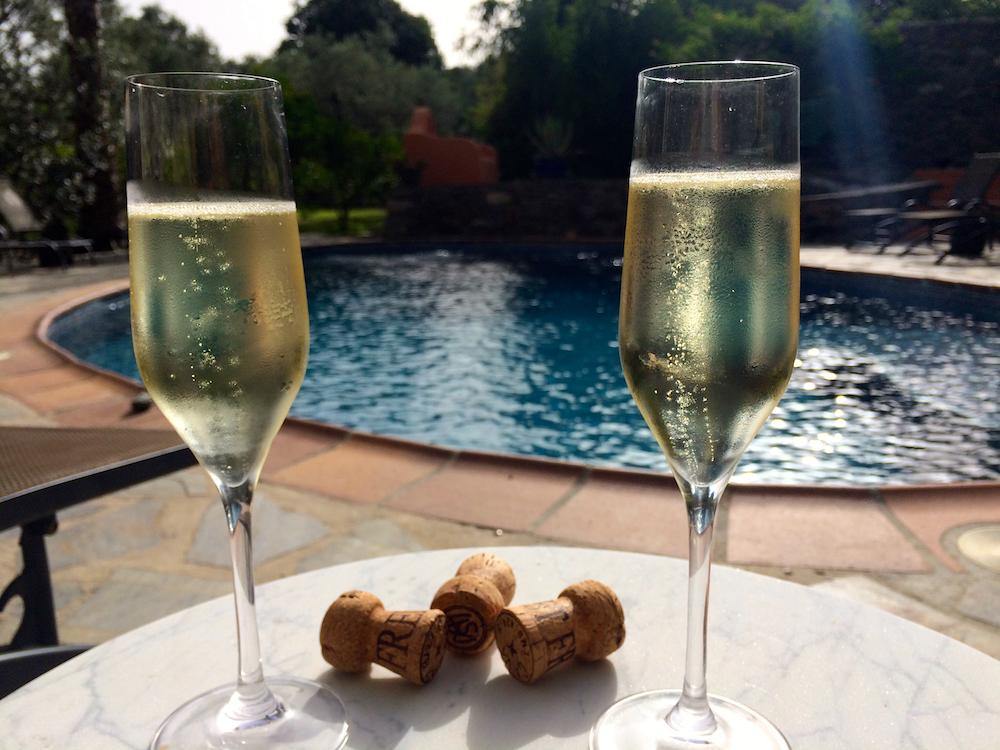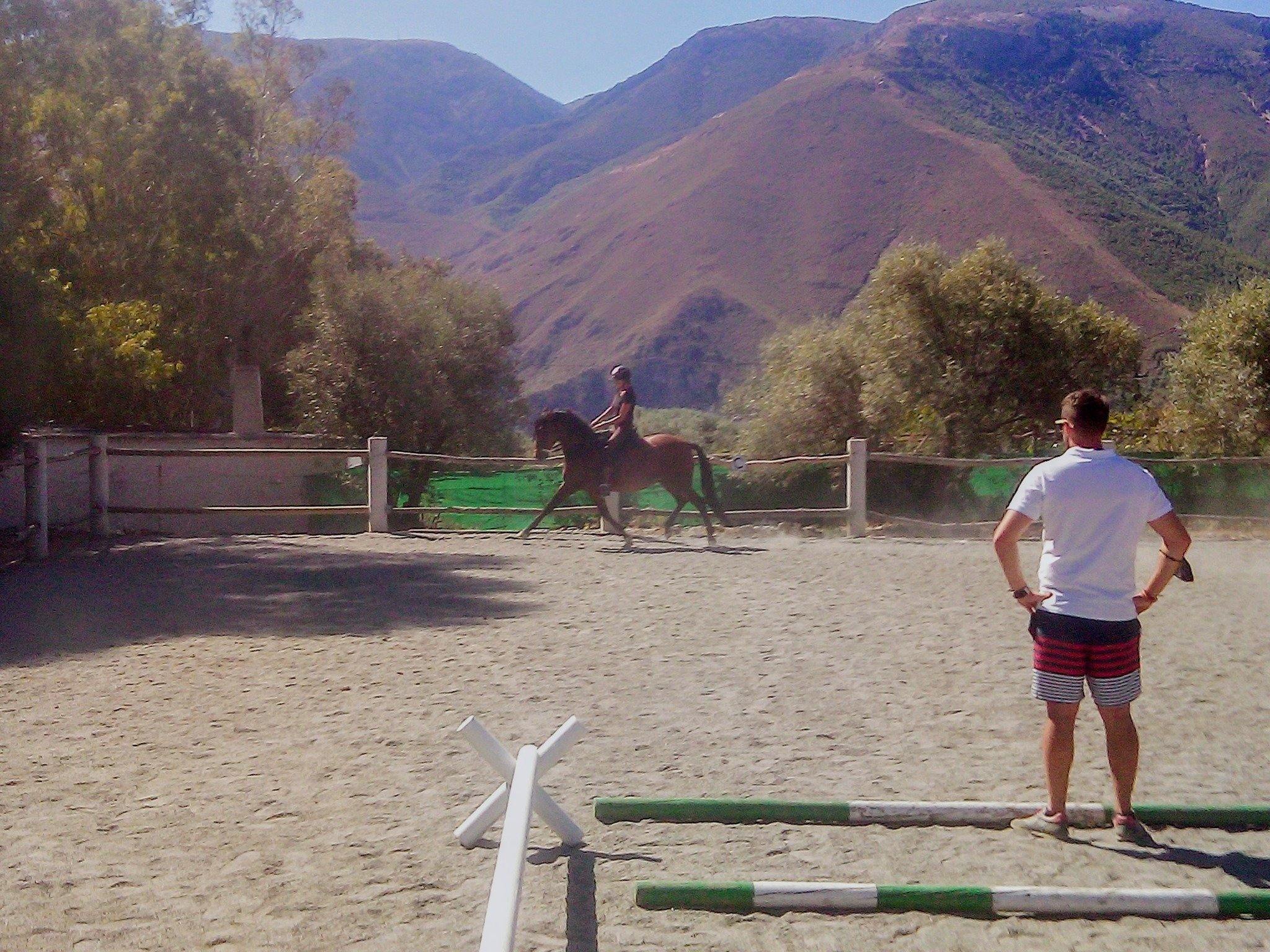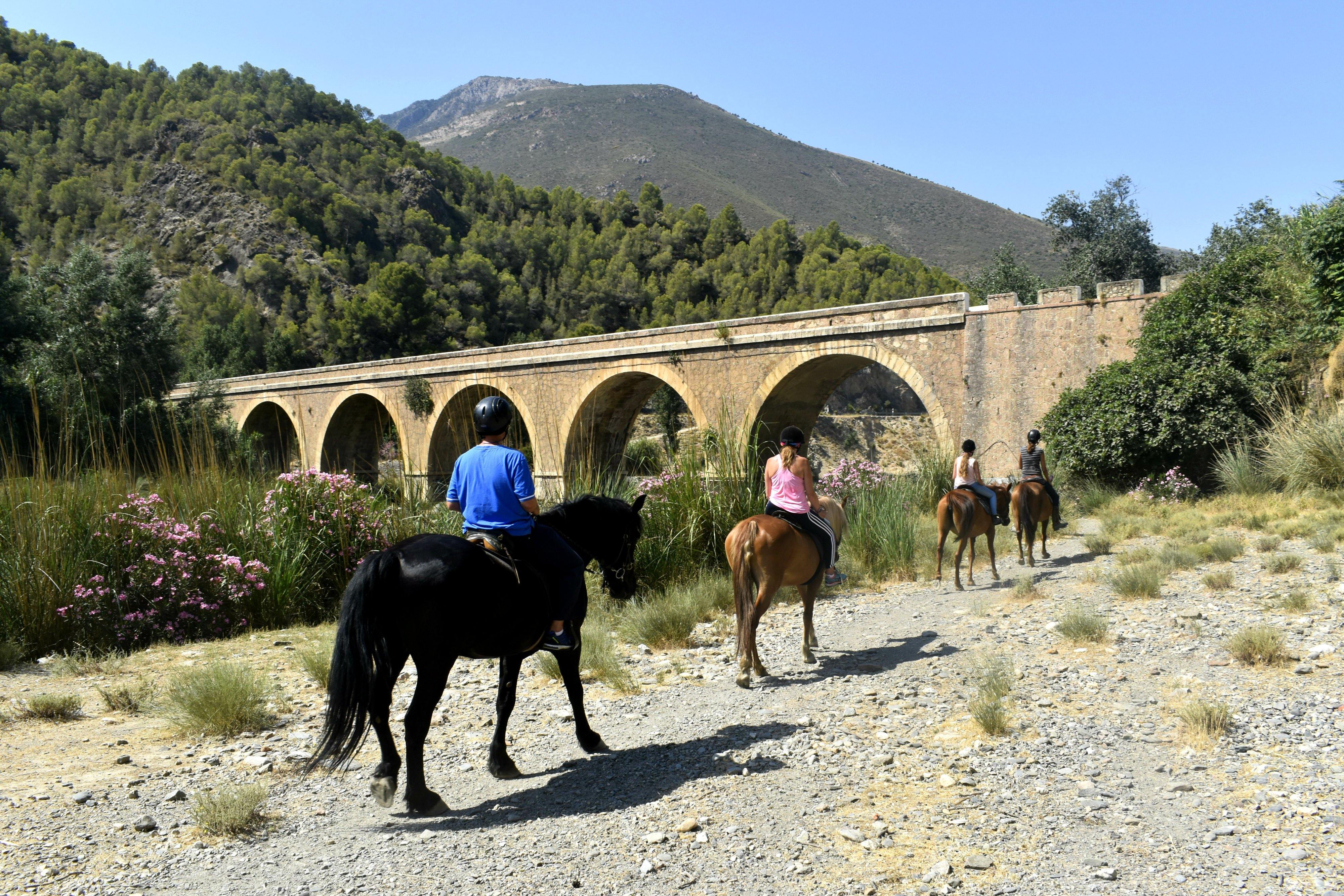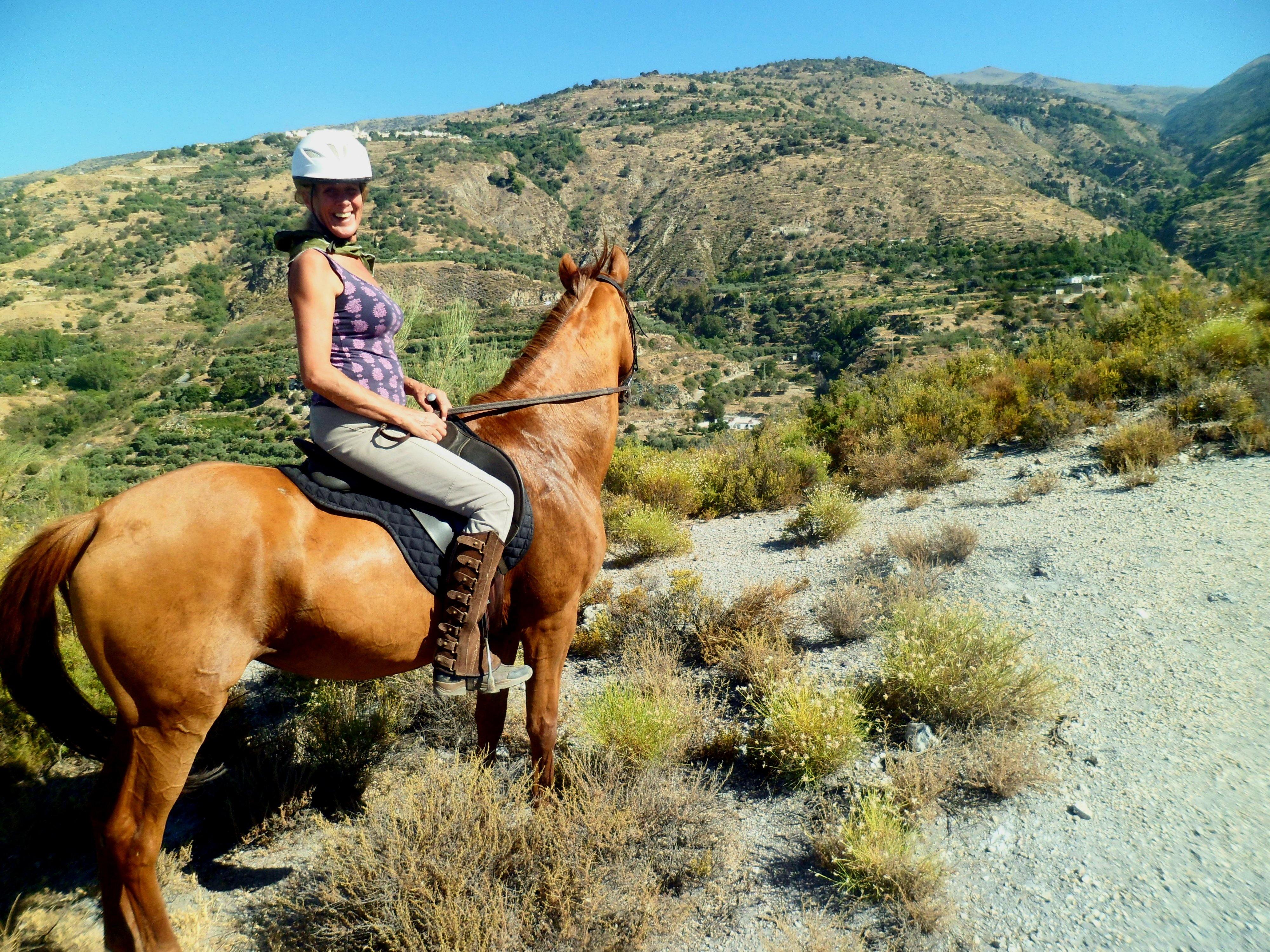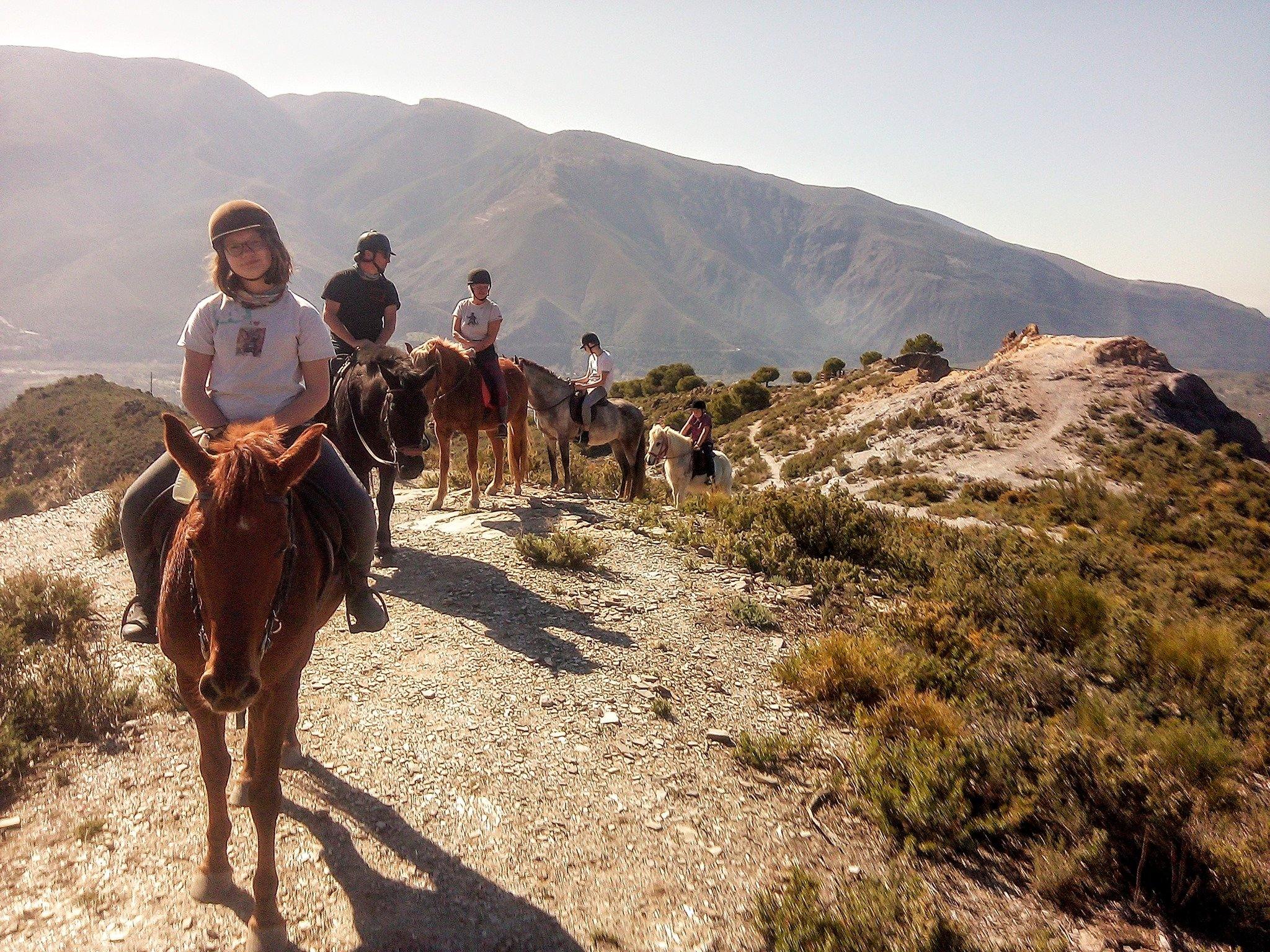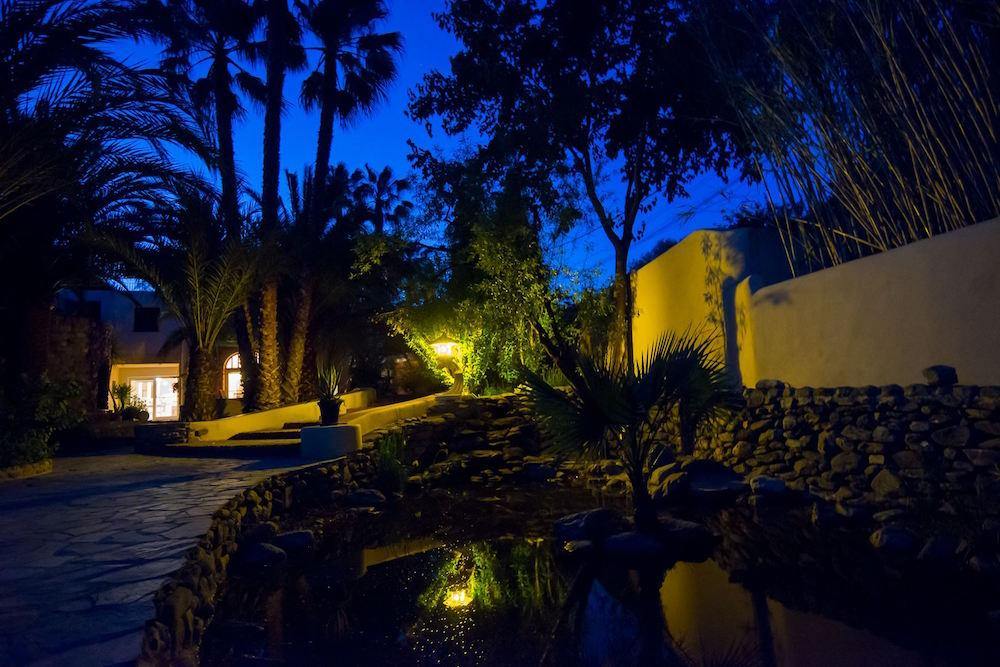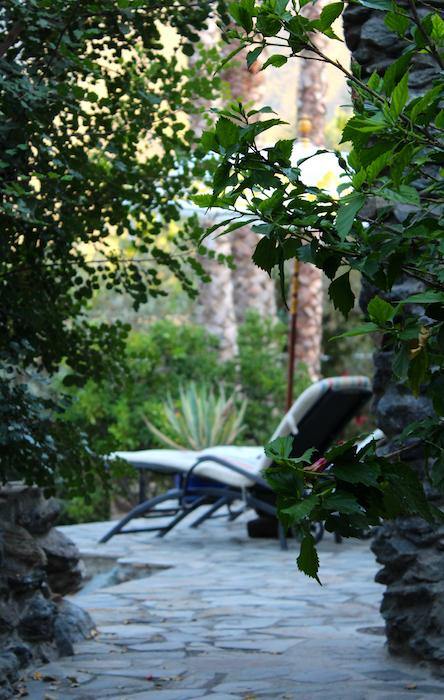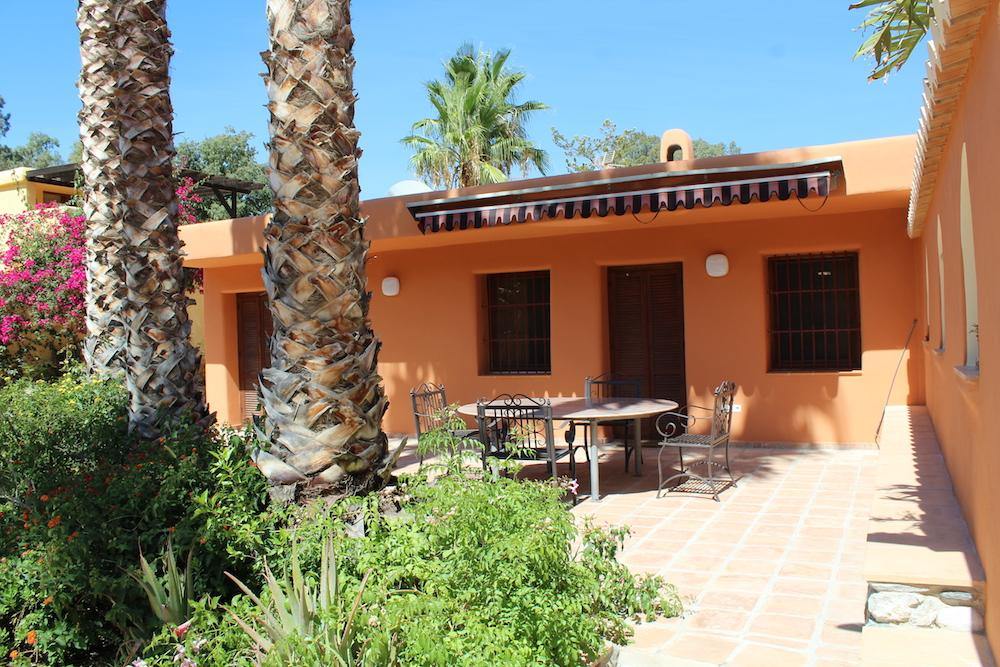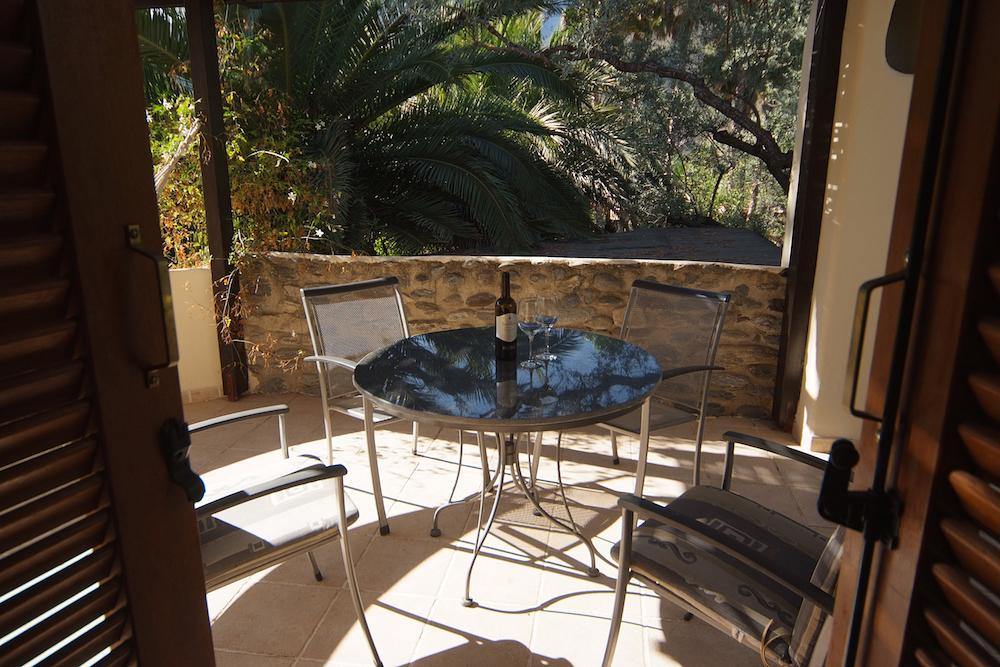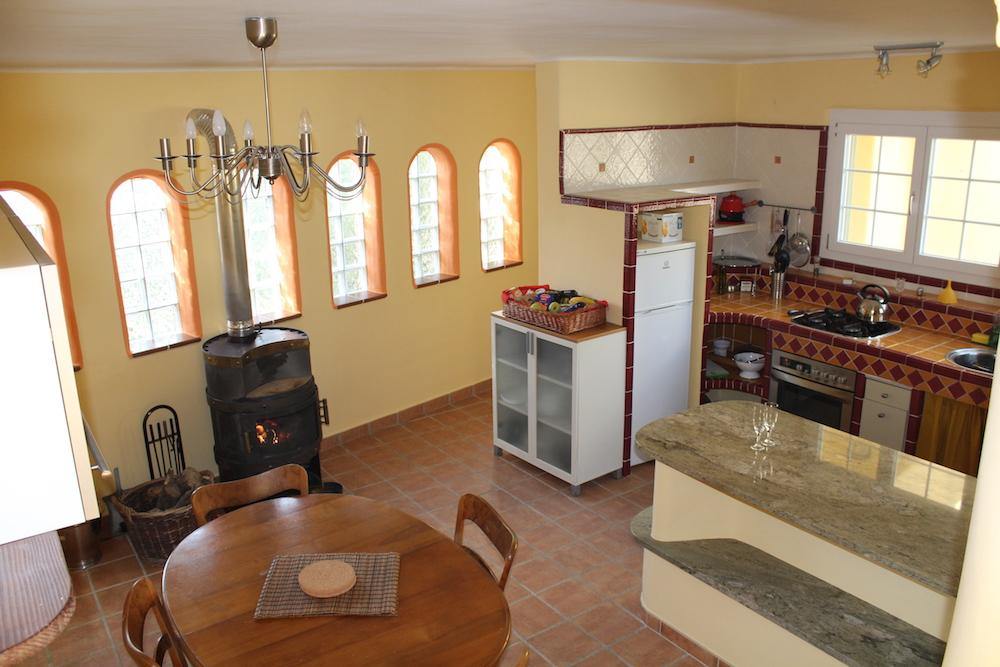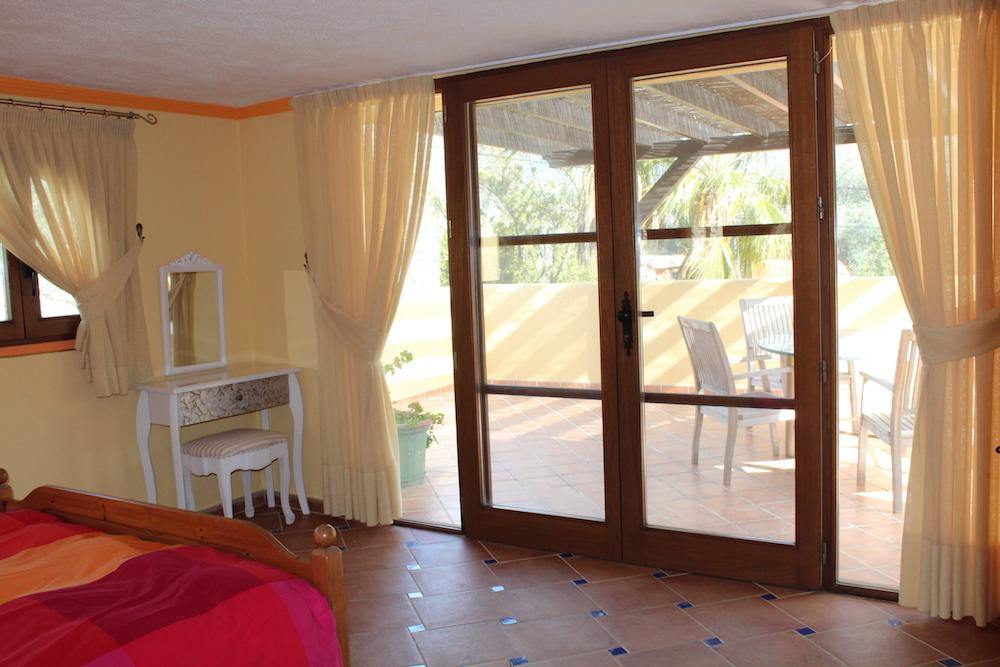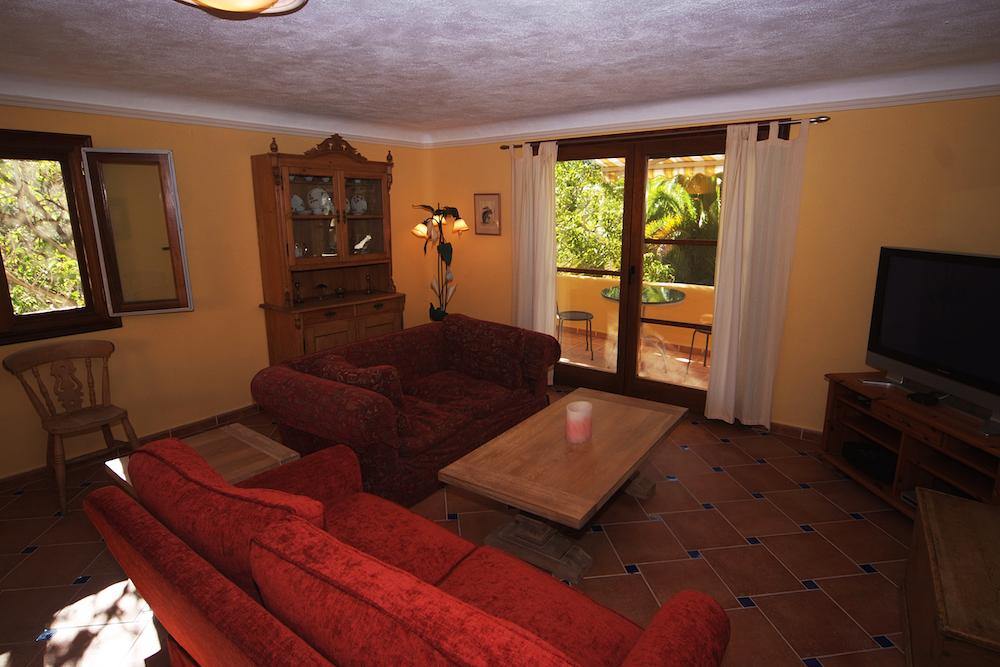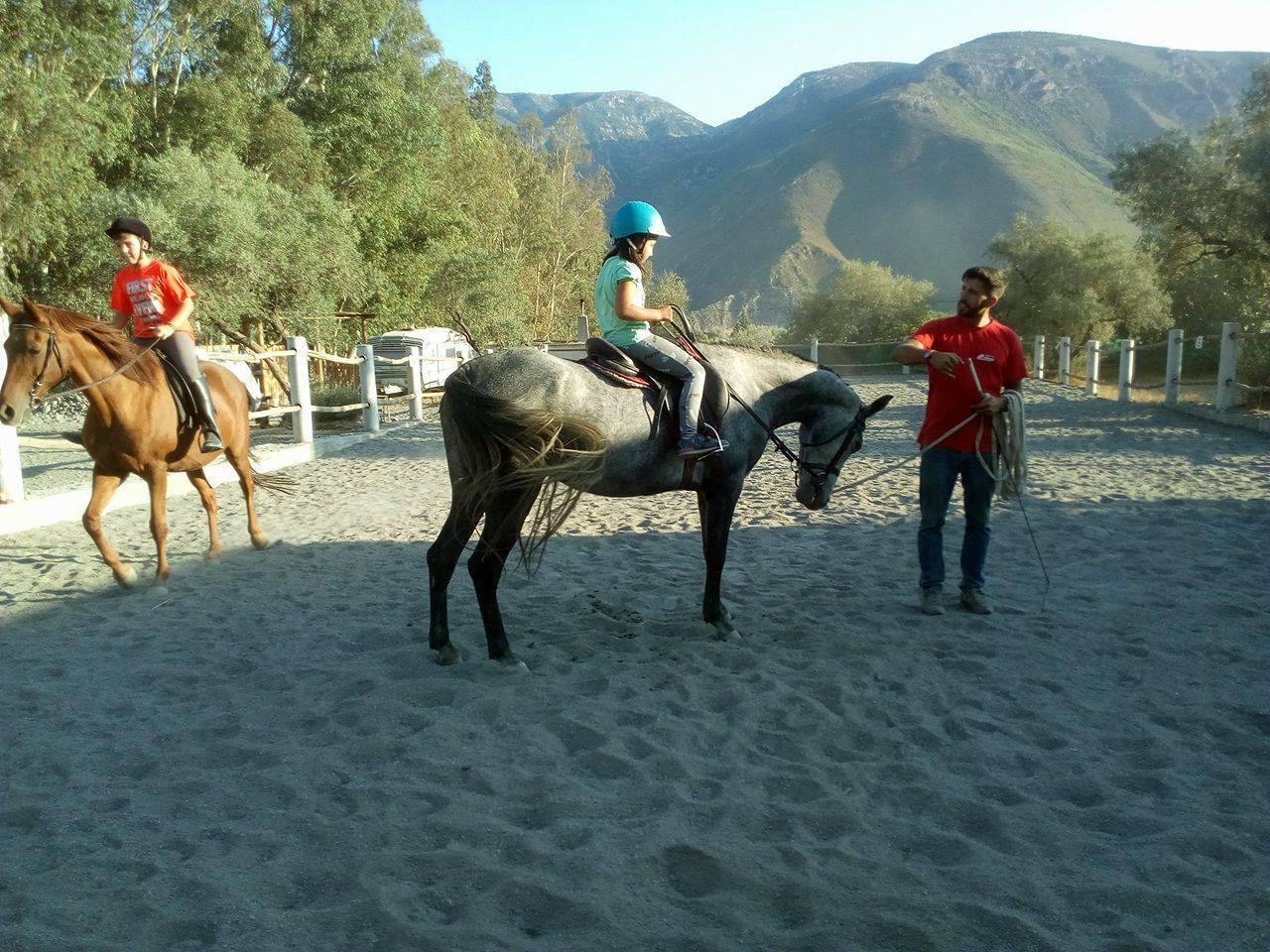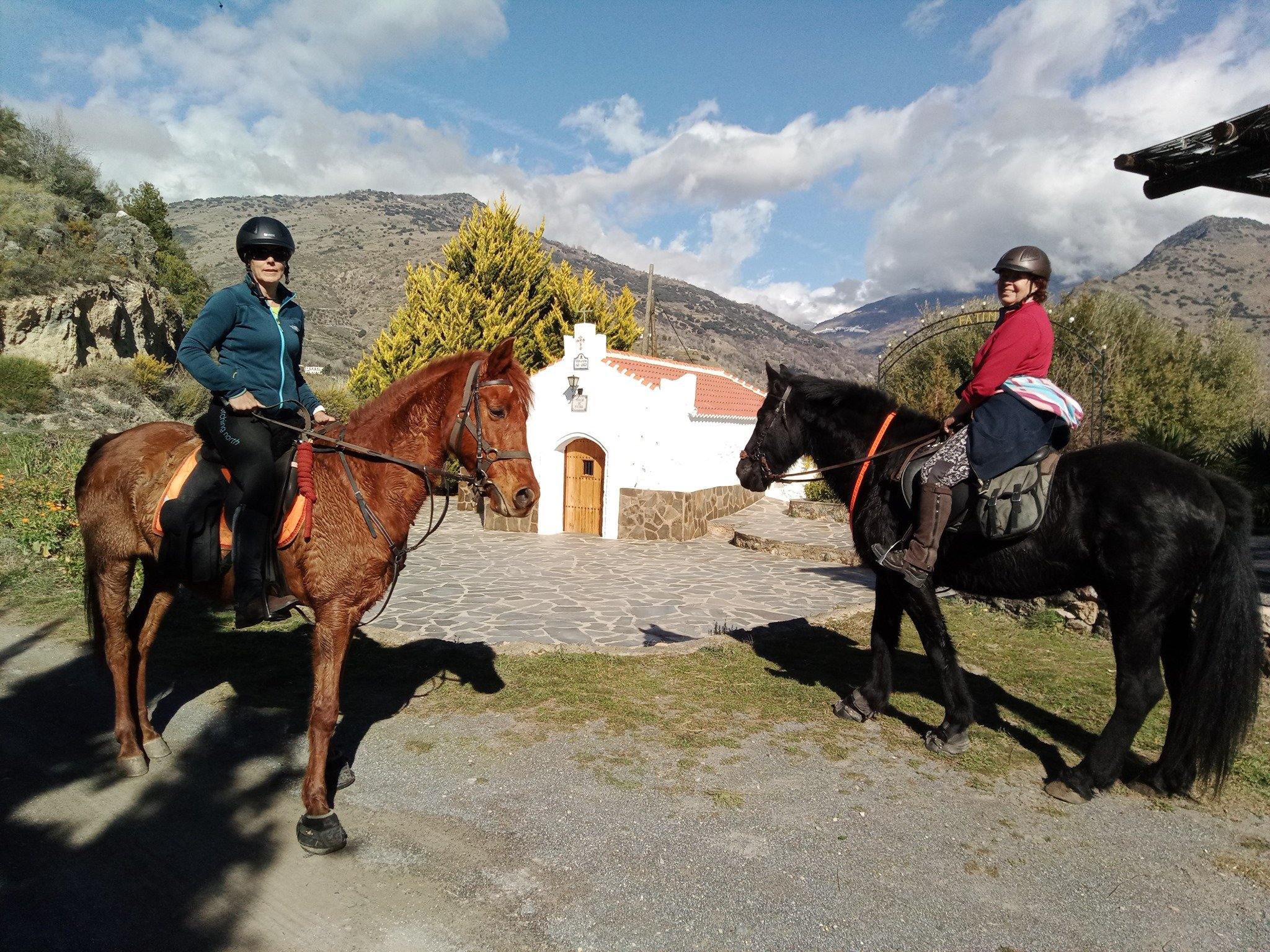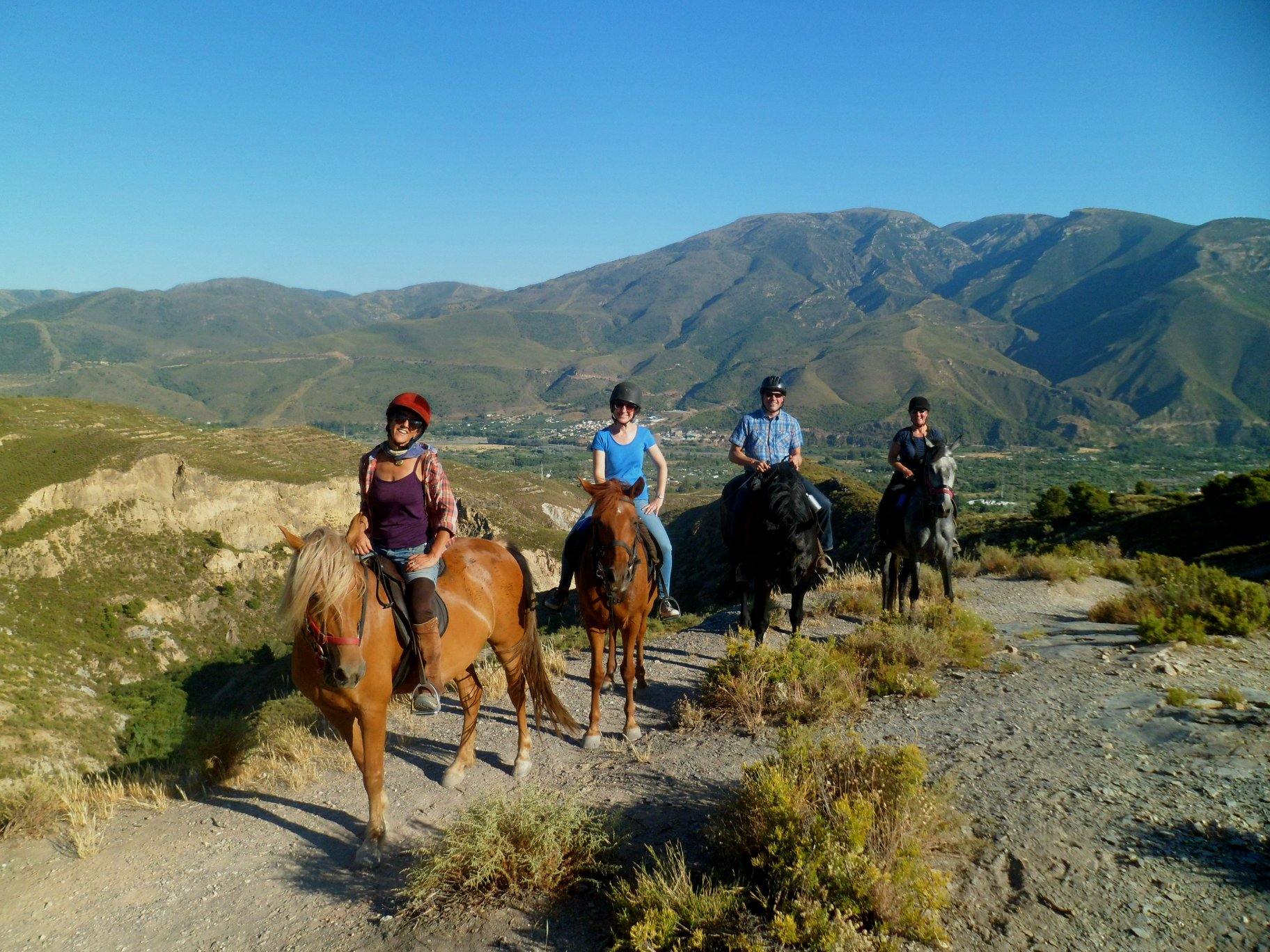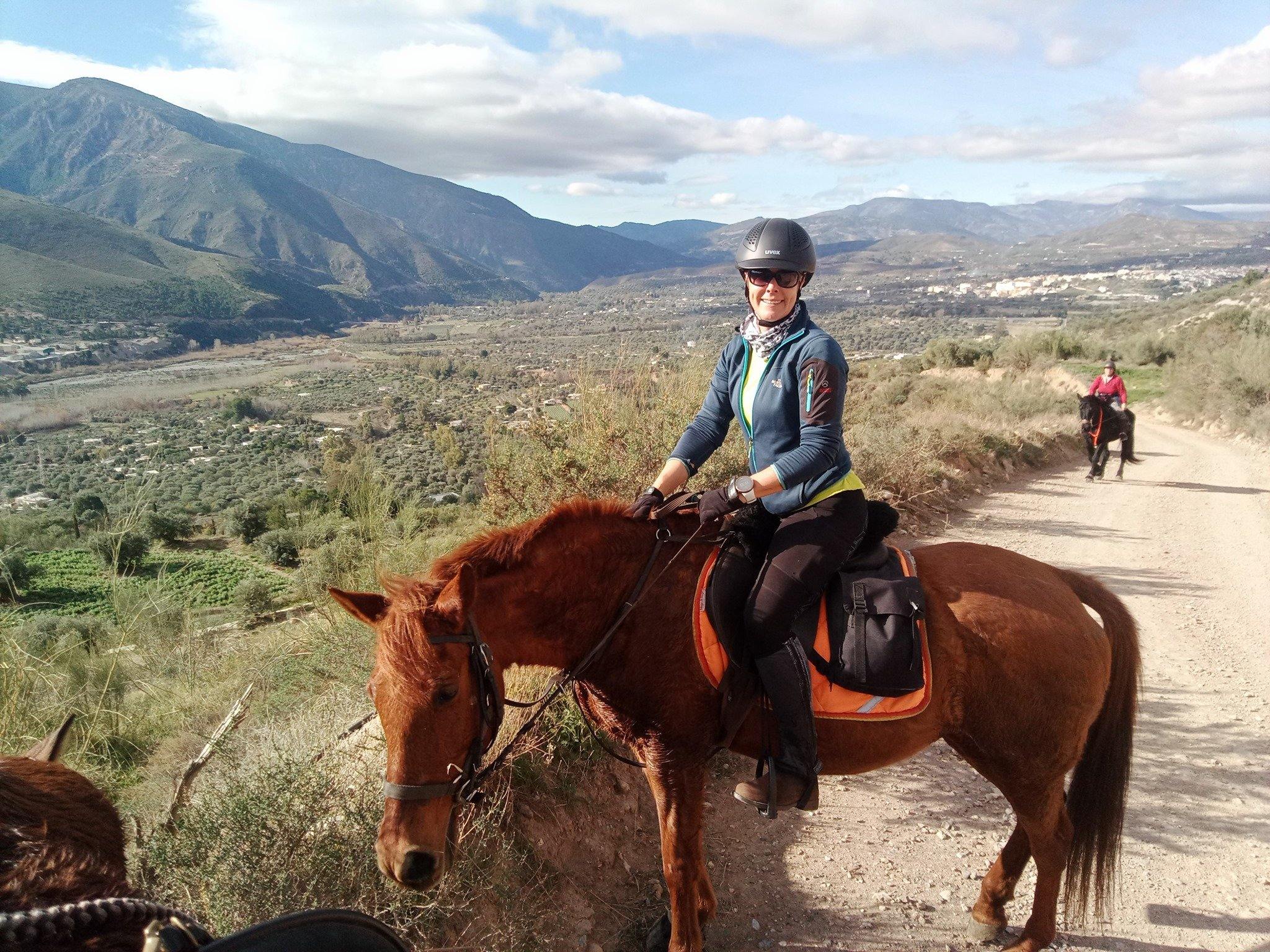 Escape the world and relax on a superb horse riding holiday in the Spanish mountains.
The perfect Xperience for anyone wanting to get away from it all and simply ride and relax.
RIDING HOLIDAY
from 4 days | 3 nights
Overview
Combine a luxury holiday with an unforgettable riding Xperience in the Alpujarras Mountains in the heart of Andalucia. Each day you can enjoy stunning treks and/or take lessons at the arena with professional instructors. This Xperience is fully customized and there are different riding itineraries to choose from, giving each and every rider a unique Xperience offering programs to suit all abilities and budgets.
We offer a range of highly flexible riding packages to suit your needs and desires and aim to make your time as enjoyable as possible. Everyone has unique requirements and expectations as to what their perfect horse riding holiday should look like. We cater for individuals, small groups, couples and families. You may want to focus on improving your riding in the arena or maybe you want to enjoy a series of mountain trails. Trail groups are kept small so you will never find yourself trailing behind an endless line of horses nose to tail. There will never be more than six riders on a trail at any one time, ensuring maximum safety and a personal touch. All abilities are catered for and you will be matched with suitable horses based on the information you provide. Massage and reflexology treatments are available on request throughout your stay (paid locally).

This is the perfect Xperience for anyone wanting to get away from it all and simply ride and relax.

You will be welcomed by your hosts Les and Audrey who will assist you throughout your stay. On this horse riding holiday you will stay in your own private apartment surrounded by beautiful gardens within a luxury complex with its own pool. Full self catering facilities are provided in your apartment so you have the freedom to eat what you want when you want. The apartments are set in tropical gardens with a dramatic mountain backdrop. It truly is an oasis of calm and tranquility and the perfect place to head back to after a morning spent in the saddle

The south facing pool area is surrounded by gorgeous palm, orange and olive trees and wonderful flowers. Around the pool are Balinese style lounging areas and a Moroccan day bed. The summer house hosts an honesty bar and provides seating.

The apartments are a short walk (approximately five to ten minutes) from the equestrian facilities which is located a little further along the same road. If you don't want to walk, private car transfers are available on request (extra charge) and will shuttle you back and forth to the riding centre for your rides during your stay.
Accommodation
You will stay in quality self catering apartments each with unique character and Moorish inspired charm. Bed linen and towels are provided, including pool towels. Each apartment has a full kitchen fitted with large fridge/freezer, full oven, microwave, kettle, toaster, juicer, coffee machine cooking utensils, crockery, pots and pans, washing liquid etc.
All the apartments have air conditioning, heating and wood burning stoves.
Off-road secure parking is provided within the complex via an electric gate. WiFi is available throughout the accommodation and around the pool .
Meals
Evening Meals are available on request (extra charge). The meals are prepared with fresh vegetables and fruit from the garden and locally sourced ingredients.
Frozen home cooked meals you can pop into the microwave in your apartment are also available.
If you want to eat out there are some fabulous restaurants in Orgiva. Each Thursday there is a market in the town where you can buy fresh local products. Organic vegetables are sold both on the market and in the town. There is a fish shop and a butchers. There is also a selection of heath food shops and a few small supermarkets.
Programme Outline
All holiday programmes are fully tailored and can be customized by you.


4 days | 3 nights - 12 hours riding bundle

Sample Itinerary 1: Riding Lessons/Trail Combo
Day 1 – Arrive at your accommodation in the morning and settle in. Mid morning walk/drive to the riding centre for a riding assessment lesson/riding lesson. Return to your apartment for a leisurely lunch. Later on enjoy a 1 hour trail to introduce you to the area.
Day 2 – In the morning you will go on a 2 hour trail to a mountain view point. Arrive back at your accommodation for lunch. Later in the afternoon you will return to the centre for a 1 hour riding lesson in the arena.
Day 3 – You will go on a full day trail with a picnic lunch in the mountains (6 hours).
Day 4 – Enjoy breakfast by the pool before taking your final riding lesson at the riding centre.

Sample Itinerary 2: Novice Trekker
Day 1 – Arrive at your accommodation in the morning and settle in. After lunch you will take a novice session where you will be introduced to the basics of trailing and learn the skills you need while out on a trail. This will take place initially in the arena followed by an 1 hour trail (1.5 hour).
Day 2 – Trail out in the mountains on a 3.5 hour tapas trail/ride and dine ride. You will stop on route for a three course lunch at a traditional Alpujarran restaurant/drinks and tapas.
Day 3 – You will take a more challenging full day trail with picnic lunch in the mountains (6 hours).
Day 4 – Last day. In the morning you will go for a 1 hour final day ride. Leave your accommodation heading home or to your next destination.

Sample Itinerary 3: Mountain Xplorer
Day 1 – Arrive at your accommodation and settle in. Enjoy the facilities and relax on your first day, preparing yourself for the next two days.
Day 2 – You will go on a full day trail (6 hours). You will stop in the mountains for a picnic lunch. A variety of trails are available for you this day.
Day 3 – You will go on a full day trail (6 hours). You will stop in the mountains for a picnic lunch.
Day 4 – Enjoy breakfast by the pool on your last day.

Sample itinerary 4: Family (own a pony)
Day 1 – Arrive at your accommodation. Once you have settled in you will walk/drive to the riding centre where you will be introduced to the ponies that you will be caring for during your stay. You will be responsible for your pony and learn to care for him/her every day. Children will be given a tour of the riding centre, take a horse care lesson, groom the ponies and spend some time with them to become friends and develop confidence (3 hour session).
Day 2 – In the morning arrive at the riding centre for a 3 hour session. Children will bring in their own ponies from the paddock, feed them, do daily stable jobs, take a pony care class and a riding lesson.
Day 3 – In the morning arrive at the riding centre for a 3 hour session. The children will bring in their ponies, feed them, complete daily stable jobs, and groom and tack up their ponies. Children will take a pony care class and enjoy a mini trail out in the forest park on the ponies.
Day 4 – In the morning arrive at the riding centre for a 3 hour session. You will feed and groom your ponies and complete some daily jobs. There will also be a fun quiz to see how much everyone has learnt. Families will enjoy a fun riding session with games. Afterwards you will return to your accommodation to collect your luggage to return home or travel to your next destination.

5 days | 4 nights - 18 hours riding bundle

Sample Itinerary 1: Riding Lessons/Trail Combo
Day 1 – Arrive at your accommodation and settle in. After lunch you will head to the riding centre where you will meet the horses and have an assessment riding lesson in the arena/or a riding lesson (1 hour).
Day 2 – You will go on a 4 hour half day trail. Afterwards you will return to your accommodation for a long lunch. Later on in the afternoon you will have a riding lesson in the arena (1 hour).
Day 3 – You will go on a 4 hour half day trail. Afterwards you will return to your accommodation for a long lunch. Later on in the afternoon you will have a riding lesson in the arena (1 hour).
Day 4- You will go on a full day trail in the mountains with a picnic lunch (6 hours).
Day 5 – Enjoy a riding lesson (1 hour) in the morning. Leave your accommodation heading home or to your next destination.

Sample Itinerary 2: Novice Trekker
Day 1- Arrive at your accommodation in the morning and settle in. You will have a 1 hour introduction to trail ride workshop to prepare you for the trails in the arena. You will cover the basic controls and do some practicing outside of the arena. In the afternoon you can head out for lunch at a local restaurant or make use of the self-catering facilities and eat at your apartment. Later in the afternoon return for a 1 hour trail where you will be introduced to the local area on horse back.
Day 2 – Enjoy a trail to a local mountain restaurant on horseback where you will stop for a three course lunch or tapas and drinks on route (4.5 hours).
Day 3 – You will go on a more challenging 4 hour half day trail either on a river ride passing through a traditional farming village or to a secluded mountain lake in the valley.
Day 4 – In the morning put your new horse riding skills to the test on a full day trail ride (6 hours) where you will stop for a picnic lunch in the mountains.
Day 5 – Enjoy breakfast by the pool before taking a final 2 hour trail on your last day. Leave your accommodation and head home or to your next destination.

Sample Itinerary 3: Mountain Xplorer
Day 1 – Arrive at your accommodation. Take some time to relax after your journey. Enjoy the pool and guest facilities. Each day you will ride somewhere new.
Day 2 –Walk/drive to the riding centre for a full day trail ride (6 hours). You will stop for a picnic lunch in the mountains. A selection of stunning day trail routes are available.
Day 3 – You will enjoy another full day trail ride (6 hours) stopping en route for a picnic lunch in the mountains. You will ride up to a mountain view point and wind down through traditional Spanish working agricultural villages heading homewards along the Gualdalfeo river.
Day 4- – You will go on a full day trail ride (6 hours) . A choice of routes is available. Explore the historical miners route, ride to the valley made famous by Chris Stewart in his book "Driving over lemons" or up to higher mountain trails and the hippie community of Benificio. You will stop for lunch in the mountains.
Day 5 –Leave your accommodation and head home or to your next destination.

Sample itinerary 4: Family (own a pony)
Day 1 – Arrive at your accommodation in the morning and settle in. Enjoy an afternoon by the pool or venture out into the local town. After lunch you will meet the horses and ponies and get to know the riding centre. You will take an introduction to horse care class. You will learn how to bring your pony in with a head collar from the paddock then will do some grooming and feed some treats. You will learn new practical horse care skills and play games. Afterwards you will go on a mini trail in the forest on lead reins (3 hour session).
Day 2 – In the morning your family will enjoy a 4 hour pony session. You will learn how to care for the ponies. You will bring your pony in from the paddock, feed and groom him/her and you will learn about what your pony eats. You will take a horse care class, an activity class completed with stable jobs, do some quizzes and finish with some riding games in the arena. Return to your accommodation for lunch.
Day 3 – You will go on a novice trail ride where you will have a lesson in the arena before setting off on horseback to a local restaurant for a three course lunch (3.5 hours).
Day 4 – Family pony care/riding session in the morning (3 hours). Learn about ponies and riding through games and play. You will bring in the ponies from the paddock, do some daily jobs and have a pony care lesson. You will then do some riding and play some games in the arena. After your morning family session return to your accommodation to enjoy the pool and facilities. You will return in the afternoon for a scavenger hunt in the forest on your ponies (1 hour).
Day 5 – Family riding session in the morning with gymkhana games (3 hour session) After you have brought your ponies in from the paddock, fed your ponies and completed daily jobs you will prepare them for a show. You can plait their manes and tales and make them look smart for the gymkhana. There will be a fun gymkhana games riding session for the family. Leave your accommodation and head home or to your next destination.


8 days | 7 nights - 30 hours riding bundle​

Sample Itinerary 1: Riding Lessons/Trail Combo
Day 1 – Arrive at your accommodation in the morning and settle in. Once you are settled you can walk/drive to the riding centre where you will be introduced to your horse before taking a riding lesson/assessment lesson.
Day 2 – Arrive at the riding centre in the morning for a 4 hour half day trail ride in the mountains. Return to your accommodation for a long lunch. After lunch take a 1 hour riding lesson in the arena.
Day 3 – Arrive at the riding centre for a full day trail ride in the mountains with a stop en route for picnic lunch (6 hours). The centre has a selection of beautiful routes suitable for all abilities, from challenging fast rides along high mountain trails to more relaxed easy trails along the river. Each day you will ride on a new trail.
Day 4 – Enjoy breakfast by the pool before heading to the riding centre for a beautiful half day trail ride down to a secluded mountain reservoir. Return to your apartment in the afternoon for a long lunch. Afterwards take a 1 hour riding lesson in the arena.
Day 5 – Arrive at the riding centre in the morning for a full day trail ride in the mountains with a stop en route for picnic lunch (6 hours).
Day 6 – Take a riding lesson in the arena in the morning. Afterwards return to your accommodation to enjoy the rest of the day. Spend the afternoon relaxing by the pool or exploring the local town. Maybe go hiking in the mountains or take a day trip to Granada or the beach.
Day 7 – Take a riding lesson in the morning. Afterwards return to your accommodation to enjoy the rest of the morning. In the afternoon you will return to the riding centre for a ride and dine trail (3.5 hours) where you will ride along the river to a traditional Alpujarran restaurant for a three course lunch and drinks.
Day 8 – In the morning take your final riding lesson in the arena. Leave your accommodation and head home or to your next destination.

Sample Itinerary 2: Novice Trekker
Day 1- Arrive at your accommodation in the morning. Relax by the pool or take a stroll and explore the local area. After lunch arrive at the riding centre for a novice trail ride. You will spend half an hour in the arena going over the basics before riding out on a one hour trail ride around the local area where you can put the skills you have learnt in the arena into practice.
Day 2 – After breakfast you will go on a 4 hour half day trail ride. Return to your accommodation for lunch and a well deserved siesta.
Day 3 – Your guide will take you on a half day trail ride to a secluded mountain lake.
Day 4 – On todays half day trail you will ride up to a mountain view point with stunning panoramic views.
Day 5 – Enjoy a more challenging full day trail ride in the mountains with a picnic lunch (6 hours).
Day 6 – Today you will go on a 3.5 hour restaurant ride where you will ride from the riding centre following a trail along the river before stopping at a traditional mountain restaurant for a three course home cooked lunch and drinks.
Day 7 – Enjoy a full day of trail riding in the mountains with a picnic lunch (6 hours).
Day 8 – Take a final 1 hour trail ride in the morning before you leave your accommodation to return home or to your next destination..

Sample Itinerary 3: Mountain Xplorer
Day 1 – Arrive at your accommodation. Enjoy the pool and guest facilities.
Day 2 – After breakfast you will go on a full day trail ride (6 hours) with a stop for a picnic lunch en route. The centre has a selection of beautiful routes suitable for all abilities, from challenging fast rides along high mountain trails to more relaxed easy trails along the river and valley. Each day you will enjoy a different route.
Day 3 – After breakfast you will go on a full day trail ride (6 hours) with a stop for a picnic lunch.
Day 4 – After breakfast you will go on a full day trail ride (6 hours) with a stop for a picnic lunch.
Day 5 – Enjoy a full day trail riding in the mountains with a stop off en route for a picnic lunch (6 hours).
Day 6 – Free day. Spend the day as you choose. Relax by the pool at your accommodation with a good book, take a day trip to the beach or visit the Alhambra palace in the historic city of Granada.
Day 7 – After breakfast you will go on a full day trail ride (6 hours) with a stop for a picnic lunch.
Day 8 – Enjoy breakfast by the pool return home or to your next destination.

Sample itinerary 4: All Round Rider
Day 1 – Arrive at your accommodation and settle in. Head on to the riding centre in the afternoon. You will be introduced to your horse and take a riding assessment session or a riding lesson. Afterwards you will make a plan with your guides and hosts and talk more about your riding goals and how your hosts can help get you closer to achieving them during your stay.
Day 2 – You will have a riding lesson in the morning. Afterwards return to your accommodation for a long lunch. Later on in the day you will be introduced to the local area on a 1 hour trail ride.
Day 3 – In the morning you will go on a 3 hour trail ride. In the afternoon enjoy a riding lesson in the arena.
Day 4- In the morning arrive at the riding centre for a 4 hour half day trail ride. Return to the centre after a long lunch for a riding lesson in the arena.
Day 5 – You will have a 1 hour riding lesson in the morning. Afterwards return to your accommodation to enjoy the rest of the morning. In the afternoon return to the riding centre for a 4.5 hour ride and dine experience where you will ride out into the mountains with a stop off on route for a three course lunch and drinks at a traditional Spanish restaurant.
Day 6 – Enjoy a full day trail ride in the mountains with a picnic lunch (6 hours).
Day 7 – Today you will go on a half day trail ride. Afterwards return to your accommodation for lunch. Return later in the afternoon for a riding lesson in the arena.
Day 8 – In the morning you will take your final riding lesson. Your riding instructor will evaluate your progress and suggest a plan to continue your progression on your return home.



Additional activities
Combine your horse riding Xperience with learning a new skill or focus on self development and fitness. The centre offer a range of activities to combine with your horse riding holiday so you can get the most out of your Xperience:
• Yoga (hatha/dynamic flow/vinyasa/yin yoga/ashtanga/kundalini)
• Pilates
• Spanish Language classes
• Cultural and Historical sight seeing trips to the Alhambra palace in Granada, the famous white villages of the Alpujarra Mountains and more
• Guided Mountain Biking trails
• Guided off road High Mountain tours in a 4×4 vehicle
• Guided walks in the mountains
• Quad biking
• Kayaking
• Massage and Reflexology treatments

Additional information
Transfers available from Málaga Airport | Airport Gateway AGP (extra charge)

Private car shuttle available to the local supermarket or to the weekly Thursday market to pick up groceries and supplies (extra charge)
Andalusian Rural Luxury
$652.00